The White House released a strongly worded statement Sunday condemning the killing of 21 Egyptian Coptic Christians by Islamic State-affiliated militants in Libya, but did not name the religions of the victims or of the perpetrators.
In the video released Sunday purporting to show the mass execution on a Libyan beach, militants emphasized their captives' faith, calling them "crusaders." The video was titled "A Message Signed With Blood to the Nation of the Cross," certainly suggesting the Christians were targeted because of their religion.
The group that posted the video called itself the Tripoli Province of the Islamic State group, according to the Associated Press. Multiple news outlets reported — and the Coptic Christian church in Egypt confirmed — that the captives were Christians.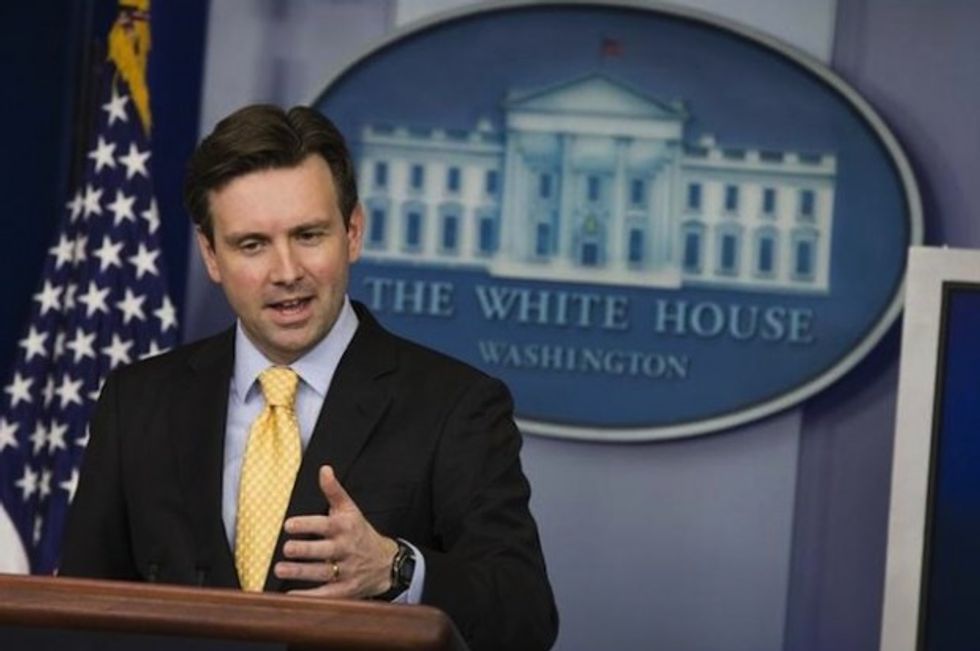 White House press secretary Josh Earnest during the daily press briefing, Tuesday, Feb. 10, 2015, at the White House in Washington. (AP Photo/Evan Vucci)
White House press secretary Josh Earnest condemned the "despicable and cowardly murder of twenty-one Egyptian citizens in Libya by ISIL-affiliated terrorists."
"ISIL's barbarity knows no bounds. It is unconstrained by faith, sect or ethnicity," Earnest said, using the White House's term for the Islamic State. He called it a "heinous act" and a "wanton killing of innocents."
While the White House statement did not mention Christian victims or Islamic extremists, it did call the attackers "terrorists." That stood in contrast with a statement released Saturday by National Security Council spokeswoman Bernadette Meehan condemning Saturday's deadly shooting at a free speech event in Denmark that did not use the word "terrorist" to describe the incident – a word used by the Danish prime minister.
Meehan called the shooting "deplorable."
In a statement issued Sunday, a day after Meehan's statement, State Department spokeswoman Jen Psaki condemned the Denmark shootings, characterizing them as "terrorist attacks."
"The United States condemns the terrorist attacks that took place over the weekend in Copenhagen, Denmark," Psaki said, referring to the shootings at the free speech event and one later at a synagogue. "The people of the United States stand united with the people of Denmark and all others who defend the universal right of freedom of speech and stand against anti-Semitism and bigotry in all its forms."
Danish media Sunday named the suspected gunman as Omar Abdel Hamid El-Hussein, 22, who was born in Denmark and was released from jail two weeks ago after serving a term for aggravated assault.
Two people were killed in the Copenhagen attacks. Police later shot and killed El-Hussein.
This story has been amended to reflect that the title of the Islamic State video was "A Message Signed With Blood to the Nation of the Cross."