Amazon has some ambitious goals for the future of online retail, but there's one major roadblock holding the company back: the federal government.
The online retail giant has long been a proponent of using drones to deliver products to its customers. Last year, Amazon sent a letter to the Federal Aviation Administration, seeking a special exemption that would allow it to launch its aerial delivery service, PrimeAir, in the United States.
"Amazon Prime Air, a new delivery system that will get packages to customers in 30 minutes or less using aerial vehicles, is one invention we are incredibly passionate about.  We believe customers will love it, and we are committed to making Prime Air available to customers worldwide as soon as we are permitted to do so," the July 2014 letter stated.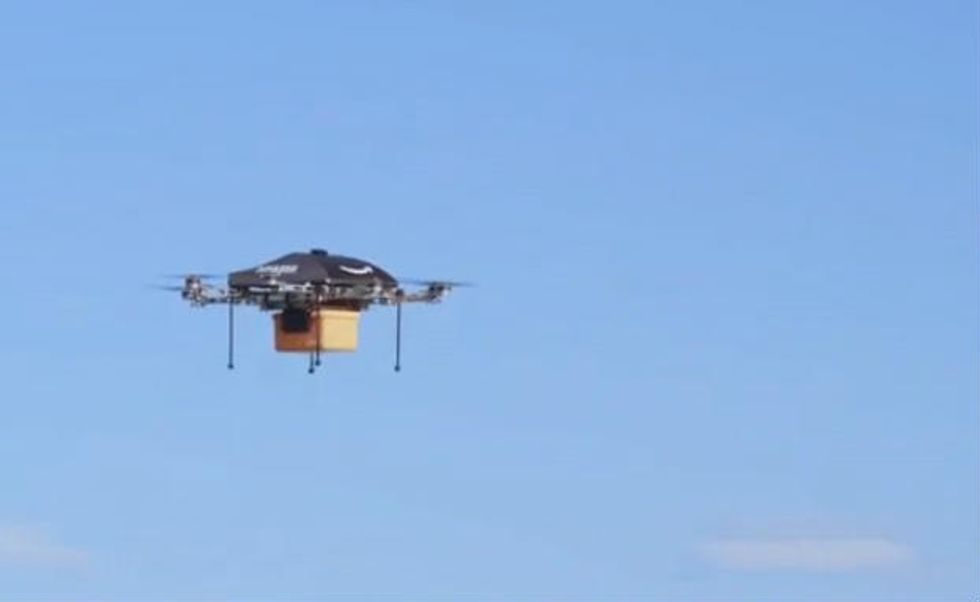 Image source: Amazon.com
Current FAA rules prevent the company from using drones to delivers goods to customers. However, as the letter pointed out, other operations, such as manufacturers, are permitted to operate drones under current rules simply because they are not considered commercial enterprises.
"We have been limited to conducting [research and development] flights indoors or in other countries," Amazon said.
On Sunday, more than half a year later, the FAA announced a new framework of regulations that would make certain unmanned aircraft systems, or drones, legal.
"The proposed rule would require an operator to maintain visual line of sight of a small drone. The rule would allow, but not require, an operator to work with a visual observer who would maintain constant visual contact with the aircraft. The operator would still need to be able to see the [drone] with unaided vision (except for glasses)," the FAA said.
While the FAA did say the new framework would maintain the flexibility to "accommodate future technological innovations," it leaves Amazon awaiting Uncle Sam's approval for Prime Air's takeoff in the U.S.
"The FAA's proposed rules for small UAS could take one or two years to be adopted and, based on the proposal, even then those rules wouldn't allow Prime Air to operate in the United States," Amazon Vice President of Global Public Policy Paul Misener said.
Misener urged the FAA to "expeditiously" begin and complete the process which would allow Amazon to legally operate delivery drones within the U.S.
The regulation framework announced Sunday would allow for activities such as aerial photography and mapping, crop monitoring and inspections of cell towers, bridges and other tall structures.
Read the full framework of regulations here.
–
Follow Jon Street (@JonStreet) on Twitter