French police say the guns used in last month's Islamic terror spree in Paris may have been legally purchased in Slovakia, a member of the European Union.
According to Euronews, police are investigating whether Cherif and Said Kouachi, the brothers who killed 12 in the attack on the offices of Charlie Hebdo, and Amedy Coulibaly, who killed four hostages in a kosher grocery store, acquired the automatic weapons legally from a gun shop in Slovakia through a firearms dealer in Brussels.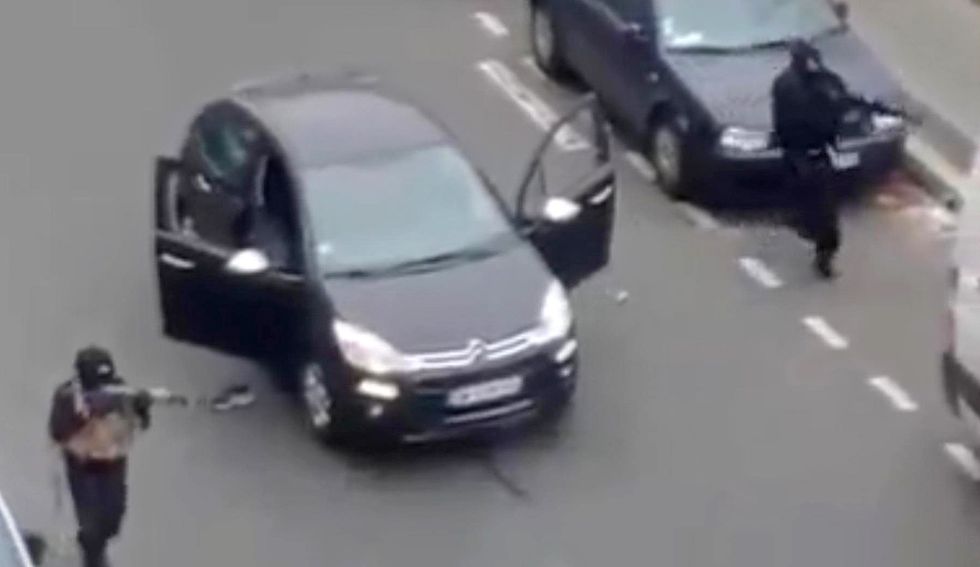 Masked gunman fire their weapons outside the French satirical newspaper Charlie Hebdo's office, in Paris, Jan. 7, 2015. Paris residents captured chilling video images of two masked gunmen shooting a police officer after the attack. (AP)
After finding seven guns believed to be linked to the Jan. 7 Charlie Hebdo killings, French police contacted Slovakian authorities, who traced the guns to a gun shop in the western part of Slovakia, where it is believed they were sold as "expansion" weapons.
There is no evidence to indicate the guns were purchased illegally because all that is needed to purchase an "expansion" weapon in Slovakia is an ID showing the buyer is at least 18 years old, according to Euronews. Such weapons are deactivated for purposes such as movie props, historical reenactments and private collections.
Firearms expert Ľudovít Miklánek told Euronews it's not terribly difficult to revert "expansion" weapons back to working firearms, and foreigners have discovered the loophole.
"They emerge in EU countries like Spain or France because we are in Schengen [the European Union area within which people and goods can move freely with few checks]," Miklánek said.
But it may not be the EU's laws alone that could have made it easier for the Charlie Hebdo shooters to transfer guns into Paris. As Miklánek also pointed out, Slovakia makes it easier for "expansion" weapons to be converted into working firearms. In the Czech Republic, by comparison, it's a much more difficult process. The Czech Republic, like Slovakia, is also part of the EU.
The Czech process requires "extensive modification," Euronews reported, and requires the barrel be replaced, among other mechanical steps. And even then, the outlet said, the shooter still risks the gun exploding while firing.
Charlie Hebdo was known for publishing cartoons of the Muslim Prophet Muhammad and witnesses of the event say the attackers shouted, "We have avenged the prophet," during the shooting spree. French President François Hollande declared the violence an act of terrorism.
(H/T: Euronews)
–
Follow Jon Street (@JonStreet) on Twitter