The State Department acknowledged on Wednesday that it has not been telling Israel everything about its ongoing negotiations over Iran's nuclear program, in part because it fears some information from the talks might leak out.
Questions about just how much information the U.S. is giving Israel were prompted by Israeli Prime Minister Benjamin Netanyahu, who asked this week why Israel can't learn more about the talks.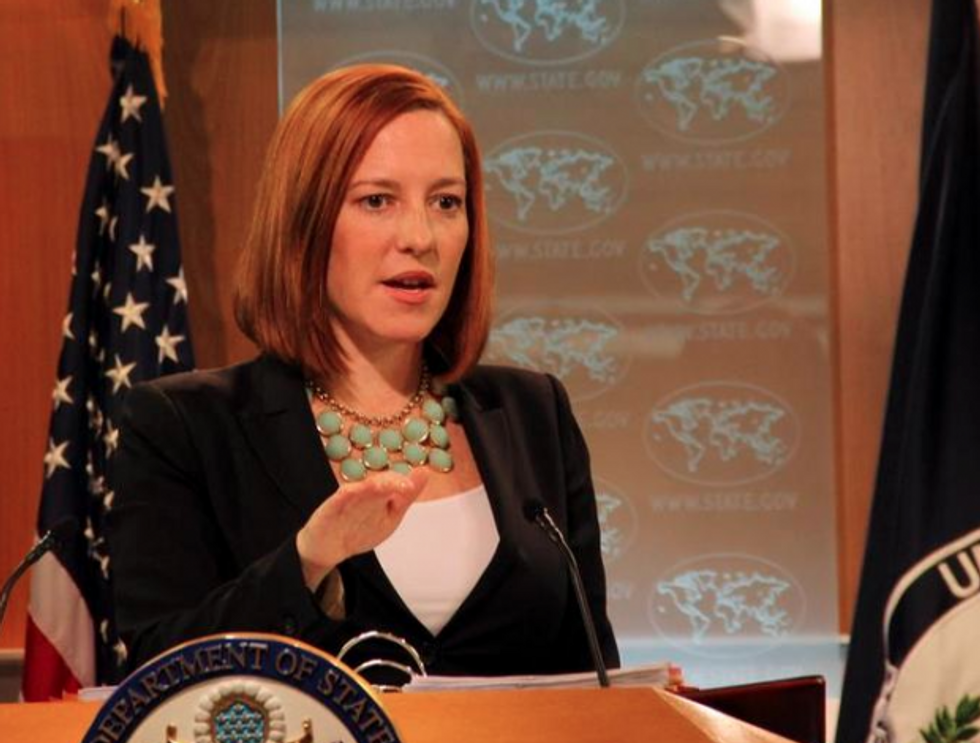 State Dept. spokeswoman Jen Psaki acknowledged that the U.S. is not sharing everything about the Iran nuclear talks with Israel. Image: Anadolu Agency/Getty Images
"Just as Iran knows what deal is being outlined in the negotiations, it's only natural that Israel also know the agreement being drafted," Netanyahu said, according to the Times of Israel. "But if there is anyone who thinks that this is a good agreement, why should it be hidden?"
Netanyahu is scheduled to speak to a joint session of Congress in early March, and has said it is imperative that he talks about the ongoing threat Iran poses to Israel. Several Democrats have said they would not attend, since Republicans didn't keep Democrats in the loop about the invitation.
According to the New York Times, senior Obama administration officials rejected the idea that information about the Iran talks was being withheld from Israel. But State Department spokeswoman Jen Psaki admitted that some information is being withheld because the U.S. wants to keep it classified.
"We continue to consult… with our Israeli colleagues, and we continue to get into specific issues in these consultations," she said. "But we have long been mindful not to negotiate in public, and we take steps to ensure that classified negotiating details stay behind closed doors in these negotiations. That has long been the case."
When pressed on whether this means the U.S. is keeping back some information from Israel in particular, she finally said, "correct."
"We share a great deal," she said. "Obviously there are steps we take, including what we share and how we consult with our counterparts, including the Israelis."
Psaki also agreed that part of the trouble is that Israel has been known to selectively release some information about the talks that she indicated harm the negotiations.
"I think it's safe to say that not everything you're hearing from the Israeli government is an accurate reflection of the details of the talks," she said. "I think there's a selective sharing of information."
But Psaki said this practice is "not new," and is instead a longstanding practice aimed at protecting the negotiations. When asked if the U.S. can assure Israel that the U.S. is not withholding any critical information, she said:
"We can assure the Israelis that their security interests that, that the security of Israel remains a top priority of the United States, and we take every step in order to ensure that."
Both Republicans and Democrats have been critical of the Obama administration's ongoing effort to secure a nuclear deal with Iran, and say last year's extension is only giving Iran more time to develop its nuclear program.
Senate Democrats last month said they would let Obama continue trying to reach a deal until March 24, but after that, they said they'd be open to voting for new sanctions against Iran.