As police and SWAT teams surrounded the home of the suspect in the road-rage killing of a Las Vegas mother on Thursday, the woman's grieving husband exploded on members of news crews who had set up at the scene.
Police later arrested the unnamed suspect in the shooting death of 44-year-old Tammy Meyers and took him to police headquarters for questioning.
"Are you all happy? You made my wife look like an animal, and my son!" Robert Meyers shouted at news crews Thursday. "There's the animal. A block away! Are you happy?!"
Watch the emotional moment via CNN/Mediaite:
The case has received significant national attention since Meyers was killed after an encounter with another driver as she gave her teenage daughter a driving lesson.
As Mediaite's Andrew Kirell notes, the father's fury is "likely directed at early media reports that suggested his wife and son had gone out in pursuit of the other man, rather than having gone back out to hide the car, as Robert claims."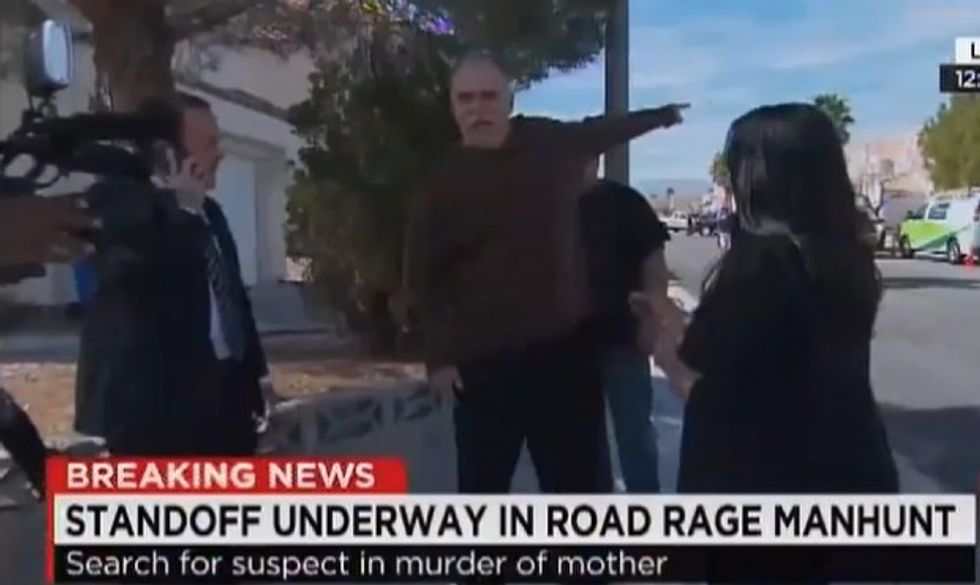 (CNN)
Meyers was removed from life support on Valentine's Day as police hunted for a suspect. Online donations to pay for funeral costs quickly poured in from around the nation.
Las Vegas police Capt. Chris Tomaino said there is still "a lot of investigative work to do."
The Associated Press contributed to this report.
---