Police officers guarding Jewish sites in Sweden have been directed to carry automatic weapons following a deadly terrorist attack on a synagogue and free speech event over the weekend in neighboring Denmark.
The English-language news site the Local, citing Swedish newspaper Svenska Dagbladet, reported that officers guarding synagogues and other sites will also be equipped with bulletproof vests and protective helmets.
The decision to have police carry heavier equipment was detailed in new "directives" to police in the wake of the weekend violence, The Local reported. Swedish police on other assignments more typically carry pistols.
"This is in line with a previous decision that security equipment of police officers stationed at Jewish activity centers should be strengthened," Swedish police spokeswoman Jessica Krasser Fremnell told the paper.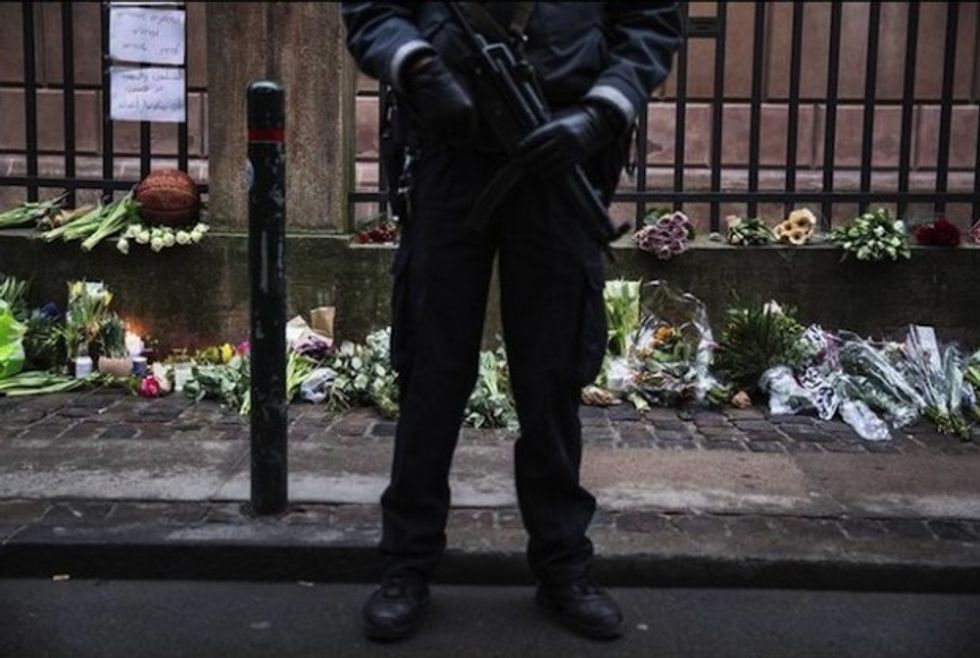 A policeman stands outside a synagogue where an attack took place, in Copenhagen, Sunday, Feb. 15, 2015. Danish police shot and killed a man early Sunday suspected of carrying out shooting attacks at a free speech event and then at a Copenhagen synagogue, killing a Danish documentary filmmaker and a member of the Scandinavian country's Jewish community. Five police officers were also wounded in the attacks. (AP Photo/Polfoto, Niels Hougaard)
Jewish community members confirmed to TheBlaze that police assigned to guard Jewish schools and synagogues have been carrying the heavier weaponry.
Lena Posner Korsi, chairwoman of the Jewish Central Council in Sweden, noted that like in Paris, the first attack may have been against free speech advocates, but the gunman ended up targeting a synagogue.
"It either begins or ends with a Jewish target," she said.
Tom Shulevitz, program director for the Jewish Community of Gothenburg in Sweden, described the distress being felt in the Jewish community.
"People are of course very, very upset and depressed over the situation here. We're feeling it's very close to us. The community in Copenhagen is like a sister community," Shulevitz told TheBlaze by phone. "We have had many phone calls from those a bit worried, with questions."
Despite the fears, he said, community members are reaching out to one another and planning events to gather and find comfort in being together.
"You have to have togetherness," Shulevitz said. "People need it and need to feel secure among the group."
Besides the addition of police protection to bolster the private security guards, the Jewish community has in the past hired for protection, a social worker was also available to counsel worried community members.
Following the weekend attacks in which a 22-year-old Danish national of Palestinian descent killed two men in Copenhagen - one a Danish filmmaker and the other a Jewish community member serving as a door guard outside the synagogue – Swedish officials decided to beef up security of religious sites.
Five police officers were also wounded in the attacks.
Sweden's Home Secretary Anders Ygeman told the TT news agency, "In the short term the police will increase their presence, but over a longer period of time we need to work together with the religious groups to help all Jews living in Sweden feel safe and secure."
Danish police on Tuesday confirmed the identity of the gunman behind the attacks as Omar Abdel Hamid El-Hussein.
"The Copenhagen police can now confirm the reports published by the press about the alleged perpetrator's identity," it said in a statement quoted by The Local.