Right now, California law allows parents to opt their children out of receiving vaccines as part of their "personal beliefs." But a new law introduced into the state legislature could take away the possibility of that exemption.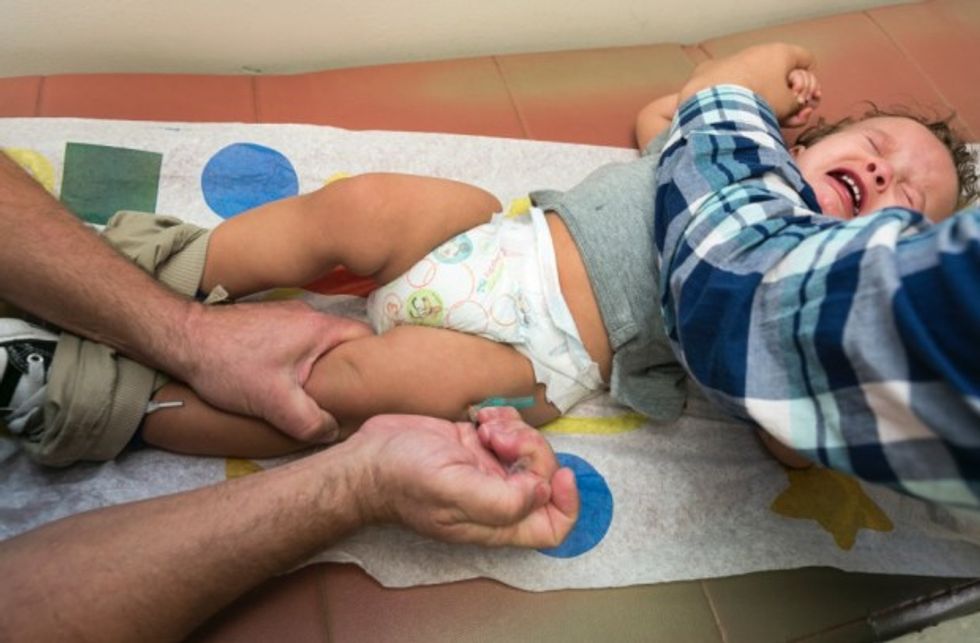 In this Jan. 29, 2015, file photo, pediatrician Dr. Charles Goodman vaccinates 1 year- old Cameron Fierro with the measles-mumps-rubella vaccine, or MMR vaccine at his practice in Northridge, Calif.  (AP/Damian Dovarganes)
Amid the current measles outbreak, two state senators said earlier this month they were planning to introduce such legislation, and they made good on that promise last week.
According to KPIX-TV, the proposed change has 26 sponsors after it was initially introduced by state senators Ben Allen and Richard Pan. The San Jose Mercury News reported that in its current form the bill could end all exemptions, even religious.
"There is no religious exemption in the statute," Pan told the Mercury News. "I'm certainly open to the discussion about the necessity and the nature of any proposed religious exemption."
Political analyst a Melanie Griffin-Caen for KPIX wrote that she believes the legislation will pass.
"I believe that some version of it will pass," Griffin-Caen wrote on the news website. "It already has 26 sponsors, mostly Democrats, but two Republicans have also signed on. Politically, here's what's most important: for years there has been a small, vocal group of parents who oppose vaccination and there wasn't a huge 'pro-vaccination' outcry. But that has all changed. In recent months, there has been an uproar of pro-vaccine voters demanding higher rates of vaccination and and politicians are paying attention. It's not just California, either – lawmakers in Washington and Oregon are considering closing some vaccine exemptions as well."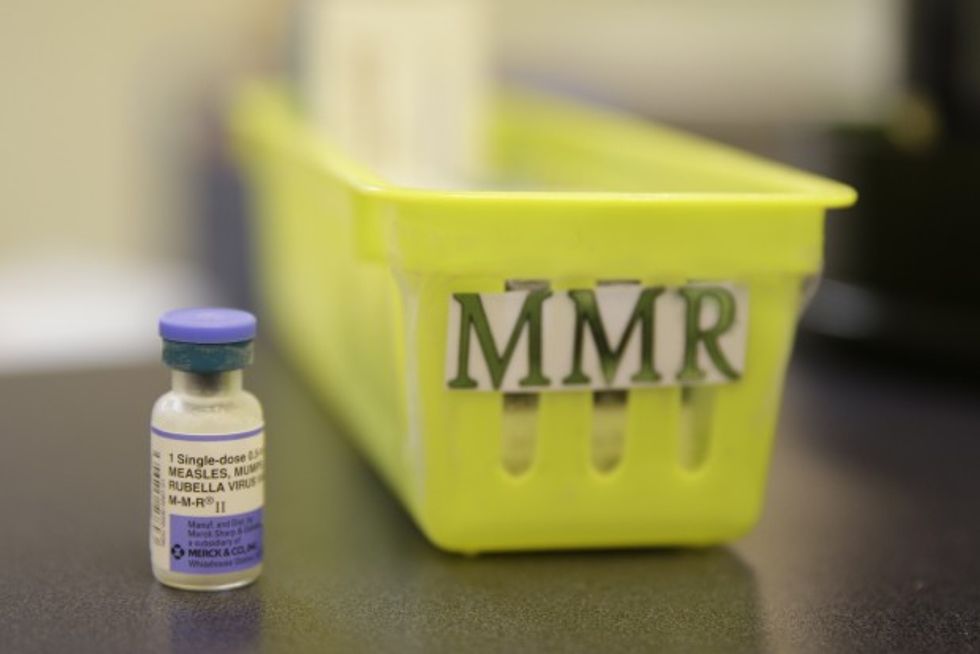 A measles vaccine is shown on a countertop at the Tamalpais Pediatrics clinic Friday, Feb. 6, 2015, in Greenbrae, Calif. (AP/Eric Risberg)
In 2012, it became harder for parents to opt their children out of vaccines in California. According to the National Vaccine Information Center, starting last year parents in the state had to get an extra signature from a physician to submit documents for the vaccine exemption.
California health officials' latest update shows no new measles cases for the first time since the Disneyland outbreak began last year — an encouraging sign that infections may be waning.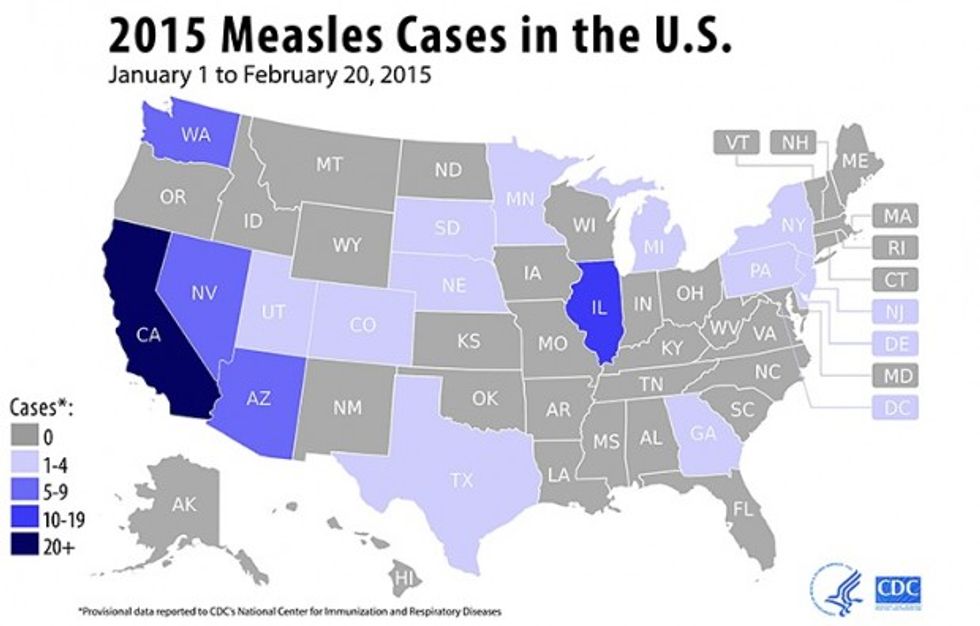 Images source: CDC
The Department of Public Health said Monday that the number of measles cases stands at 123, the same total as Friday.
The number of infections had been increasing since the outbreak linked to Disney theme parks in December. This is the first time since then there've been no new cases in the state's updates that come out three times a week.
Still, the outbreak is far from over. The health department says there needs to be two incubation periods without any new cases before the outbreak can be declared over.
Another two dozen measles cases traced to Disneyland have been found in six states, Mexico and Canada.
According to the latest numbers from the Centers for Disease Control and Prevention, since Jan. 1, there have been 154 reported measles cases in 17 states, more than 75 percent of which are related to the outbreak that started at Disneyland.
—
The Associated Press contributed to this report.