Seeing a bunch of uniform-clad 60 and 70-year-olds on a soccer field might seem unusual given their age, but a slower version of the game has become wildly popular overseas.
"Walking football," as it's called in the U.K., was created in 2011 as an organized sport for older enthusiasts who still yearn to be on the field.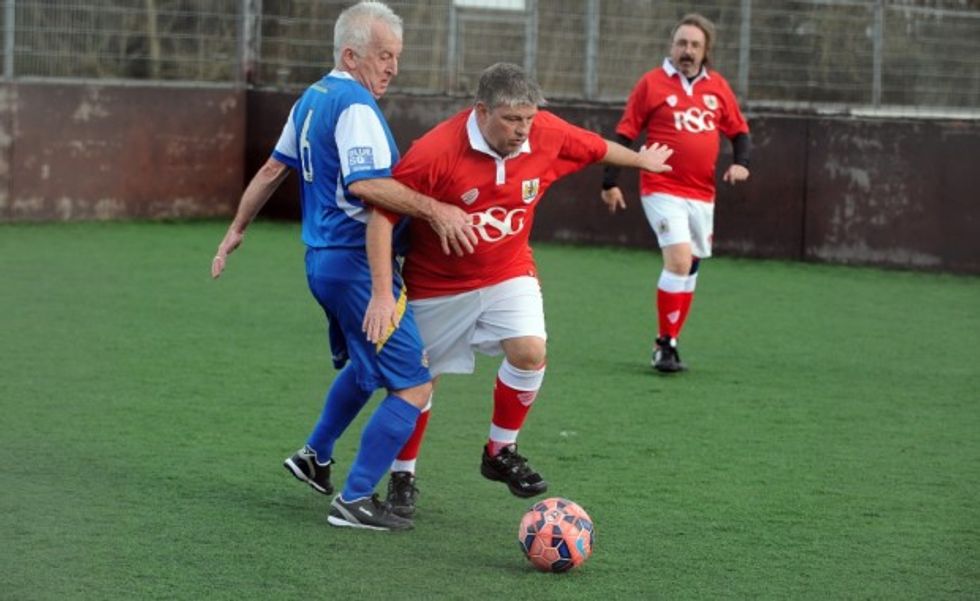 Action from the FA People's Cup Walking Football between Eastleigh FC (in blue) and Bristol City (in red) on February 21, 2015 in Brislington, Bristol, England. (Robin Parker - The FA/The FA via Getty Images)
According to Inside Tameside, a local news website in the U.K., the sport where participants get a penalty if they run was drummed up by the U.K.'s Chesterfield Football Club and has been gaining in popularity since its inception. Though running or jogging is strictly forbidden in the game, "power walking" is acceptable, according to Walking Football United.
"It's not only a physical workout, but it's a social occasion as well," 69-year-old Bill Murney told Inside Tameside.
Researchers at Aston University in the U.K. are beginning to evaluate the health benefits of walking football in adults older than 48 years old who play once a week for 12 weeks, according to a news release.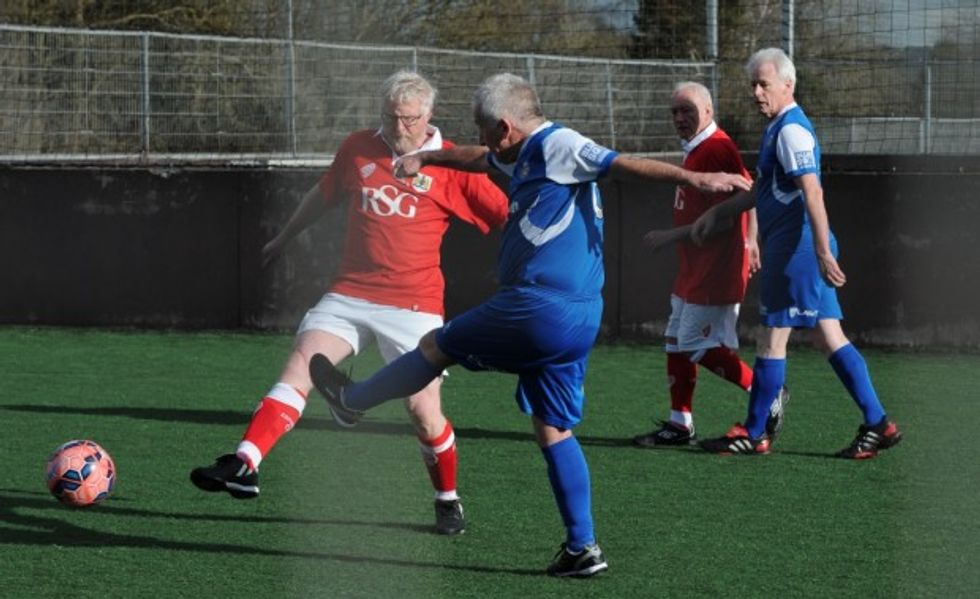 Walking football was created formally only a few years ago but it has grown in popularity in the U.K. since. Now researchers plan to study walking football participants in order to quantify any health benefits. (Robin Parker - The FA/The FA via Getty Images)
"Football is a fantastically good way of staying fit and healthy," researcher Peter Reddy said in a statement. "Studies have shown it can be effective in the treatment of mild to moderate hypertension and that it can produce high aerobic activity with marked improvements in fat oxidation and aerobic power. Most people who play the sport, at amateur and professional levels, give it up in their late 30s but there's no reason not to enjoy the beautiful game until well into your 60s and even 70s.
"We hope this study will establish that Walking Football has health benefits on proportionally similar lines to regular football and that older adults can happily play every week without pain or discomfort," Reddy said. "If the data is positive, it will form a basis for local and national charities and authorities to set up and support local Walking Football groups. We want to ensure people are healthy for longer – and that they can enjoy a kickabout at any age."
The Guardian reported last week that more than 200 clubs have popped up in the U.K. since the game was invented.
Keith Salmon, a walking football enthusiast, told the Guardian that he's had open heart surgery and has atrial fibrillation, but his doctor says he can play the sport.
"So here I am every Saturday like a fool ... I don't know about the football, but I am a walking miracle," he told the newspaper.
Watch Salmon talk about his passion for the sport:
Here's another video about the increasingly popular walking football:
(H/T: Science Daily)