Senate Minority Leader Harry Reid (D-Nev.) is telling both the House and Senate exactly how the two chambers will pass a Department of Homeland Security spending bill, even though he's technically not in charge of either body.
As of Wednesday afternoon, House and Senate Republicans appeared to be complying with Reid's demands.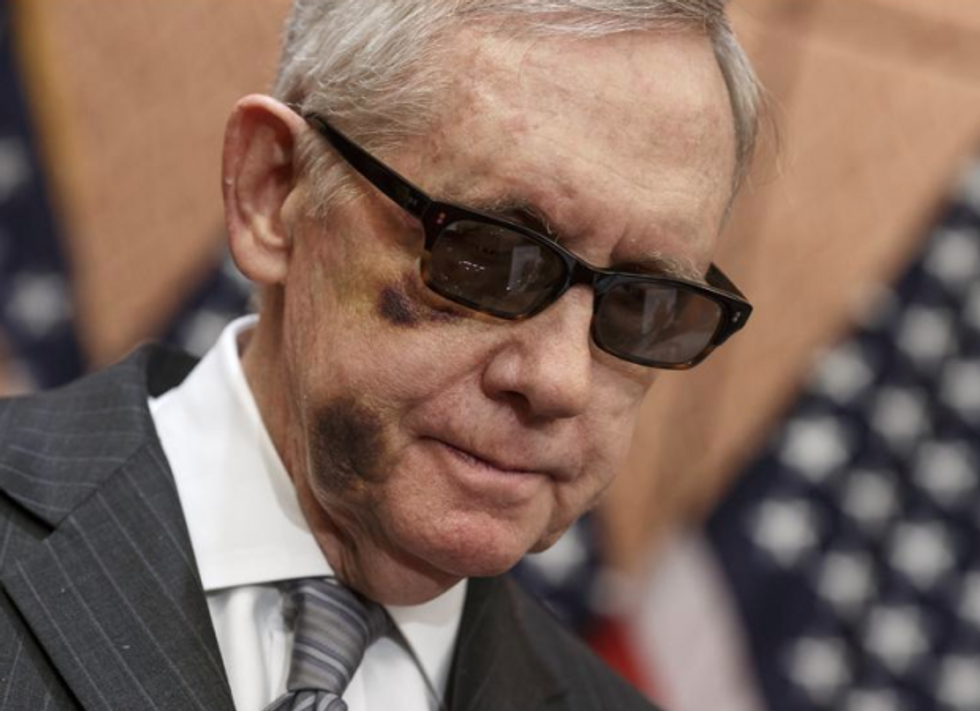 Senate Minority Leader Harry Reid (D-Nev.) is still recovering from eye surgery, but is running the table in Congress right now. Image: AP Photo/J. Scott Applewhite
Senate Republicans have now agreed to the Democratic demand that the Senate will pass a "clean" DHS spending bill that doesn't include any language to defund President Barack Obama's immigration plan. Senate GOP leaders agreed to this on Tuesday, after spending weeks failing to convince Democrats to support a bill that defunded Obama's plan.
Reid initially reacted to the GOP's offer by making a new demand — that House Republicans must first agree to pass the same DHS bill, with no additional language on immigration.
Reid seemed to back away from that additional demand on Wednesday, and indicated he was more comfortable with the GOP's decision to accept the Democratic demand. "We're glad to see that that's happened, and we're going to do everything we can to make sure it passes by an overwhelming vote," he said.
But still, he offered explicit instructions on how the House must pass the bill.
"This isn't the time for games," Reid said. "If the House of Representatives led by Speaker Boehner is interested in doing a funding measure for the Department of Homeland Security, it has to be one that has no tricks."
"No riders, and if he sends something back that is vexatious, with all these riders, anti-immigrant stuff, he won't be able to go to conference, and he has to understand that," Reid said. Conference is the now-rare process under which the House and Senate meet to finalize the details of bills that are similar, but not identical.
As long as Republicans accept Reid's demands, Reid said he and other Democrats "look forward to working with our Republican colleagues in the next 24 hours to get this done."
Earlier in the day, House Speaker John Boehner (R-Ohio) didn't say whether the House would accept the Senate plan, and said the House is still waiting for the Senate to take some action.
But behind the scenes, House Republicans appeared to be getting ready to pass the clean DHS bill once it comes over from the Senate. The House approved a rule early Wednesday afternoon that would let them do exactly that any time this week.
Many House Republicans are expected to oppose that plan, because it takes the immigration language out of a must-pass bill. But at the same time, some GOP members are likely fine with making sure DHS is funded at this point — funding expires after Friday.
Even if half of all House Republicans oppose it, the DHS bill would easily pass in the House due to Democratic support. But the more Democrats Boehner has to rely on, the more it will lead to grumbling among Republican members that he is doing their bidding, and not fighting Obama's immigration plan enough.