Robert Mathai was fast asleep when the call went out over the airplane intercom: Someone on his flight needed medical assistance.
Mathai's mom, Teresa, was sitting next to him and woke up her son. You see, Mathai — a 21-year-old economics and philosophy senior at Tufts University — is also a volunteer emergency medical technician.
"I got this if no one else was a doctor or anything," he said he told himself in the moment, the Miami Herald reported.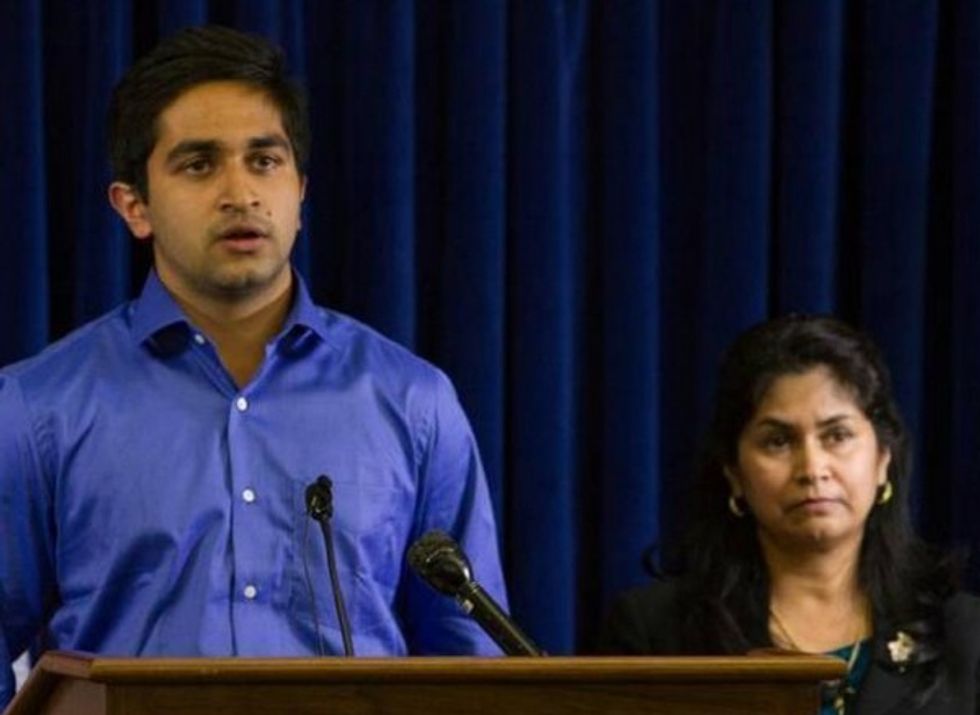 Robert Mathai and his mother Teresa. (Image source: Miami Herald via U.S. Army)
So Mathai headed to the front of the plane where flight attendants were standing over the victim, and Mathai checked his vital signs, administered oxygen and spoke to him for about an hour until the plane landed and the man was whisked away by an ambulance crew.
While Mathai himself characterized his actions as not "super impressive," two important facts say otherwise: Mathai is the son of a World Trade Center 9/11 victim, and the man he was helping is an attorney for accused 9/11 mastermind Khalid Sheik Mohammed.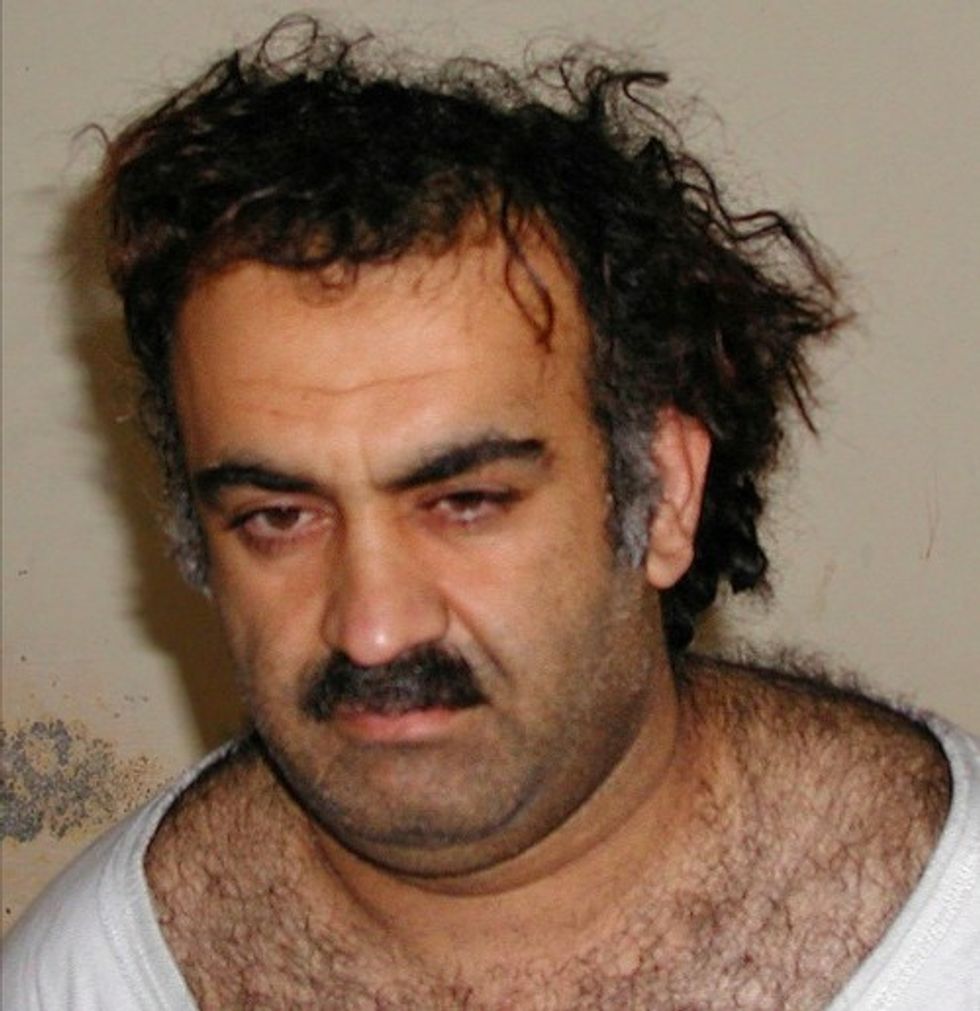 FILE - In this March 1, 2003 file photo, Khalid Sheikh Mohammed, shortly after his capture during a raid in Pakistan. (Image source: AP, File)
The pair were aboard a chartered flight from Guantanamo Bay to Andrews Air Force Base on Valentine's Day following about a week of court proceedings for Mohammed. The Pentagon has been selecting family members of 9/11 victims by lottery to shuttle down to Cuba for the proceedings, along with attorneys for both sides, reporters, clerks. This flight included the trial's judge, the Herald noted.
The paper added that some have had harsh words for the attorneys of accused 9/11 conspirators, questioning why they're defending them.
For Mathai, what the man laying on the floor of the airplane did for a living wasn't a consideration — at that moment he needed help, and Mathai gave it.
"You execute your jobs to the best of your training and ability," he told the Herald. Mathai's mother echoed her son's sentiments, telling the paper, "He's just a lawyer doing his job, and Robert was doing his job."
Mathai was 8 when his father Joseph, a high-tech exec, was killed in the World Trade Center terror attack while attending a conference there.
In this Sept. 11, 2001 file photo, American Airlines Flight 175 closes in on World Trade Center Tower 2 in New York, just before impact. (Image source: AP/William Kratzke)
Mathai isn't looking to become a doctor, but he told the Herald what happened to his dad — and the impact of first responders that day — likely drew him to EMT work.
Also, he told the paper it's "a great skill to have."
"Robert's a very compassionate man," his mother told the Herald. "This is one way for him to be able to help people. When something bad happens you don't want to feel helpless. He was happy to be in the right place at the right time."
No one was happier than the man Mathai assisted on the flight, 33-year-old Army Capt. Brian Nicholson, who told the Herald he was "absolutely grateful that Robert was there" and is fine and back to work.
And when he realized who it was who was giving him medical assistance? Nicholson told the paper the feeling was "nothing short of amazement."
(H/T: New York Daily News)
—
Follow Dave Urbanski (@DaveVUrbanski) on Twitter