Is it the "boldest show on television," or just a sad, desperate attempt to attract eyeballs?
Premiering Friday night, WE TV's "Sex Box" is just that: A show about people having sex in a box.
Billed as a form of couple's therapy — the couples are interviewed before and after their coupling by a panel of so-called experts — the show has attracted the ire of the Parents Television Council and the shrugging dismissal of critics, with both groups asking the same basic question: "How in the world is this being shown on television?"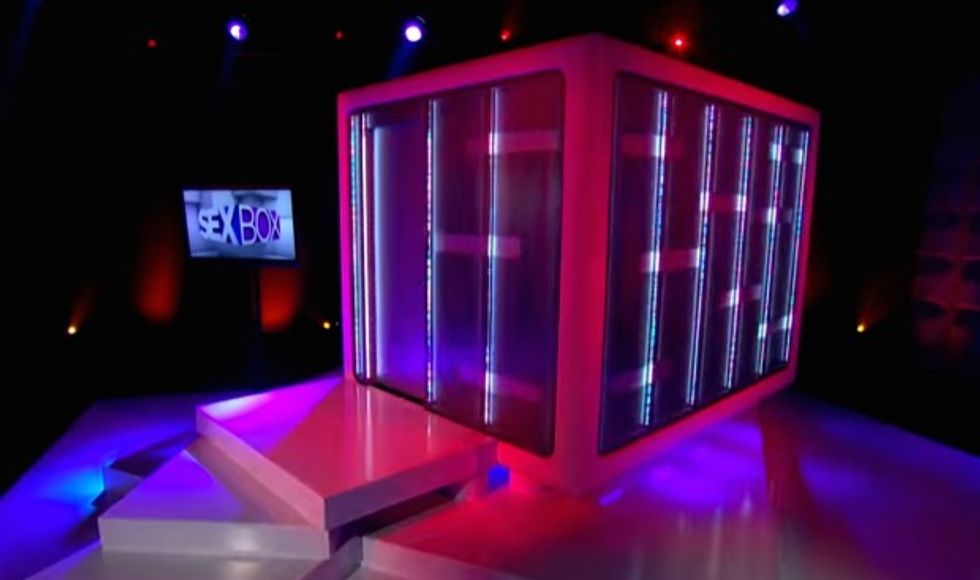 Image source: WE TV
The critics' main complaint is that "Sex Box" is just plain boring.
Variety's Brian Lowry panned the show, saying it revolves around "a blatant gimmick, and a silly one at that," and that each of the show's three "expert" hosts are "uniquely annoying."
The New York Daily News declared the show has "ruined sex — and boxes, for that matter."
The bad reviews are far from unprecedented, as the original British version of "Sex Box" was given one out of five stars by the Daily Mirror.
While critics may lament the lack of titillation (or any real entertainment) on "Sex Box," the conservative Parents Television Council, known for decrying of "indecent" television, unsurprisingly has serious problems with the idea of airing such frank sexual situations on television.
In a joint letter signed by One Million Moms, the National Center on Sexual Exploitation and the PTC to WE TV Wednesday, the groups called on WE TV to refund the portion of each consumer's cable bill that goes to the network, saying that customers forced into paying for bundled cable offerings shouldn't have to subsidize "what amounts to little more than a live sex show."
The letter is accompanied by the signatures of some 38,000 outraged Americans, the PTC noted.
Is the PTC's stance actually hurting "Sex Box" — or could it perversely boost the show's viewership?
Variety critic Lowry wrote that the PTC was inadvertently "promoting ['Sex Box'] with its seal of disapproval," and WE TV has actually used the PTC's outrage in its marketing, sarcastically urging those who would sign an anti-"Sex Box" petition to watch the show before passing judgment.
But the PTC remains resolute.
"We understand that We tv is urging viewers to watch before rushing to judgment," the Parents Television Council said Wednesday. "We assure you, those who have signed the petitions to 'Stop Sex Box' already know that asking couples to have sex inside a box on a stage in front of a live studio audience is not, at the end of the day, about helping those relationships. It's about pandering to the lowest common denominator, it's about pushing the envelope to see what you can get away with."
"I often say that silence gives consent," Melissa Henson, Parents Television Council director of grassroots activism and education, told TheBlaze. "The greater risk is in letting it air without pushback, giving the networks and its competitors the mistaken impression that viewers are just fine with what they're planning to do, and in fact giving them tacit permission to do it."
Of course, after the hullabaloo subsides, viewers may not have to put up with "Sex Box" for very long.
The original British show only lasted one week before getting canceled, and with early reviews of the American version being as negative as they are, it seems likely that "Sex Box" will end, not with a bang after several seasons, but with a whimper after one.
This story has been updated.
—
Follow Zach Noble (@thezachnoble) on Twitter