NATIONAL HARBOR, Md. — He's still not committed to a run — but conservatives sure seem to want him to.
Dr. Ben Carson, the famed neurosurgeon who has been hinting at a 2016 presidential run for years, addressed the 2015 Conservative Political Action Conference on Thursday morning, calling for school choice, the end of Obamacare and enabling Americans to "climb out of dependency and realize the American Dream."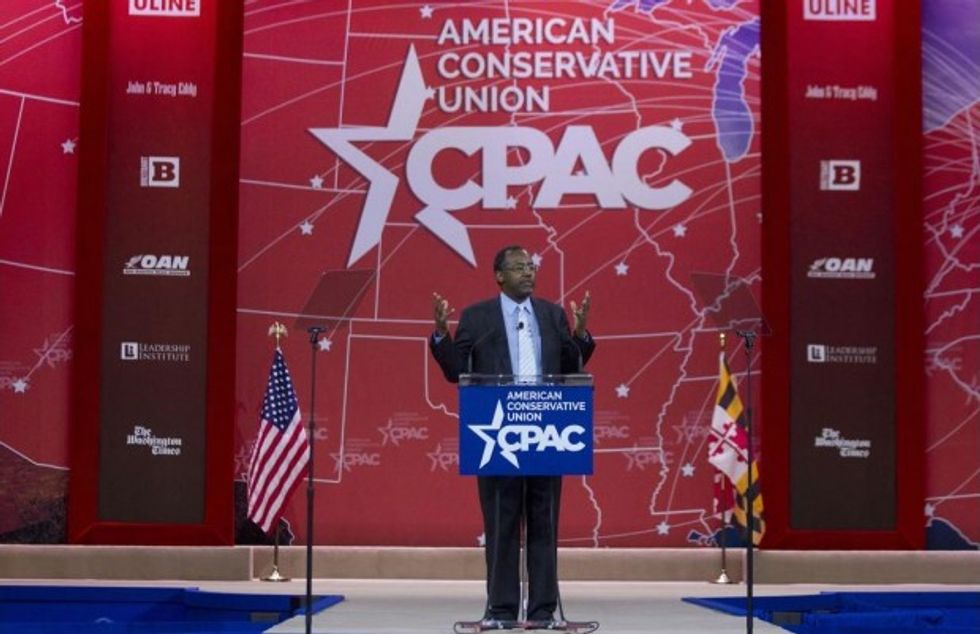 Ben Carson, possible 2016 presidential candidate, speaks during the Conservative Political Action Conference in National Harbor, Md., on Thursday, Feb. 26, 2015. (Bloomberg/Bloomberg via Getty Images)
Before he spoke, a healthy contingent of Carson supporters waited in the halls outside the ballroom, wearing "Run Ben Run" T-shirts.
The Ben Carson supporters are out in force today pic.twitter.com/1G8ivus7VE

— Daniel Strauss (@DanielStrauss4) February 26, 2015
But Carson was careful to say, "If I decide to run — you have to say those things," when asked about his presidential ambitions.
He marveled at the left's "relabeling" of things.
"If you're pro-life, you're 'anti-woman.' If you're pro-traditional family, you're a 'homophobe.' If you're white, and you oppose a progressive black person, you're 'racist.' If you're black and you oppose a progressive agenda, you're 'crazy.' And if you're black and you're pro-life and you're pro-traditional family, they don't even know what to call you. You end up on some kind of watch list for extremists!" he said.
Citing the rise in the use of food stamps, broken families and out-of-wedlock births since the 1960s, Carson declared that government programs aimed at ending poverty had failed, and said that individuals should shoulder the responsibility for taking care of the downtrodden.
"It is our responsibility to take care of the indigent, it is not the government's responsibility," he said.
Carson also touted his alternative to Obamacare, saying that the Affordable Care Act is about "redistribution and control."
The things Carson said "destroy us as a nation": "our debt" and "radical Islamic terrorists, all over the world."
He also cautioned against focusing exclusively on the Islamic State.
"The Shia in Iran are every bit as dangerous, perhaps even more dangerous [than the Islamic State]," he said.
When asked about his views on Common Core, Carson called for school choice, saying that he's found that, "Homeschoolers do the best, private schoolers next best, charter schoolers next best and public schoolers do the worst."
He may not be ready to commit to a presidential run — but what is Carson ready for?
"I'm not ready for Hillary. I'm ready for a country that puts our Constitution on the top shelf. And for those that have any doubt, that includes the Second Amendment. I'm for a country where we take the restraints off the most dynamic economy the world has ever known," he said.
He also called for the development of natural resources — while looking for alternative energy sources and caring for the environment.
"God gave us these fancy brains so we can do more than one thing at a time," Carson said.
Carson received standing ovations both when he took and left the stage — but the biggest cheers came when Carson praised veterans and called for a fair tax system "that allows us to get rid of the IRS."
—
Follow Zach Noble (@thezachnoble) on Twitter