The signs that someone might be contemplating suicide are often missed until it's too late. Among younger crowds, evidence that a person might need help are often written right on their social media profiles, which is why Facebook and suicide-prevention groups teamed up to release a new feature that could recognize these signs and offer help.
The feature developed by Facebook with Forefront: Innovations in Suicide Prevention, an organization at the University of Washington's School of Social Work, and other partners was announced at Wednesday's Compassion Research Day at Facebook's headquarters.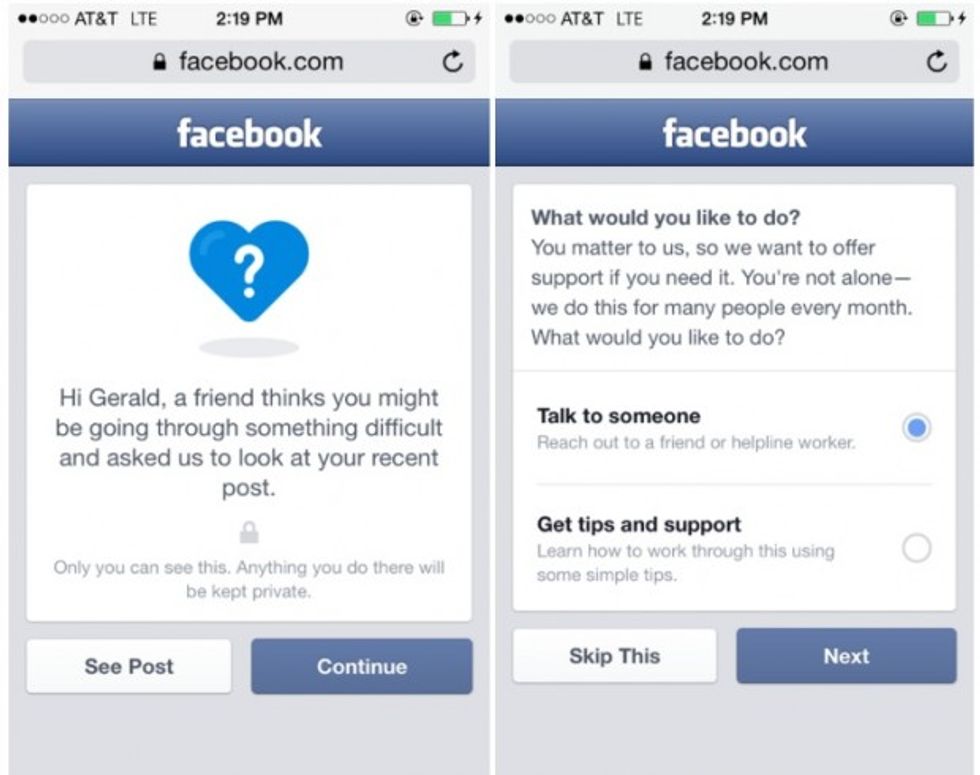 What Facebook's new features that could help prevent cases of suicide will look like. (Image source: Facebook Safety)
Here's how it works, according to a news release from the university:
When someone sees a post that suggests its author might be considering suicide, they can click on a dropdown menu and report the post to Facebook.

That reporting activates a series of responses. The person who flags the post will see a screen with links that allow them to message the potentially suicidal person, contact another Facebook friend for support or connect with a trained professional at a suicide helpline for guidance.

Facebook will then review the reported post. If the poster is thought to be in distress, a series of screens will be launched automatically when that person next logs onto Facebook, with suggestions for getting help. The responses link to a number of positive options, including videos from Now Matters Now, an online program started by Forefront research scientist Ursula Whiteside that uses real-life accounts of people who have struggled with suicidal thoughts to provide research-based coping strategies.
Watch this video about the new feature:
Facebook also has a formal form people can use to report threats of suicide.
"For those who may need help we have significantly expanded the support and resources that are available to them the next time they log on to Facebook after we review a report of something they've posted," Facebook Product Manage Rob Boyle and Community Operations Safety Specialist Nicole Staubli wrote in a post. "Besides encouraging them to connect with a mental health expert at the National Suicide Prevention Lifeline, we now also give them the option of reaching out to a friend, and provide tips and advice on how they can work through these feelings. All of these resources were created in conjunction with our clinical and academic partners."
The new features, Facebook said, will roll out within the next few months.
Even with these tools though, Facebook's website encourages users who see a "direct threat of suicide on Facebook" to contact law enforcement or a suicide hotline as well.
"In the world of suicide prevention, we know that being connected is a protective factor," Jennifer Stuber, an associate professor of social work, said in the university's news release. "People are on Facebook 24/7, so there's an opportunity to actually connect a suicidal person with someone they have a relationship with. Facebook is extremely proactive in what they're trying to do. "
(H/T: Huffington Post)
—
Front page image via Shutterstock.