A student who publicly questioned a Christian college's stance on homosexuality was in for a big surprise on Monday when a peer thew an apple at him — an act that the offender purportedly later defended in an open letter posted on a wall at the school.
The incident unfolded during a town hall event at Wheaton College in Wheaton, Illinois, after Philip Fillion, a heterosexual, married class of 2015 student, asked college president Dr. Philip Ryken about the school's traditional stance on marriage.
In his question, which Fillion has since posted in full on Facebook, he noted that students and faculty are required to abide by an agreement that affirms a "sexual ethic that denies everyone except celibates and marriage straight people a place in the kingdom of God," claiming that the traditional stance is not universal and depends on a narrow view of scripture.
"The Statement of Faith and the Community Covenant also lack any language about the sacraments of the Christian church," Fillion said, referring to a document that highlights school policies. "Why is it the case that our college, in documents we all must agree to or be expelled, insists on formally condemning and denying equality to our gay and lesbian brothers and sisters, on spurious theological grounds, yet completely leaves behind baptism and Eucharist, which Jesus Christ himself instituted to grow and strengthen the Christian community?"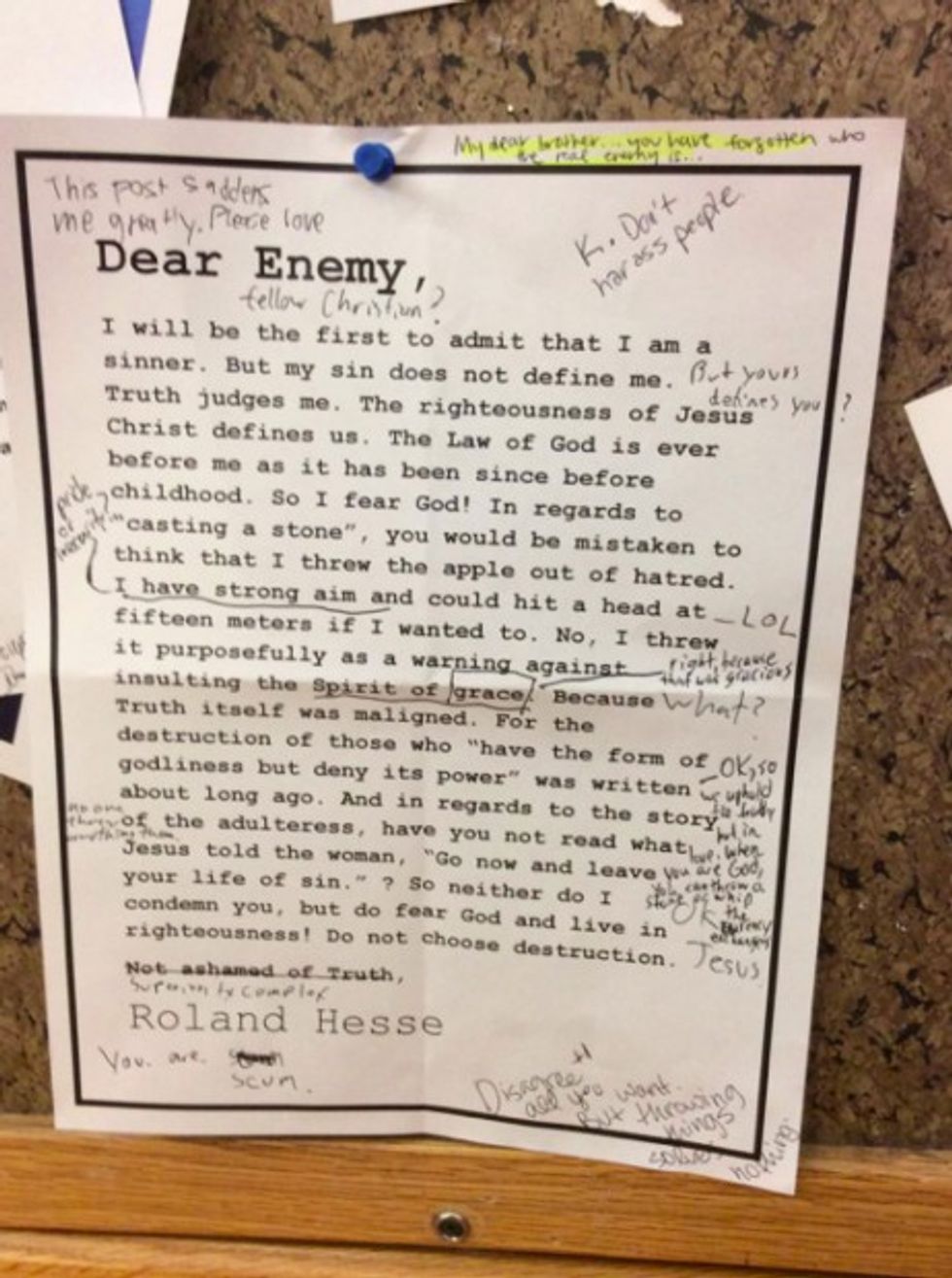 A letter that was reportedly posted on a campus wall by the apple thrower (Sara Kohler/TIME)
There's a bit of a disparity between what the college and the student claim happened next.
Fillion said that the apple hit him in the shoulder as he was asking his question, though a Wheaton official reportedly told Time that the fruit was thrown at the student — and missed him — while he was on his way back to his seat after asking his question.
"President Ryken did not see the incident and did not fully understand what happened until after chapel ended," the school told Time in a statement.
The individual who threw the apple reportedly later posted a letter addressed to "dear enemy" on a campus wall, explaining and defending his actions against Fillion.
"You would be mistaken to think that I threw the apple out of hatred. I have strong aim and could hit a head at fifteen meters if I wanted to," he wrote. "No, I threw it purposefully as a warning against insulting the Spirit of grace. Because truth itself was maligned."
(H/T: Time)