BUENOS AIRES, Argentina (AP) -- A federal judge on Thursday dismissed a prosecutor's allegations that Argentine President Cristina Fernandez tried to cover-up the alleged involvement of Iranian officials in the 1994 bombing of a Jewish center in Buenos Aires.
Judge Daniel Rafecas said the documents originally filed by the late prosecutor Alberto Nisman failed to meet "the minimal conditions needed to launch a formal court investigation."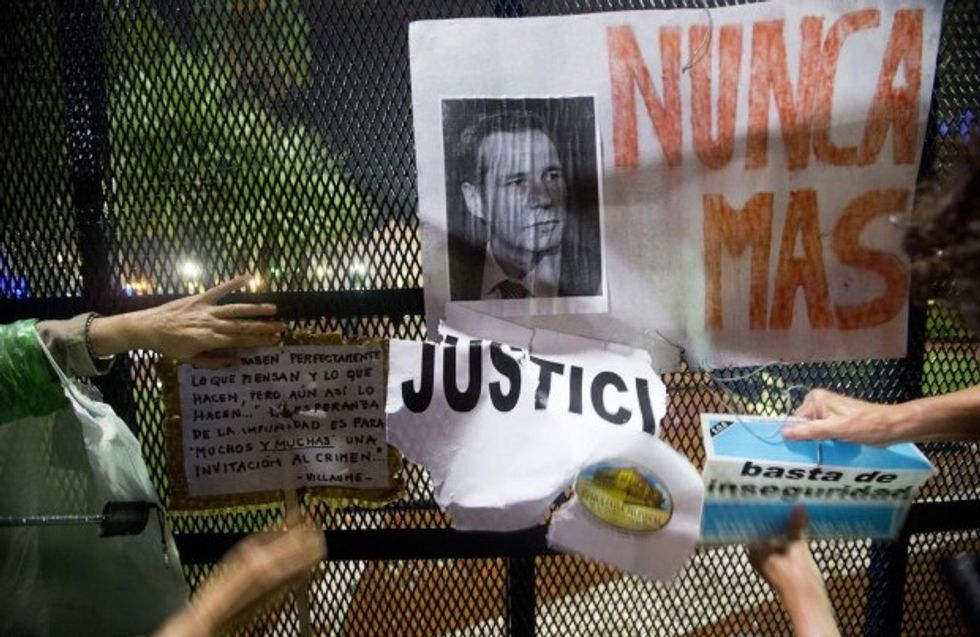 Protesters post signs on a crowd control barricade in the Plaza de Mayo, at the end of a march organized by federal prosecutors one month after the mysterious death of Argentine prosecutor Alberto Nisman, in Buenos Aires, Argentina, Wednesday, Feb. 18, 2015. (AP Photo/Rodrigo Abd)
Nisman had filed the complaint days before he died on Jan. 18 under mysterious circumstances. Polls show many Argentines suspect officials had some hand in the death, though Fernandez and aides have suggested the death was aimed at destabilizing her government.
The case that has caused a crisis for Fernandez's administration. Tens of thousands of Argentines marched through the capital last week demanding answers in the death a month after he was found in his bathroom with a bullet in his right temple.
The president initially suggested the 51-year-old prosecutor had killed himself, then did an about-face a few days later, saying she suspected he had been slain. Authorities say they are investigating the possibility of suicide or homicide.