The National Rifle Association and other Second Amendment advocates are speaking out against the government's move to amend laws regarding certain ammunition, which could, in effect, ban "one of the most popular cartridges for the most popular rifle in America, the AR-15."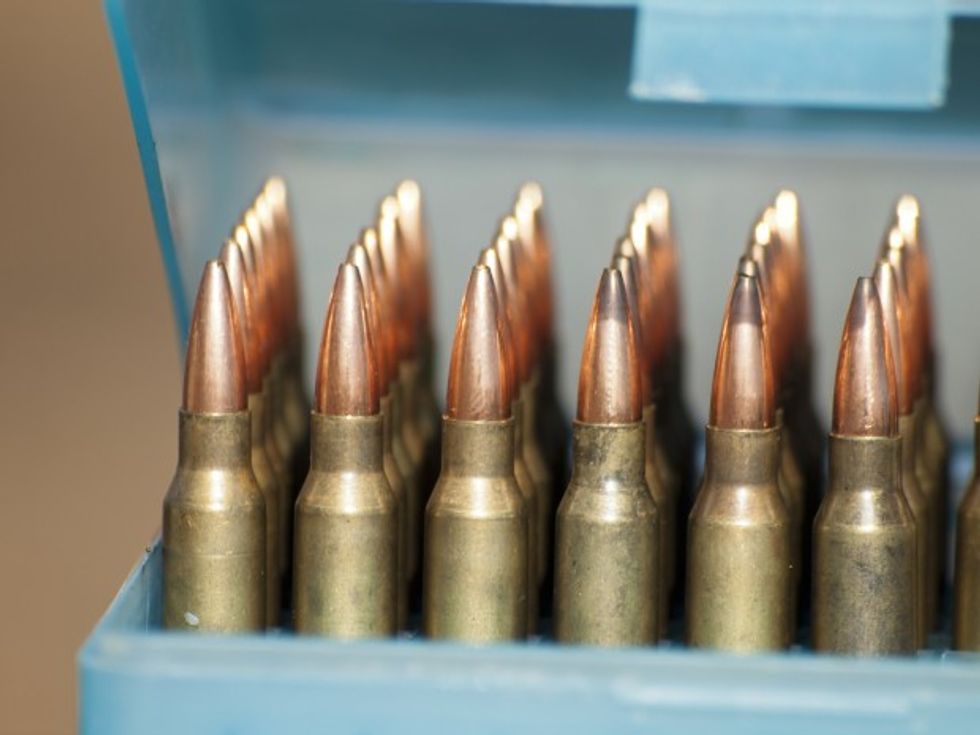 Photo credit: Shutterstock
The issue lies with so-called "armor-piercing" ammunition and handguns. There is an exception for such ammunition if it is "primarily intended to be used for sporting purposes."
The Bureau of Alcohol, Tobacco, Firearms and Explosives is proposing a new framework for those requesting that their projectile qualify as one designed for "sporting purposes."
M855 ball ammunition, which is the focus of the new regulation, could then fall into this category, according to the NRA's Institute for Legislative Action.
"The firearm industry has developed commercially available handguns designed to use conventional rifle ammunition," ATF wrote in its proposal. "This ammunition meets the content requirement of the definition, but previously was not classified as 'armor piercing' under the statute because there were no handguns that could 'use' it. As a result of the availability of these handguns, however, some conventional rifle ammunition now falls within the statutory definition and is properly classified as 'armor piercing ammunition,' despite the fact that the ammunition itself has not changed. Consequently, ammunition manufacturers have requested exemptions for this ammunition."
The NRA and Rep. Bob Goodlatte (R-Va.), chairman of the House Judiciary Committee, drafted a letter, which it hopes other Americans will sign onto and send to ATF Director B. Todd Jones to encourage ATF to reverse its proposal.
"The 'Framework,' however, establishes an unduly restrictive standard, does not comport with the letter or spirit of the law, and will interfere with Second Amendment rights by disrupting the market for ammunition that law abiding Americans use for sporting and other legitimate purposes," the letter states.
"ATF has now rescinded that exemption because repeating handguns that fire the M855 round are commercially available," the letter continued on later. "Yet this round is amongst the most commonly used in the most popular rifle design in America, the AR-15. Millions upon millions of M855 rounds have been sold and used in the U.S., yet ATF has not even alleged – much less offered evidence – that even one such round has ever been fired from a handgun at a police officer. The idea that Congress intended LEOPA to ban one of the preeminent rifle cartridges in use by Americans for legitimate purposes is preposterous."
The letter also said the the interpretation of "primarily intended to be used for sporting purposes" should include everything from target practice to hunting to competitions to instructional activities.
In Springfield, Missouri, the new framework proposed by ATF drove a rise in sales for the 5.56 mm rounds, the Springfield News-Leader reported over the weekend.
"We sold out of what we had in stock," Ryan Cook with Eagle Armory told the newspaper. "We didn't have a lot in the store but I might have sold four or five cases after ATF's statement came out. I called our suppliers but they said there was none available to order. It's like the ammo shortage before. People are going to panic."
Brent Ball, who owns a gun shop in Springfield and who was a police officer for 17 years, told the News-Leader he doesn't think an AR pistol is a threat to law enforcement because it would be hard to hide. He also added that he thinks "gun owners are their own worst enemy" when it comes to proposed changes in gun laws.
Justin Anderson with Hyatt Gun Shop told the Washington Examiner "we're always concerned when the government uses back-door methods to impose quasi-gun control."
ATF is taking comments on its proposed framework until March 16.
(H/T: Bearing Arms)
—
Front page image via Shutterstock.
—
This story has been updated to correct that the Springfield News-Leader is in Missouri, not Illinois as originally reported.