President Barack Obama, while in Miami, called on former Florida Gov. Jeb Bush to push the Republicans in Congress to pass immigration reform.
"I appreciate Mr. Bush being concerned about immigration reform," Obama said during a town hall meeting co-sponsored by MSNBC and TeleMundo. "I would suggest what he do is talk to the speaker of the House and members of his party, because the fact of the matter is that even after we passed bipartisan legislation in the Senate, I gave the Republicans a year and a half – a year and a half – to just call the bill."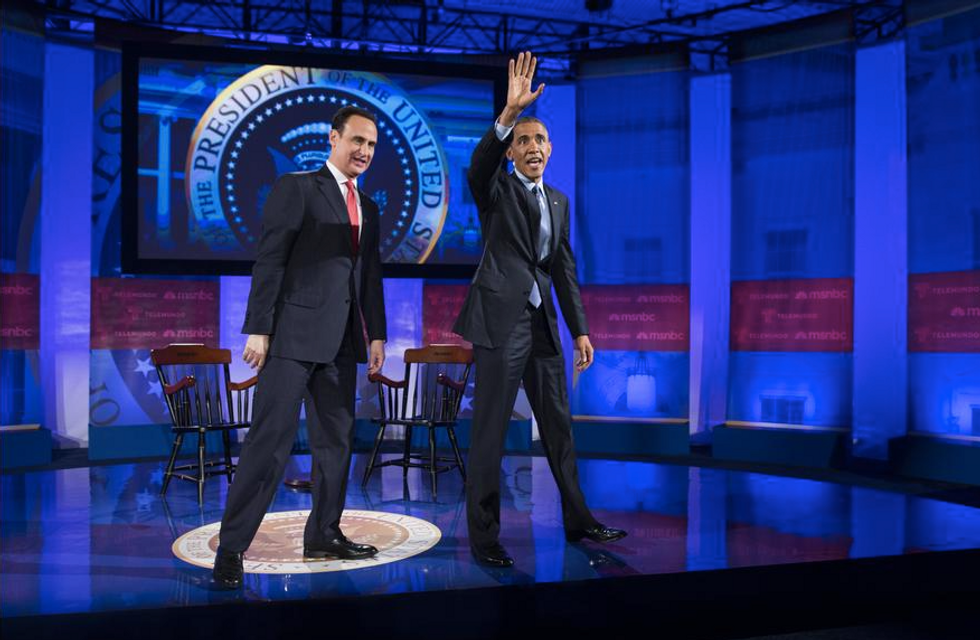 President Barack Obama, right, waves after posing for photographs with MSNBC host Jose Diaz-Balart after a town hall meeting on immigration at Florida International University, on Wednesday, Feb. 25, 2015, in Miami. (AP Photo/Evan Vucci)
Bush is a likely contender for the 2016 Republican presidential nomination and a supporter of providing a "pathway to citizenship" for illegal immigrants.
The town hall was hosted by José Díaz-Balart at Florida International University,
Obama talked about his executive actions on deferred actions for childhood arrivals in 2012 and his executive actions last November to shield 5 million illegal immigrants from deportation. He added that this did not poison the well, as some Republicans charged, preventing Congress from passing a bill.
"We had the votes. They wouldn't do it," the president added. "Then the notion that, well, if you just hadn't taken these executive actions that if you hadn't done DACA that maybe, that doesn't make any sense. That's an excuse."
Last week, a U.S. district judge halted part of Obama's executive actions to allow 26 states to proceed with their lawsuit to undo the actions. Meanwhile, some Republicans in Congress are still pushing for legislation that would not fund the implementation of Obama's executive acitons.
"Instead of trying to hold hostage funds for the Department of Homeland Security, which is so important for our national security, fund that and let's get on with actually passing comprehensive immigration reform," Obama said.
Obama said he anticipates winning the court case against the states.
"We have appealed it very aggressively," Obama said. "We're going to be as aggressive as we can because not only do we know that the law is on our side, but history is also on our side."
—