NATIONAL HARBOR, Md. — Addressing the 2015 Conservative Political Action Conference on Thursday evening, Wisconsin Gov. Walker basked in standing ovations and let his supporters drown out a lone heckler as he presented his presidential credentials.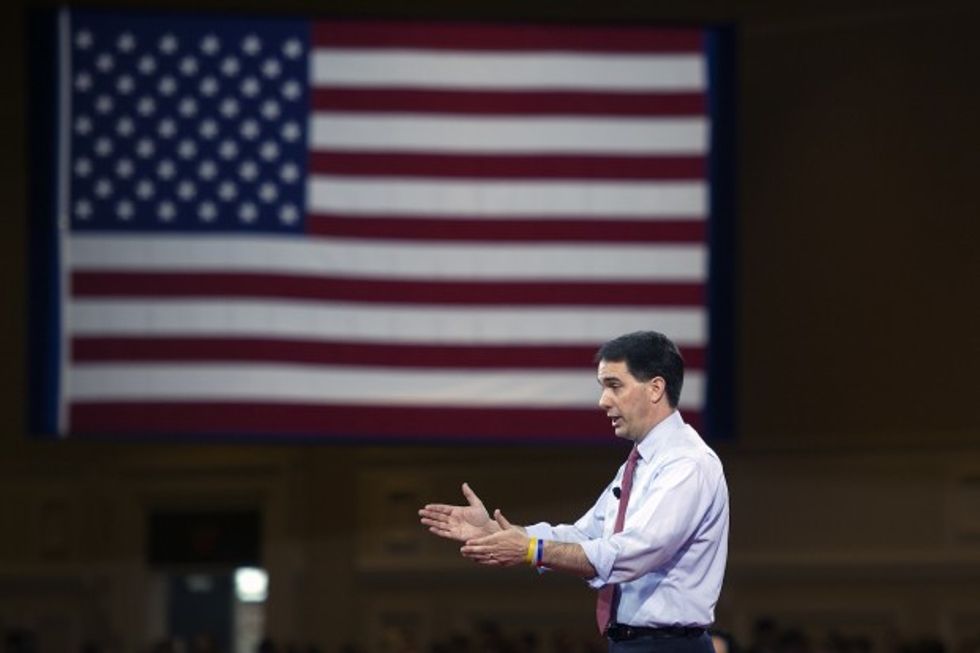 Wisconsin Gov. Scott Walker speaks during the Conservative Political Action Conference (CPAC) in National Harbor, Md., Thursday, Feb. 26, 2015. (AP Photo/Cliff Owen)
"Up there in Washington, we have a president who measures success by how many people are dependent on the government," Walker, a possible 2016 presidential candidate, told the crowd. "There's a reason we celebrate the Fourth of July and not April 15, because in America we celebrate our independence from the government and not our dependence on it."
He touted his successes in Wisconsin fighting public sector unions.
"I'm proud  to tell you that today our state is better," he said. "In our state, we don't have seniority or tenure anymore. We can hire and fire based on merit. We can put the best and brightest in our classrooms and we can keep them there."
He cited an unemployment rate that plummeted from 9.2 percent to 5.2 percent, and a $2 billion tax burden reduction on Wisconsin's taxpayers.
"Homeowners will pay less in taxes in 2016 than they did in 2010," Walker said, asking in a possible jab at other presidential contenders, "How many other governors in America can say that?"
Walker addressed other conservative fundamentals he'd hit: defunding Planned Parenthood, signing pro-life legislation and requiring photo-ID to vote in Wisconsin.
But while the CPAC crowd frequently interrupted Walker's speech with cheers and applause, at least one person in the packed ballroom was vehemently opposed to the governor.
As Walker trumpeted his union-busting credentials, a protester started yelling. TheBlaze was unable to hear exactly what the protester yelled.
"Apparently the protesters come from Wisconsin as well," Walker shot back. "But those voices can't drown out the voices of the hardworking taxpayers."
Walker's comment drew perhaps the loudest cheers of his speech, drowning out the lone protester who was not heard from again.
Unlike many other speakers, Walker spent more time touting his own achievements than he did attacking President Barack Obama — though he did take a few shots at the president.
"We need a president who recognizes that radical Islamic terrorism is a threat to our way of life and all freedom loving people around the world," Walker said. "We need to take the fight to them and not wait for them to bring the fight to our soil for our children and our grandchildren."
He also called for a new commitment to Israel and other U.S. allies.
"We need to show the world that in America, you have no better ally and no worse enemy," he said.
Like the other CPAC speakers, Walker did not come straight out and say he was running for president — but the crowd seemed to expect a campaign.
When Walker said he was "exploring" a presidential run, the audience broke out in a chant of, "Run Scott, run!"
—
Follow Zach Noble (@thezachnoble) on Twitter