Rep. Dennis Ross (R-Fla.) last week got a taste of what Israeli Jews and non-Muslim tourists face when they visit the Temple Mount in Jerusalem and are met by Palestinian activists shouting "Allahu akbar" and try to intimidate them to leave.
The Temple Institute, a Jewish organization dedicated to teaching about the ancient temple and one day rebuilding it according to biblical specifications, posted video of the encounter.
Fully covered Muslim women repeatedly shouted "Allahu akbar" and "leave!" at the U.S. lawmaker, who noted that they raised their voices even louder the closer he got to them.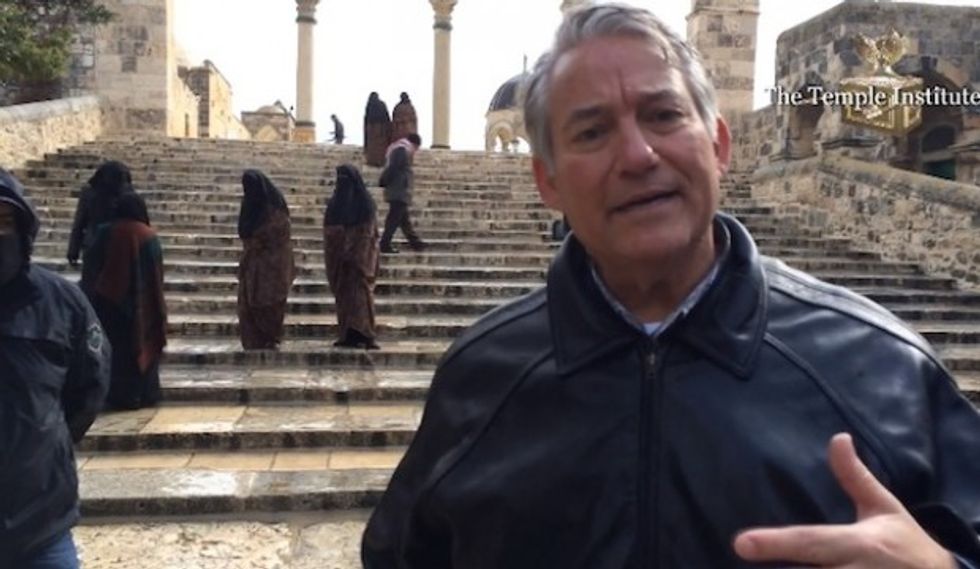 Rep. Dennis Ross (R-Fla.) was shouted at by a group of Muslim women during his visit to the Temple Mount. (Image source: YouTube)
The congressman, however, did not appear to be the least bit shaken by the protest.
"Little bit different type of reception than I'm used to, but, you know, we respect, coming from a religious-freedom country, we respect what they are doing," Ross said.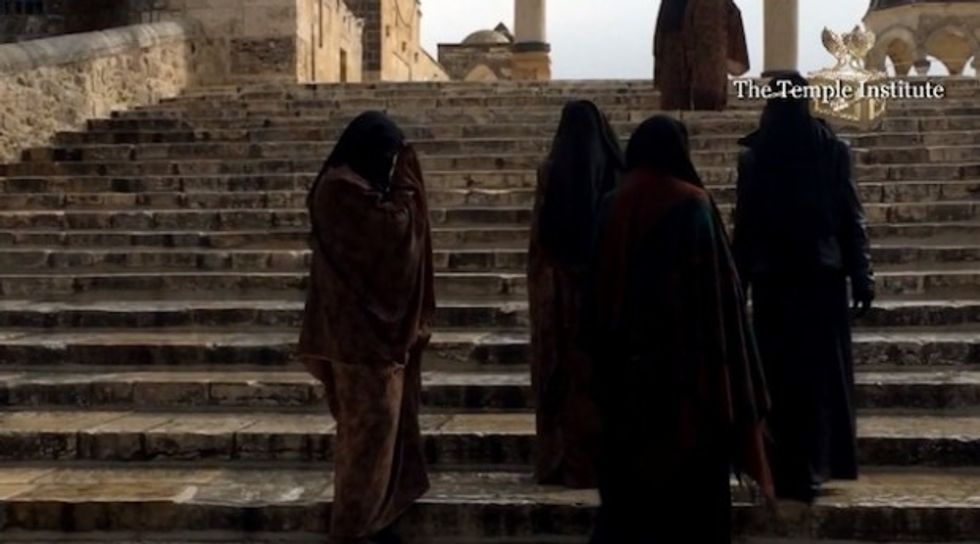 The women repeatedly shouted "Allahu akbar" and "leave!" at the U.S. lawmaker. (Image source: YouTube)
Yitzchak Reuven, who led Ross's tour to the site said, "It was unfortunate that he had to witness the duress and harassment that Jewish visitors are subjected to on a daily basis. It is important to note that these agitators receive direct payment from extremist Islamic organizations for their efforts to intimidate us, but they will not scare us away."
Israel's Arutz Sheva reported that the women also shouted proclamations about the superiority of Islam.
Israel's Shin Bet security services last year revealed that an Islamist group in Israel pays the Palestinians monthly salaries to show up at the Temple Mount every day and harass Jewish visitors.
At the same time, Israeli regulations prohibit any overt Jewish prayer on the Temple Mount, the holiest site in Judaism where the First and Second Temples once stood, in an effort to prevent any altercations between religious groups. Muslims can pray overtly and in groups.
Video taken last summer showed that children at a Hamas-sponsored summer camp also joined the harassment of Jewish visitors.
Here is video the Temple Institute posted:
(H/T: Arutz Sheva)