Just hours before heading to Washington to address a joint session of Congress, Israeli Prime Minister Benjamin Netanyahu prayed Saturday night at Jerusalem's Western Wall where he said that, though he respects President Barack Obama, it's his duty to explain the emerging deal with Iran could "endanger our very existence."
"I would like to take this opportunity to say that I respect U.S. President Barack Obama. I believe in the strength of the relationship between Israel and the U.S. and in their strength to overcome differences of opinion, those that have been and those that will yet be," Netanyahu said.
"As Prime Minister of Israel, it is my obligation to see to the security of Israel; therefore, we strongly oppose the agreement being formulated with Iran and the major powers, which could endanger our very existence," Netanyahu said.
Shortly before his plane took off Sunday morning, Netanyahu called his journey "a fateful, even historic, mission."
The White House vociferously opposes Netanyahu's speech to Congress on the Iranian nuclear threat, suggesting his acceptance of the invitation from House Speaker Rep. John Boehner (R-Ohio) was a break in diplomatic protocol because the White House had not first been informed.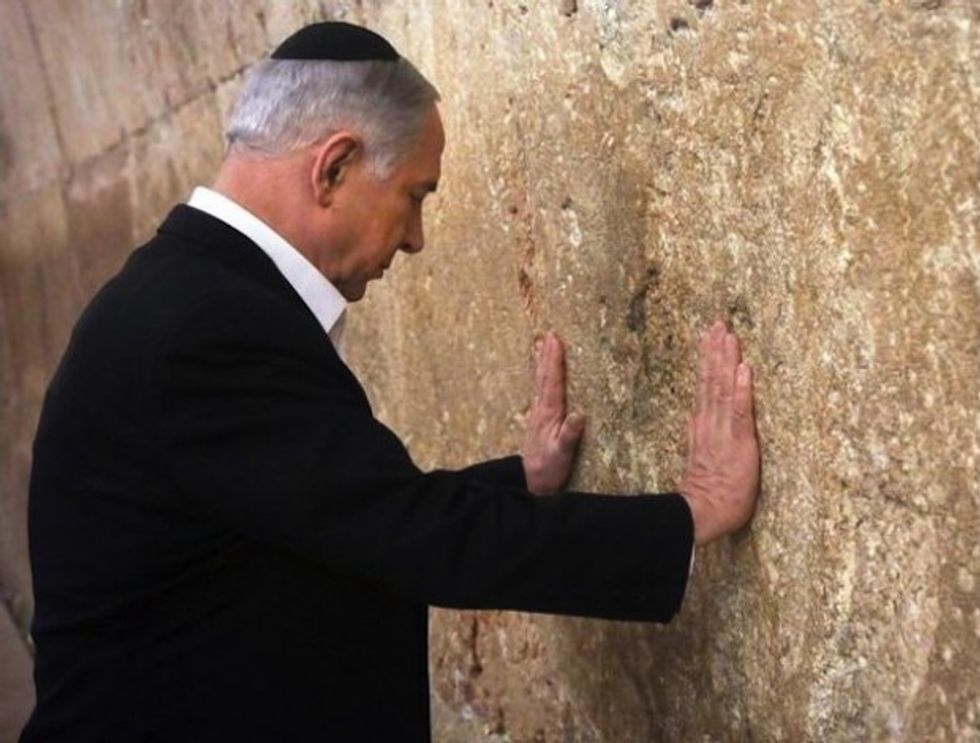 Israeli Prime Minister Benjamin Netanyahu prays at the Western Wall, the holiest site where Jews can pray, in Jerusalem's Old City, Saturday Feb. 28, 2015. (AP Photo/Marc Sellem, Pool)
Netanyahu emphasized why he believes arguing Israel's case is so important, even given the fierce White House opposition.
"In the face of this danger we must unite and also explain the dangers stemming from this agreement, to Israel, to the region and to the world," Netanyahu said.
Netanyahu made his comments as he stood in front of the remaining wall of the Second Temple which is adjacent to the Temple Mount, the holiest site in Judaism. Under Israeli police regulations, Jews are not allowed to pray openly on the Temple Mount in an effort to prevent Muslim violence against them, so the Western Wall is the closest place to the Temple Mount where Jews can pray visibly.
Obama will not meet Netanyahu while he is in Washington, citing proximity to Israel's elections later this month, while Vice President Joe Biden and Secretary of State John Kerry announced overseas trips after Netanyahu's visit was announced which appeared designed to prevent any high-level meetings with the Israeli leader.
National Security Adviser Susan Rice last week criticized Netanyahu's speech plans as "destructive" to U.S.-Israeli relations.
The White House on Saturday said Obama would veto a recently introduced Senate bill if passed which would allow Congress to approve or reject any negotiated deal with Iran over its nuclear program.
"The president has been clear that now is not the time for Congress to pass additional legislation on Iran.  If this bill is sent to the president, he will veto it," said National Security Council spokeswoman Bernadette Meehan.
The Israeli prime minister offered more insight into his thinking in an interview with the ultra-Orthodox radio station Kol Barama Friday where he recalled his late father, historian Benzion Netanyahu.
"He said to always look at the threats endangering our people," Netanyahu said of his father. "He said that one of the things that was lacking in Jewish history was seeing in real time what endangers our existence."
"My responsibility is to worry not only about the State of Israel, but also the future of the Jewish people," Netanyahu said according to the Jerusalem Post, "to stand up and raise our voice. Seventy, 80 years ago no one could raise their voice when there were plans to destroy us. Today there is, and it is my obligation."
Iranian leaders have repeatedly called for the annihilation of Israel.
Netanyahu described how former Israeli prime ministers risked their relations with past American leaders around contentious issues about which they felt strongly.
"When there is something that is connected to our very existence, what do they expect the prime minister to do, bow his head and accept something that is dangerous in order to have good relations?" he asked. "I think the relations are strong enough to overcome the disagreements, and that Iran with an atomic bomb is much more dangerous than one disagreement or another [with the U.S.]."
"This is an historic moment," Israeli Defense Minister Moshe Ya'alon told Israel's Channel 2, adding that history would judge the Israeli government badly "if we don't stand up for ourselves."
While Netanyahu is addressing Congress on Tuesday, Kerry will be in Switzerland for another round of talks with Iranian negotiators.