MOSCOW (TheBlaze/AP) — Thousands gathered to march through central Moscow on Sunday to mourn veteran liberal politician Boris Nemtsov, whose killing has shaken Russia's beleaguered opposition.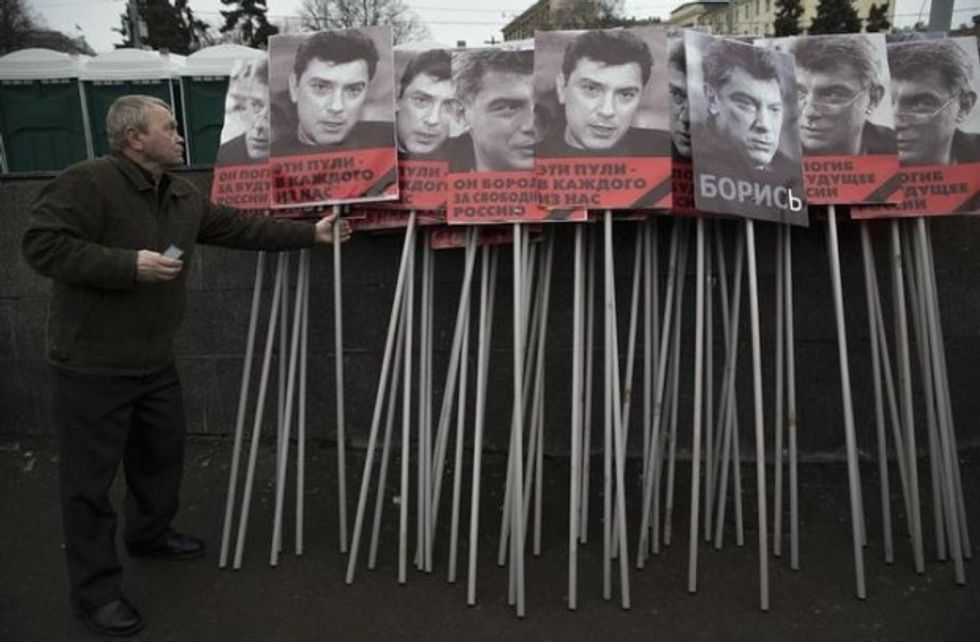 A man prepares portraits of opposition leader Boris Nemtsov who was gunned down on Friday, Feb. 27, 2015 near the Kremlin, to carry on the march in Moscow, Russia, Sunday, March 1, 2015. Russian investigators, politicians and political commentators on state television on Saturday covered much ground in looking for the reason Nemtsov was gunned down in the heart of Moscow, but they sidestepped one possibility, that he was murdered for his relentless opposition to Putin. The posters read in Russian 'those bullets for everyone of us, he fought for the freedom of Russia'. (AP Photo/Pavel Golovkin)
Photographer Evgeny Feldman tweeted live shots of the march as it started.
Nemtsov mourning demo's first lines pic.twitter.com/0keoNdSf4M

— Feldman (@EvgenyFeldman) March 1, 2015
"Heroes never die" says banner that leads Nemtsov mourning demo pic.twitter.com/v2Djo4cizy

— Feldman (@EvgenyFeldman) March 1, 2015
Feldman also captured the size of the crowd gathering before the march started around 3 p.m. Moscow time (7 a.m. EST).
this is what Nemtsov mourning March in Moscow looks like 40 minutes before the start pic.twitter.com/ZTIPlRUr6l

— Feldman (@EvgenyFeldman) March 1, 2015
The mourning march could serve to energize the opposition or it could prove to be a brief outpouring of emotions that once again dissipate.
Whoever was responsible for the murder, the signal it sends to President Vladimir Putin's foes is that if Nemtsov can be killed for his political activism then no one is safe.
Opposition activists had planned a protest rally on Sunday, which the city demanded they hold in a suburban neighborhood. After Nemtsov's death, they called instead for a demonstration to mourn him in central Moscow. The city gave its quick approval.
The mourners are to march to the bridge where Nemtsov was gunned down.
—
Follow Zach Noble (@thezachnoble) on Twitter