Story by the Associated Press; curated by Oliver Darcy.
—
MOSCOW (AP) — Boris Nemtsov, a Russian opposition leader and sharp critic of President Vladimir Putin, was gunned down Saturday near the Kremlin, officials said. Nemtsov was killed just a day before a protest planned against Putin's rule.
The death of Nemtsov, a 55-year-old former deputy prime minister, ignited a fury among opposition figures who assailed the Kremlin for creating an atmosphere of intolerance of any dissent. Putin quickly offered his condolences and called the murder a provocation.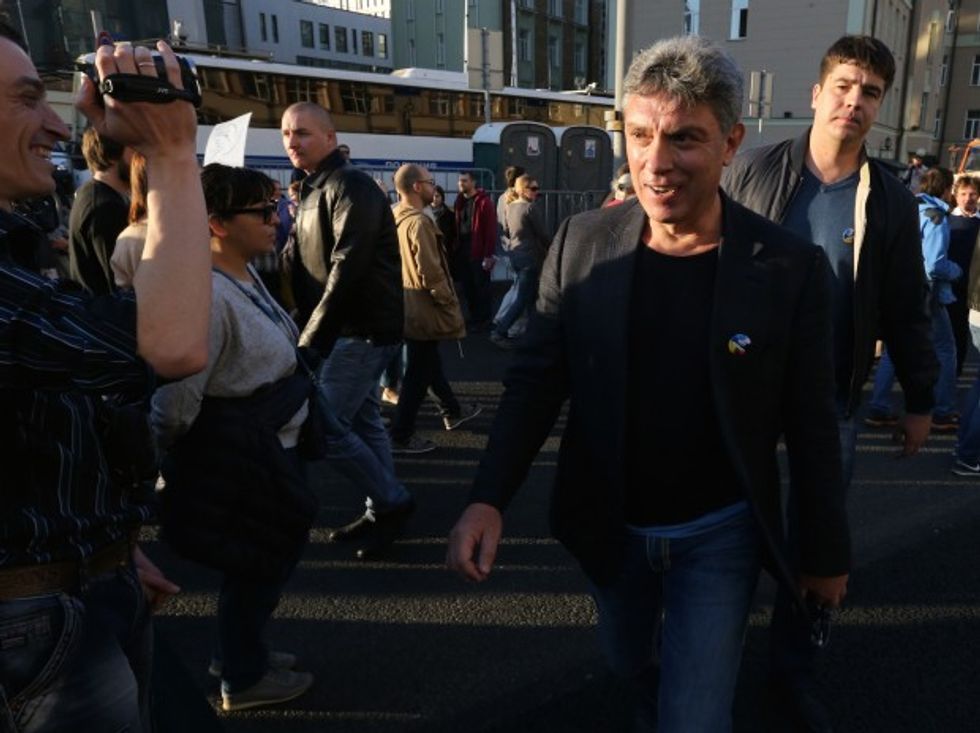 Russian opposition leader Boris Nemtsov attends a rally against the war in Ukraine September 21, 2014 in Moscow, Russia. Thosands people gathered to protest against Vladimir Putin's policy and against the war with Ukraine in Donetsk and Lugansk regions. (Sasha Mordovets/Getty Images)
Putin ordered Russia's law enforcement chiefs to oversee the probe. "Putin noted that this cruel murder has all the makings of a contract hit and is extremely provocative," presidential spokesman Dmitry Peskov said in remarks carried by Russian news agencies.
Nemtsov assailed the government's inefficiency, rampant corruption and the Kremlin's Ukraine policy, which has strained relations between Russia and the West to a degree unseen since Cold War times.
Last week, Nemtsov told a Russian magazine, "I'm scared that Putin will kill me." http://t.co/MR7SPtchwW

— Jon Passantino (@passantino) February 27, 2015
Ukrainian President Petro Poroshenko said on Facebook that he was shocked by the killing of Nemtsov, who he called a friend and a "bridge" between the two countries. He said he hopes the killers will be punished.
Nemtsov's lawyer Vadim Prokhorov said the politician had received threats on social networks and told police about them, but authorities didn't take any steps to protect him.
The Russian Interior Ministry, which oversees Russia's police force, said that Nemtsov was killed by four shots in the back from a passing car as he was walking over a bridge just outside the Kremlin shortly after midnight.
Interior Ministry spokeswoman Yelena Alexeyeva told reporters that Nemtsov was walking with a female acquaintance, a Ukrainian citizen, when a vehicle drove up and unidentified assailants shot him dead. The woman wasn't hurt.
President Barack Obama called on Russia's government to perform a "prompt, impartial and transparent" investigation to bring the perpetrators to justice. Obama called Nemtsov a "tireless advocate" for the rights of Russian citizens.
Obama calls for Russian gov't to conduct "prompt, impartial & transparent investigation" into Boris Nemtsov's murder pic.twitter.com/GuRIPqS5bk

— TheBlazeNOW (@TheBlazeNOW) February 28, 2015
Mikhail Kasyanov, a former Russian prime minister now also in opposition, said he was shocked.
"In the 21st century, a leader of the opposition is being demonstratively shot just outside the walls of the Kremlin!" Kasyanov told reporters as Nemtsov's body placed in a plastic bag was removed on a rainy and cold night, as the Kremlin bells chimed nearby. "The country is roiling into the abyss."
Kasyanov said the opposition march set for Sunday would proceed as planned.
Garry Kasparov, a former chess champion who worked with Nemtsov to organize protests against Putin and now lives in the United States, tweeted: "Devastated to hear of the brutal murder of my long-time opposition colleague Boris Nemtsov. Shot 4 times, once for each child he leaves."
Opposition activist Ilya Yashin said on Ekho Moskvy radio that he last spoke with Nemtsov two days before the killing. Nemtsov was working on a report presenting evidence that he believed proved Russia's direct involvement in the separatist rebellion that erupted in eastern Ukraine last year.
Ukraine and the West have accused Russia of backing the rebels with troops and weapons. Moscow has denied the accusations, but large numbers of sophisticated heavy weapons in the rebels' possession has strained the credibility of its denials.
Yashin said he had no doubt that Nemtsov's murder was politically motivated.
"Boris Nemtsov was a stark opposition leader who criticized the most important state officials in our country, including President Vladimir Putin. As we have seen, such criticism in Russia is dangerous for one's life," he said.
Political analyst Stanislav Belkovsky told Ekho Mosvky radio station that he did not believe that Nemtsov's death would in any way serve Putin's interests.
"But the atmosphere of hatred toward alternative thinkers that has formed over the past year, since the annexation of Crimea, may have played its role," Belkovsky said, referring to the surge of intense and officially endorsed nationalist discourse in Russia since it annexed Ukraine's Crimean Peninsula.
Irina Khakamada, a prominent opposition figure who co-founded a liberal party with Nemtsov, blamed a climate of intimidation and warned that the murder could herald a dangerous destabilization.
"It's a provocation that is clearly not in Putin's interests, it's aimed at rocking the situation," she said in remarks carried by RIA Novosti news agency.
Nemtsov served as a deputy prime minister in the 1990s and once was seen as a possible successor to Boris Yeltsin, Russia's first elected president. After Putin was first elected in 2000, Nemtsov became one of the most vocal critics of his rule. He helped organize street protests and exposed official corruption.
He was one of the organizers of the Spring March opposition protest set for Sunday, which comes amid a severe economic downturn in Russia caused by low oil prices and Western sanctions.
—