Zara Adil was working the register at Discount Tobacco Zone in Lexington, Kentucky, on Friday night when two robbery suspects entered the store and demanded cash. At least one of the suspects was armed, immediately making the situation potentially deadly.
But the courageous female clerk found herself "standing up for what's right" after she witnessed the armed suspect put his gun down down while she opened the cash drawer.
"I picked up the gun and pointed it at the second guy and said you run or I will shoot you," Adil recalled to WTVQ-TV.
Better yet, the incident was captured on video:
One of the suspects reportedly heeded her advice, but the other one stuck around. He allegedly attacked Adil, causing her to open fire, shooting him once in the shoulder. Moments later he was reportedly begging, "just let me go, let me go."
Still feeling merciful, Adil apparently told the man he could run away if he would leave the money — but the robber was reportedly as stubborn as she was merciful. The report states that Adil "attacked" the man when he went for the money and the suspect eventually ran away with nothing.
"If more people stand up, they won't have that much courage to go around and do what they're doing," the clerk added.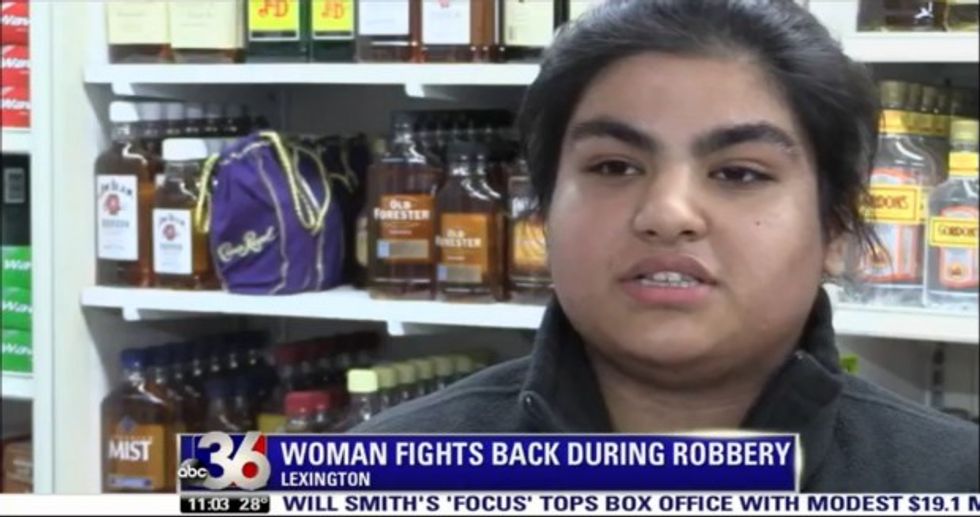 WTVQ-TV
Police have issued a warrant for the arrest of one of the suspects, Darnell Thomas.
(H/T: ABC News)
---