Secretary of State John Kerry said Monday that the Obama administration is still willing to give Russia several more days to abide by a ceasefire in and around Ukraine that was supposed to take effect on Feb. 15, but has failed miserably so far.
Even in the run-up to the ceasefire, the State Department was complaining that Russia and pro-Russia separatists in Ukraine did not appear to be living up to the ceasefire, which was agreed by Russia, Ukraine, France and Germany.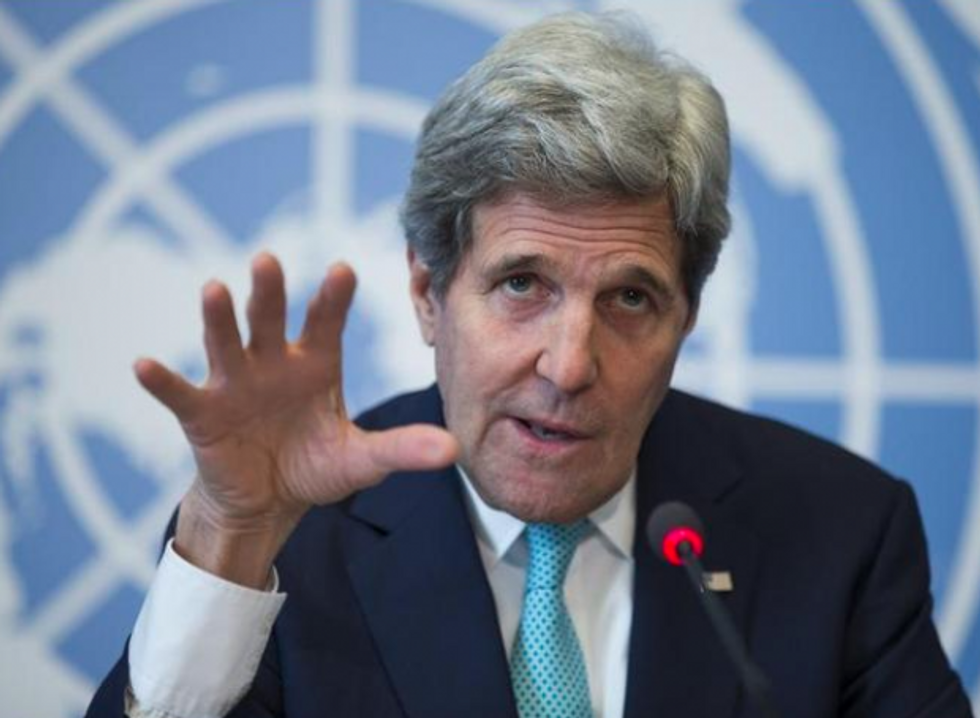 Secretary of State John Kerry said Russia would be given several more days to adhere to a Feb. 15 Ukraine ceasefire that so far has failed. Image: AP Photo/Keystone,Jean-Christophe Bott
The State Department itself confirmed that Russia continued to ignore it after the Feb. 15 start date, and within a week, the U.S. was openly talking about tough sanctions against Russia and its allies within the country. But on Monday, Kerry indicated the Obama administration isn't quite ready to pull the trigger on new sanctions, and instead is still hoping Russia will comply with the agreement reached in Minsk, Belarus.
"[A]s we all know, shooting, shelling has still been going on and people have still been killed over the course of these last days," Kerry said in Switzerland. "So there is not yet a full ceasefire, and it's extremely difficult for the full measure of the Minsk agreement, which includes a political component, to begin to be implemented until you actually have the full measure of security that comes with OSCE monitoring and an actual ceasefire."
"So our hope is that in the next hours, certainly not more than days, this will be fully implemented," he added."
While at the United Nations, Kerry met with Russian Foreign Minister Lavrov, and said the two discussed the ongoing failure to live by the ceasefire. Kerry said Lavrov promised Russia would continue working to ensure compliance.
"He assured me that they are intent on seeing to it that the accord – that the agreements are, in fact, implemented," Kerry said. "He said he would get back to me with respect to a number of the issues that I raised."
"And our hope is, indeed, that this will prove to be a road to further de-escalation rather than a road to disappointment, potential deception, and further violence," he said. "But that's going to have to play out, obviously, over the course of the next few days."