With the recent measles outbreak, the issue of vaccinating — or not — has again become a nationally discussed topic, but what about the parents who fall somewhere in between?
According to a survey published in the journal Pediatrics, more and more parents are requesting their pediatricians delay or spread out vaccines for their children younger than 2 years old, breaking the medically recommended vaccine "schedule."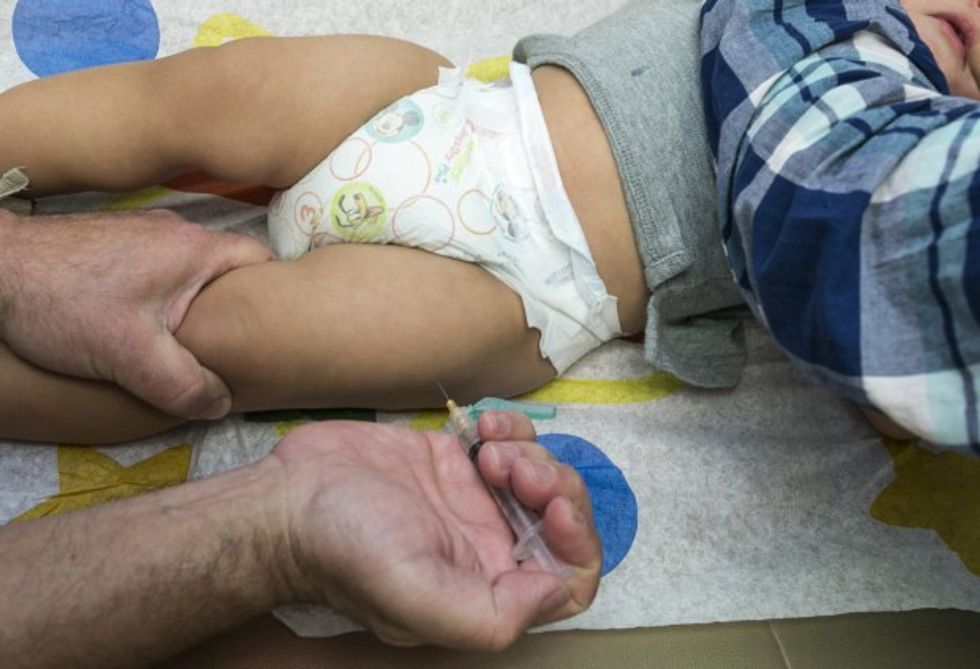 In this Jan. 29, 2015 file photo, a pediatrician uses a syringe to vaccinate a 1-year-old with the measles-mumps-rubella (MMR) vaccine in Northridge, Calif. A national survey of doctors in 2012 suggests that parents have increasingly pressured doctors to delay vaccines for young children, making their kids and others vulnerable to preventable diseases. (AP/Damian Dovarganes)
Nearly all of the 534 doctors in the national survey conducted in 2012 said that at least some parents had requested vaccine delays in a typical month; and 1 in 4 said those numbers had increased since the previous year. 
One in 5 doctors said at least 10 percent of parents had requested vaccine delays by spreading them out over more months than is recommended. Most doctors said the practice puts kids at risk for getting vaccine-preventable diseases and might lead to disease outbreaks, but most also said they at least sometimes agreed to the delays. Only 3 percent said they often or always tell parents who insist on vaccine delays to seek care from another doctor.
"Many physicians reported tension between the need to build trust with families by being willing to compromise on the schedule while simultaneously feeling they were putting children at risk and causing them unnecessary pain by spreading out vaccines on multiple visits," Dr. Allison Kempe, professor of pediatrics and director of Adult and Child Center for Health Outcomes Research and Delivery Science at the University of Colorado School of Medicine and Children's Hospital Colorado, wrote.
But why are some parents seeking such delays in the first place?
Dr. Amanda Dempsey told Live Science a few years ago, after a separate study published the findings that one in 10 parents were skipping or delaying vaccines, that past experiences and concern over a connection to autism are among the most cited reasons for vaccine delays or refusal.
According to the Centers for Disease Control and Prevention, "there is no relationship between vaccines and autism rates in children."
Other reasons some parents might delay vaccinations, according to Health Magazine, include a previous reactions to immunizations, egg allergies, fever or other existing conditions.
Vaccinations against 14 diseases are recommended for children younger than 2, starting at birth and given every few months. Some shots combine vaccines against more than one disease; the measles shot also protects against mumps and German measles. Even so, young children may get five shots at once under the recommended vaccine schedule. Getting stuck this many times in one doctor's visit is another reason some parents might seek to spread out immunizations.
The recommended vaccine schedules are based on research on timing shots to be most effective at preventing disease. Delaying shots meant to be given at a certain age means they may be less effective. It also makes it more likely that children will never get vaccinated, because parents get too busy or forget to schedule another doctor's visit, said Dr. Robert Frenck, an infectious diseases specialist at Cincinnati Children's Hospital Medical Center. He was not involved in the new study.
"People just don't understand that these diseases are all there, they're not gone. They're just being kept at bay right now. If people stop vaccinating, they come right back," Frenck said.
—
The Associated Press contributed to this report. Front page image via Shutterstock.