Steve Simoff's shift doesn't start until 11 p.m., but he sets out to reach his job as a janitor at a casino more than seven hours beforehand.
According to a profile on the Iowa man by the Des Moines Register, Simoff has to leave by 3:30 p.m in order to reach Lakeside Casino in Osceola, which is 35 miles away from Davis City where he lives.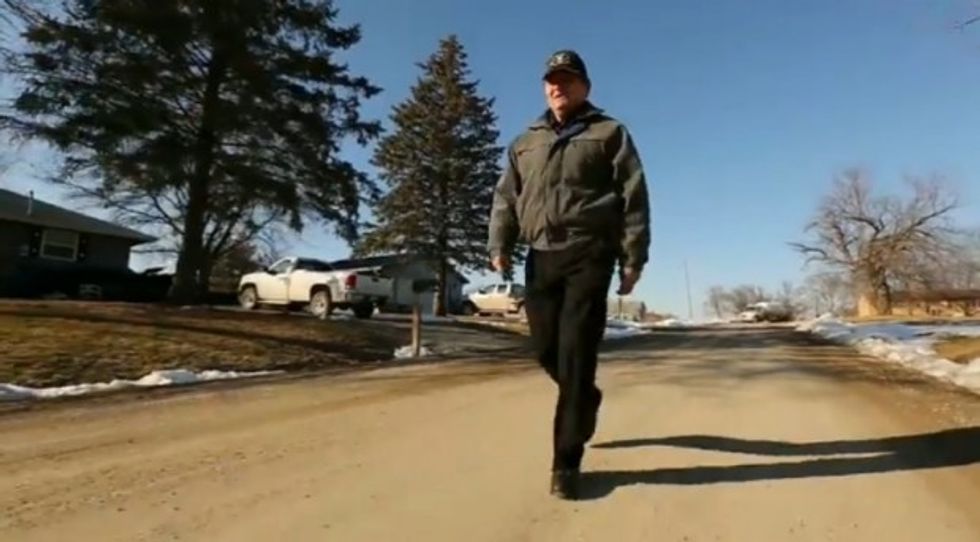 Steve Simoff starts walking to work, which is 35 miles away, around 3:30 p.m. for his 11 p.m. shift. He walks and manages to catch rides with people who recognize him part of the way. (Image source: Des Moines Register)
"First of all, when you got a family, and you've got a job, you've got to be able to support your family," the 61-year-old told the newspaper. "And you've got to keep your job — the most two important things I can think of."
Simoff's family does have a car — a 2002 Ford minivan with more than 100,000 miles — but he told the newspaper money for gas tight. Instead of driving, the Des Moines Register reported that Simoff walks anywhere from an hour to six hours and manages to catch rides part of the way:
On average, Simoff says he catches rides perhaps three out of the five days during his Thursday-to-Tuesday work week. Sundays are the sparsest.

Some days, he might walk for only an hour or two. Other days, he might trudge along for six or more. Overall, he probably averages nearly four hours a day walking to work.

Lately, Simoff has been hitching a ride most of the way home with a co-worker who lives in Leon, leaving him a morning jaunt of barely more than eight miles.

[...]

"It all depends on weather and what people feel like that day, if they're going to stop and pick you up," he said.
The man has become a well-known figure for those who frequent his path to work.
"Everybody in the county knows him as far as I know," Decatur County Sheriff Herbert Muir told the newspaper. "There's no danger about him or anything. He's personable. He's not been in trouble. He just walks."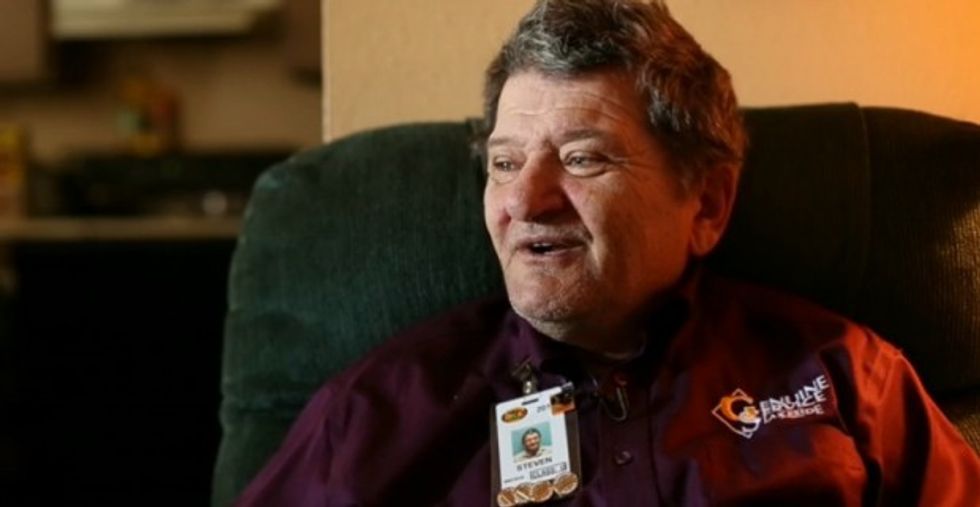 To Simoff, going to such extremes to reach work is what he sees as the "responsible" thing to do for his family. (Image source: Des Moines Register)
In the report, it's unclear exactly why Simoff and his wife, who is on disability, don't move closer to his job, but the Register reported that the couple is considering moving to the town where his wife's daughter lives. Such a move would put him about 20 miles away from the casino.
For now, Simoff told the Register that as long as his feet are working and his health is good, "I don't think I'll change."
Watch the Register's video report about Simoff:
Simoff's story joins others that have made national headlines about people going to extremes to get to work. Earlier this year, the story about a Detroit man who walked 21 miles to reach his factory job went viral and had the public coming together to help in a big way. And a couple of years ago, an Indiana teen was spotted walking 10 miles on a snowy day to a job interview. His dedication landed him the work he desperately needed.
Read the full story with a day-in-the-life picture of how Simoff reaches work on a typical day in the Des Moines Register.
(H/T: Daily Mail)