Sen. Elizabeth Warren (D-Mass.) dodged a reporter Wednesday after being confronted by CNN with questions pertaining to the Hillary Clinton email controversy.
When CNN asked @SenWarren about Clinton emails, a staffer deliberately blocked her from answering via @CNNPolitics http://t.co/pWZ8oyp9N4

— Steven Sloan (@Steven Sloan)1425511364.0
Warren was intuitionally blocked off and shielded by a staffer from answering questions, the cable news outlet reported. According to CNN, the liberal firebrand walked into an elevator and never so much as looked up.
Warren's name is often brought up as a possible 2016 contender for the White House who some hope may challenge Clinton.
A representative from Warren's office was not immediately available for comment to TheBlaze Wednesday evening.
CNN also attempted to ask a group of moderate House Democrats about Clinton's email behavior during a press conference, but the members of Congress refused to address the issue.
"That has nothing to do with the American prosperity agenda. It may be a great question for political pundits, but we're here to talk about the new Dems American Prosperity agenda," Rep. Jared Polis (D-Colo.) said.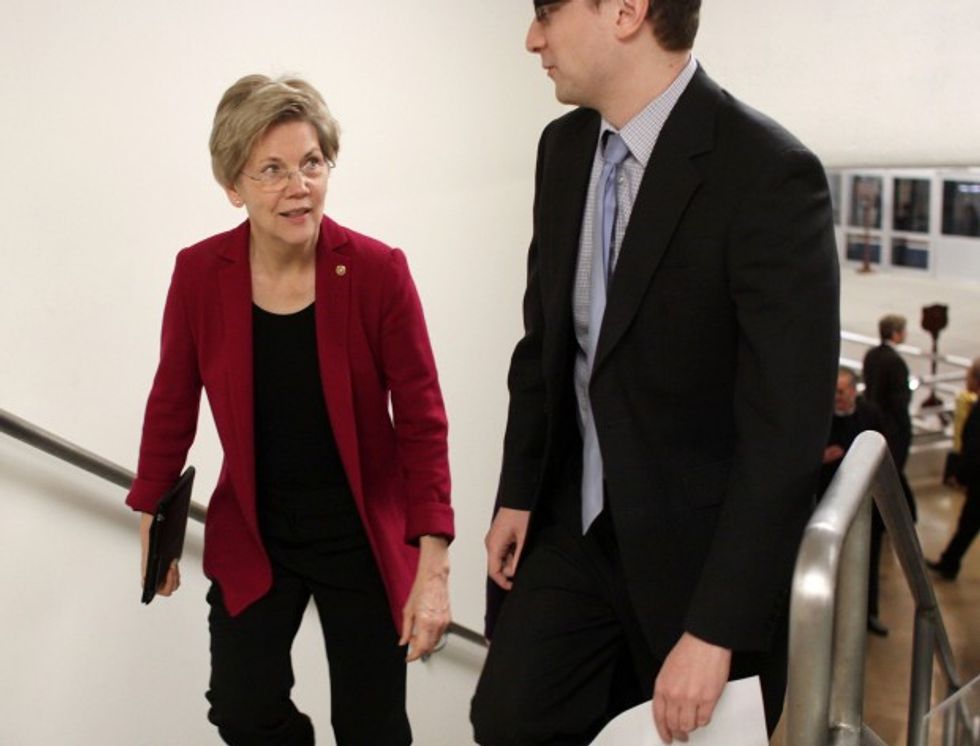 Sen. Elizabeth Warren, D-Mass. speaks to a staff member on Capitol Hill in Washington, Wednesday, Feb. 25, 2015, as Democrats and Republicans headed to their party caucus meetings to discuss the homeland security funding. (AP Photo/Lauren Victoria Burke)
Earlier Wednesday, White House press secretary Josh Earnest referred many questions about the controversy to the State Department, but said that her behavior appeared "consistent" with the Federal Records Act.
On Monday, the New York Times reported that Clinton may have violated federal rules by exclusively using a personal email address to conduct all official government business while serving as Secretary of State. According to the Times, she never had an official government email address.
—
Follow Oliver Darcy (@oliverdarcy) on Twitter