Israeli Prime Minister Benjamin Netanyahu said Wednesday he offered a "practical alternative" to the deal being negotiated over Iran's nuclear program, after President Barack Obama criticized his address to Congress as containing "nothing new."
Obama said Netanyahu didn't offer any "viable alternative" and that "as far as I can tell, there was nothing new" in the Tuesday speech.
"In my speech before the Congress, I presented a practical alternative," Netanyahu said upon landing at Israel's Ben-Gurion Airport. He said his alternative would impose tougher restrictions on Iran's nuclear program and delay how quickly the Islamic Republic could assemble a nuclear weapon.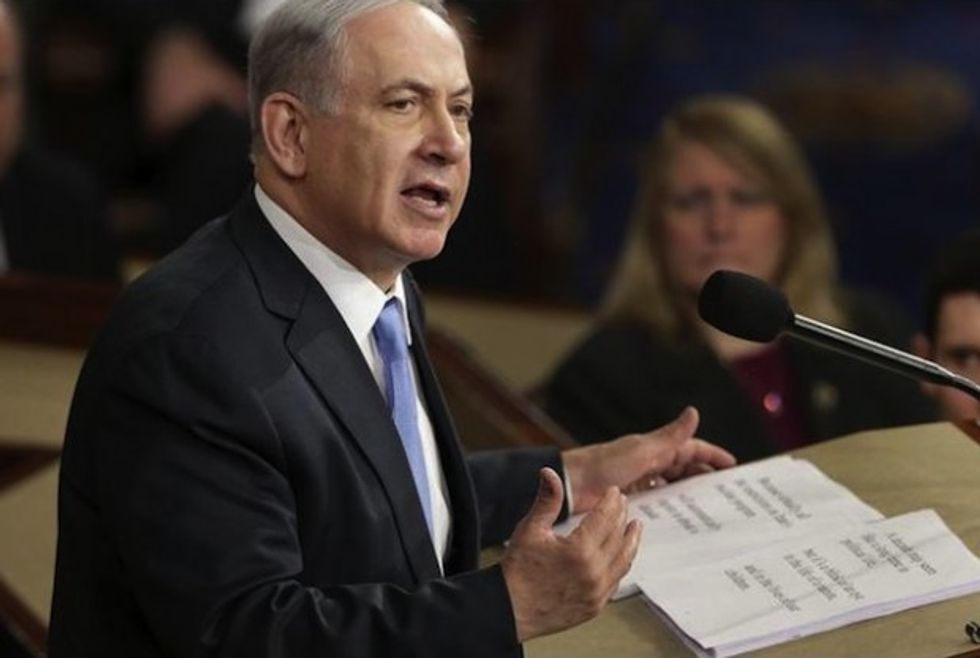 Israeli Prime Minister Benjamin Netanyahu speaks before a joint meeting of Congress on Capitol Hill in Washington, Tuesday, March 3, 2015. In a speech that stirred political intrigue in two countries, Netanyahu told Congress that negotiations underway between Iran and the U.S. would "all but guarantee" that Tehran will get nuclear weapons, a step that the world must avoid at all costs. (AP Photo/J. Scott Applewhite)
The prime minister said that he had received positive responses from both sides of the aisle.
"The response I received from both Democrats and Republicans was very supportive," Netanyahu said. "I got the impression that they better understand that the current proposal would lead to a bad deal and that the alternative is a better deal."
Netanyahu reiterated that he had pushed the six powers currently negotiating with Iran — Britain, China, France, Russia, Germany and the United States — to link easing sanctions to Iran's sponsorship of terrorism, not just to the nuclear issue.
"I also called on the P5+1 to insist on a deal that would link the lifting of those restrictions to Iran's ceasing its sponsorship of terrorism around the world, its aggression against its neighbors and its calls for Israel's destruction," Netanyahu said.
The prime minister's office issued a string of tweets quoting Netanyahu, concluding with the greeting, "Happy Purim," the holiday based on the experiences recounted in the Book of Esther where the Jewish people were saved from a genocidal Persian official. Netanyahu in his Tuesday address compared the biblical narrative to the existential threat Iran poses to Israel today.
After Netanyahu's speech, Obama told reporters that "on the core issue, which is how do we prevent Iran from obtaining a nuclear weapon, which would make it far more dangerous and would give it scope for even greater action in the region, the prime minister didn't offer any viable alternatives."
Netanyahu told Congress Tuesday, "Now we're being told that the only alternative to this bad deal is war. That's just not true."
"The alternative to this bad deal is a much better deal," the prime minister said.