A Florida teen survived being impaled by a fence pole, which his family says just missed his heart by millimeters, during a car crash Wednesday.
"There were angels over him for the injuries that he suffered," Latravous Powell Sr. told WKMG-TV of 17-year-old Smandre Law.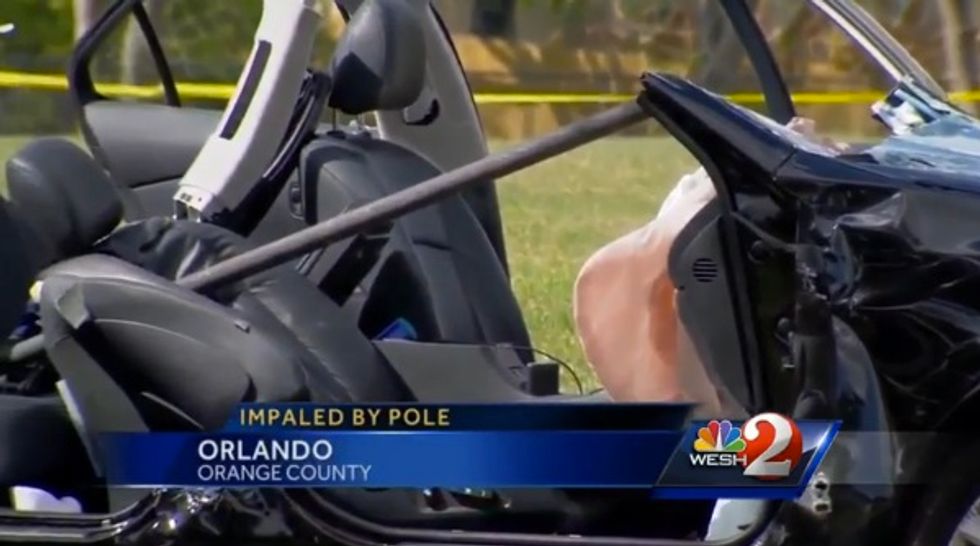 Image source: WESH-TV
Law and his cousin, 18-year-old Mikhail Cannon, were allegedly speeding in a stolen Lexus when they ran into the fence of an Orlando park.
"They were going pretty fast, pretty damn fast. I [saw] the car flying by my house," Melvin Lawson told the news station.
Law was cut out of the vehicle and airlifted to the hospital, according to WESH-TV. WKMG reported that Cannon was arrested for theft at the time.
"Whenever you do things, you reap the benefits, but you also suffer the consequences," Powell, who is Cannon's uncle, said to WKMG. "So, in a car, riding around, [if you] do stupid things, things happen."
Law's condition was not available as of Wednesday night, WESH reported.
Watch this report about the incident with footage of the damage done to the car: