Dozens of House members proposed legislation this week that would make it easier for victims of domestic violence to save their pets from the same abuse.
The Pets and Women Safety Act, or the PAWS Act, is a response to studies that show as many as one third of domestic violence victims stay with their abusive spouse, because they fear their pets will also suffer violence if they leave. Supporters of the bill say abusers commonly threaten to harm pets as a way to control their spouse, and that this threat can compel some people to stay in these abusive relationships.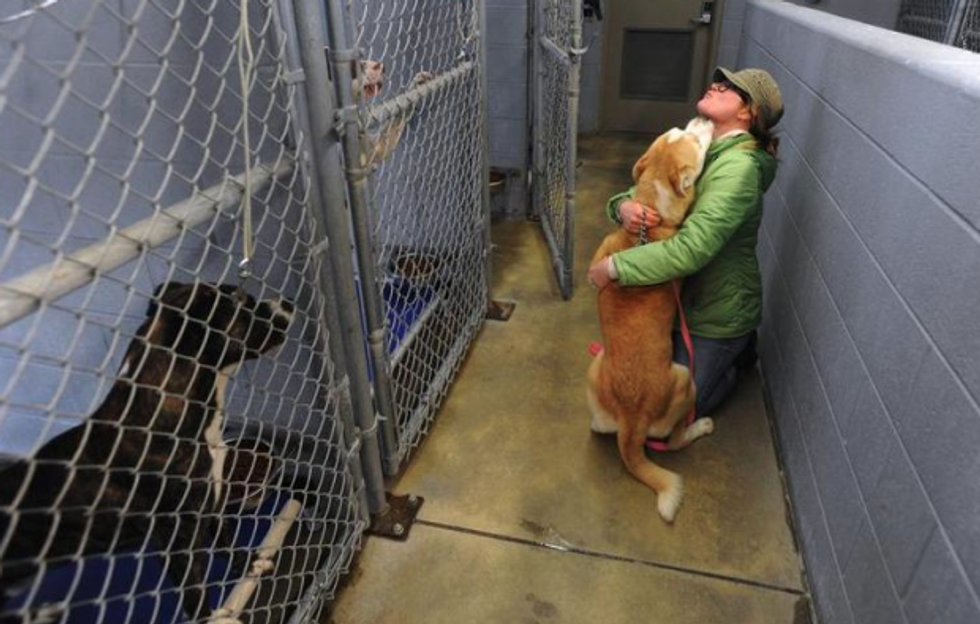 A woman is greeted by a male Husky mix at an animal shelter, in Owensboro Kentucky. A new bill in Congress would make it easier to protect pets from domestic violence. Image: AP Photo/The Messenger-Inquirer, Jenny Sevcik
The bill, from Reps. Katherine Clark (D-Mass.) and Ileana Ros-Lehtinen (R-Fla.), would expand federal law to require protection for the pets of domestic violence victims, and would create a grant program to help victims find appropriate shelters for their pets.
It would also encourage states to boost their own protections for cats, dogs and other animals that could be at risk of violence.
"This isolating experience is made even worse for those who fear for the safety of their pet," Clark said. "Most pet lovers, including me, consider their beloved dog or cat a part of their family. No one should have to make the choice between leaving an abusive situation and ensuring their pet's safety."
"Too many victims feel compelled to stay in abusive relationships to protect their pets," Ros-Lehtinen said. "This bill protects both victims and pets."
The bill is supported by several domestic violence and animal welfare groups, including the Humane Society of the United States, the Animal Welfare Institute, and the American Society for the Prevention of Cruelty to Animals.