Ben Carson, the famed neurosurgeon who announced his 2016 exploratory committee this week to run for president, doesn't talk often about race. But his supporters argue it could be a big advantage for him.
"There is no question he can win a general election," Vernon Robinson, campaign director of the National Draft Ben Carson for President Committee, told TheBlaze. "The question is can he win the primary."
A mass email advertisement from the draft committee said: "Did you know that Ben Carson, who is loved and revered in the black community, will automatically win the White House if he receives just 17 percent of the Black Vote! That's right, if Ben Carson receives just 17 percent of the black vote he wins every swing state."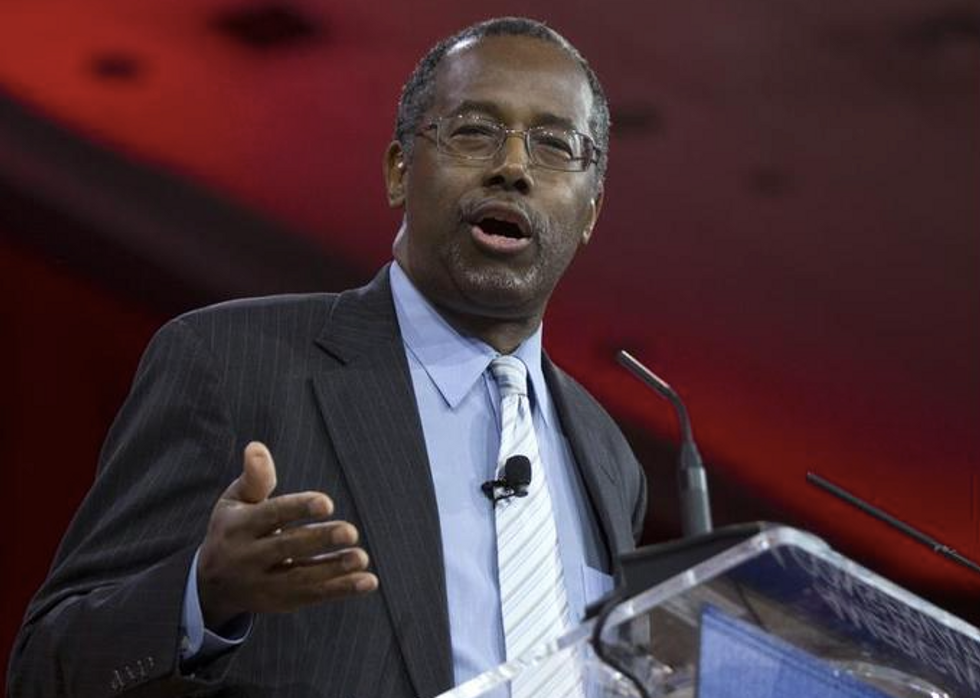 In this Feb. 26, 2015 file photo, Ben Carson speaks in National Harbor, Md. Carson has created an exploratory committee to run for president, becoming the first high-profile Republican candidate to formally enter the 2016 presidential contest. (AP Photo/Carolyn Kaster)
Robinson told TheBlaze that the 17 percent number is derived because the Democrats are accustomed to winning 90 percent or more of the black vote in a presidential race. Losing a significant portion could be devastating to Democrats in the Electoral College. Robinson argues that because of his background, Carson would have more credibility for campaigning in the black community than perhaps previous black GOP candidates, citing how the doctor went from poverty to being a pediatric neurosurgeon at Johns Hopkins University Hospital and running the Carson Scholars Fund, a national nonprofit to help youth escape poverty.
Carson could manage to make at least a small difference in the black vote if his long shot candidacy is successful in winning the GOP nomination or if even if he is on the ticket as vice president, said Tim Hagle, a political science professor at the University of Iowa.
"You won't see a wholesale change if he is on the ticket, but it could help Republicans get their foot in the door in making their case to the black community about why Republicans are a better choice," Hagle told TheBlaze. "Of course, Herman Cain was called all sorts of names by the left, a traitor to his race and so on. Carson will likely be called that too by some people who don't like Republicans and think Republicans are bad for their race. There is peer pressure."
With Carson all but declared, Robinson said that the draft committee – a superPAC – is in the process of changing its name. He thinks Carson stacks up well against likely Democratic presidential frontrunner Hillary Clinton
Even the Rev. Al Sharpton, a liberal activist and commentator, suggested that Clinton would have trouble inspiring black voters in 2016, expressing concern about the potential candidacy of Sen. Rand Paul (R-Ky.). Last year, Carson's book "One Nation" reportedly outsold Clinton's book "Hard Choices."
However, in recent statewide races, black Republicans never even come close to a majority of the black vote, based on exit polling.
For instance, in 2014 South Carolina Sen. Tim Scott became the first ever black senator elected in the state's history, but carried just 10 percent of the black vote despite winning the election by a comfortable margin with 88 percent of the white vote.
Interestingly enough, in 2006, three statewide black GOP candidates that lost their elections outperformed Scott in the black vote. Michael Steele won 25 percent of the black vote in the Maryland Senate race. Ken Blackwell won 20 percent of the black vote in the Ohio governor's race and Lynn Swann won 13 percent of the black vote in the Pennsylvania governor's race.
Robinson faulted the Republican National Committee's outreach as doing little more than sending a representative to NAACP events or other large gatherings, as opposed to reaching out to black neighborhoods.
In the 2014 election, the draft Carson committee did a trial effort in African American outreach in the North Carolina Senate race, spending $321,000 on radio ads for three weeks in five media markets that primarily reached a black audience calling out Democratic Sen. Kay Hagan's position on abortion, school choice and other matters.
Republican Thom Tillis beat Hagan, but carried just over 3 percent of the black vote statewide. However, in the five markets the committee made an investment, Tillis carried about 12 percent of the black vote, Robinson said. Moreover, Sen. Elizabeth Dole, a Republican, carried just 1 percent of the black vote in 2008 in loosing to Hagan, so there was an improvement, Robinson said.
"We moved the black electorate in North Carolina," Robinson said. "It would have been nice if we didn't have to do it all by our selves, if the party or conservative groups would have helped."
For his part, Carson explained in 2013 he doesn't talk about race because he operates on brains, which he said defines a person, not their skin color.
"You see, when I take someone to the operating room and I peel down the scalp and take off the bone flap and open the dura, I'm operating on the thing that makes the person who they are. It's not the covering that makes them who they are," Carson said.
Beyond the vote of any single demographic, Carson faces obvious hurdles as a first time political candidate running for the nation's highest office. The announcement of his exploratory committee was overshadowed this week by a controversial statement he made on CNN about whether homosexuality is a choice, explaining, "Because a lot of people who go into prison, go into prison straight — and when they come out, they're gay." The next day, he followed with an apology.
The gaffe itself is not likely crippling to Carson's campaign, said Hagle, of the University of Iowa. But, it does demonstrate that he's not a seasoned political professional.
"He hasn't run for office. That doesn't exclude him," Hagle said. "The gaffe is a bigger point because it shows he hasn't run for office and may not be fully aware what he's getting into."
The last time someone who never held high public office received a major party nomination was Wendell Willkie, a utility executive and 1940 Republican candidate who lost to President Franklin Roosevelt. Dwight Eisenhower never ran for office but was a hero of World War II with extensive leadership experience in the military and academia and won the 1952 presidential election.
"Ross Perot ran for president on his own platform and party, and didn't win but got quite a few votes," Hagle said. "Republicans like business experiences. The problem with Carson is he is a very smart guy but hasn't run anything."
That said, Hagle said there is a path for winning the nomination, although an unlikely one.
"There will be a lot of candidates in Iowa. It does not take as much to win here. So a candidate with 15 percent to 20 percent of the vote could still win if there are a lot of candidates," Hagle said. "Caucuses are all about motivated voters coming out on the same day in the cold winter. A smaller group of activists that is intense can carry the day."