A representative for Pastor Creflo Dollar, founder of World Changers Church International, declined to specifically comment on the controversy surrounding a $60 million ministry fundraiser aimed at purchasing one of the most coveted private jets on the market.
"World Changers Church International has important work to do and it will continue serving those who need and want to hear its message," a spokesperson for Dollar told TheBlaze on Monday morning, when asked about the apparent removal of the fundraising page.
The representative said that that the televangelist has a great deal of work to do and that this isn't advancing the ministry's "answers to the calling," declining to go into greater detail.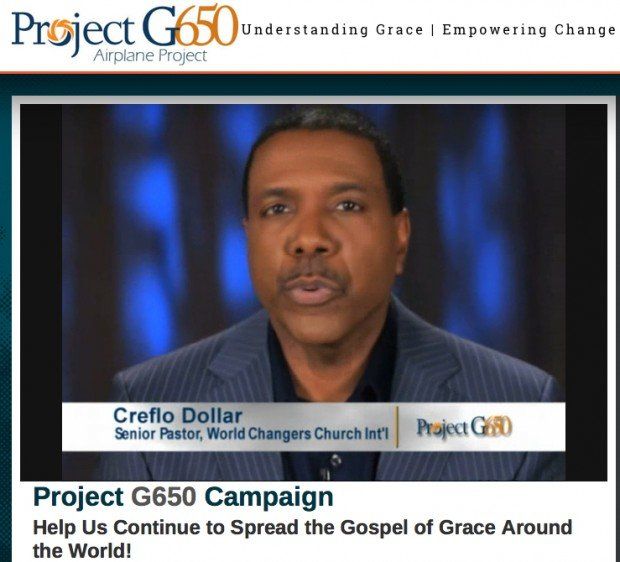 Screen shot from Creflo Dollar Ministries website
The Project G650 website that was set up to encourage 200,000 people to donate $300 or more so that Dollar could purchase the "biggest, fastest, and overall best private jet money can buy," was no longer accessible as of Monday morning.
According to the Christian Post, the website was offline as early as Friday night, following numerous reports about the fundraiser.
TheBlaze previously reported that Dollar, founder of World Changers Church International, launched a campaign to purchase a Gulfstream G650 jet, which runs for around $65 million, to replace the current airplane that his ministry has been using since 1999.
The current plane was built in 1984 and, according to a video produced by the ministry, it recently experienced serious technical difficulties that put Dollar and his family in danger.
"Recently on an overseas trip to a global conference, one of the engines failed," the televangelist's website explains. "By the grace of God, the expert pilot, who's flown with Creflo for almost 20 years, landed the plane safely without injury or harm to any passengers."
See the video used to initially tout the Project G650 campaign below:
The G650 was called a "gold standard" in an October Business Insider report, which also said that the plane takes passengers "faster and higher than on any commercial jet" and features natural light and richer air.
The ministry said in its fundraising appeal that the new jet was needed to help reach a "lost and dying world for the Lord Jesus Christ."
A representative previously told the Christian Post that the private jet is required to help bring thousands of pounds of food and resources as well as Dollar's 10 to 15 person team to various locations.
With the old plane out of service, the spokesman told the Post that Dollar is currently flying commercial.
Read more about the controversy here.