© 2023 Blaze Media LLC. All rights reserved.
Hertz is Putting Cameras in Its Cars — Cameras Watching the Driver, Not the Road
"We do not have adequate bandwidth capabilities to the car to support streaming video at this time."
Would you feel comfortable renting a car with a camera on the dashboard facing the driver?
You might expect a story about a rental car company putting cameras in its cars would be referring to dash cams that record what the driver is seeing. In the case of the world's largest rental car company, Hertz, the story is quite different.
Since mid-2014, Hertz has been upgrading "NeverLost," the onboard navigation assistant found in many of the company's cars. However, "NeverLost6" has something not found on previous systems, a camera that faces the driver.
For years, rental car companies have had "black boxes" monitoring their cars. If you didn't know it, most rental car companies know exactly where you drove their car and how fast you were going to get there.
In December, a Blaze employee rented a car from Hertz, noticed the camera, and tweeted a picture of it.
Interesting addition to the new @Hertz NeverLost system. Needs an EyePatch! #privacy #rentalcarproblems pic.twitter.com/FT4dmP0A5t

— EyePatch Case (@EyePatchCase) December 22, 2014
Hertz responded to the tweet, claiming the company does not track customers.
@EyePatchCase @Hertz @masorrentino Appreciate your 'eye patch' recommendation. Camera is not operational today. We don't track customers.

— Hertz NeverLost (@HertzNeverLost) December 22, 2014
Hertz's claim, "We don't track customers," did not ring true with skeptics. In fact, looking closely at the photo sent by TheBlaze employee, you can see an icon showing what appears to be an active uplink indicated.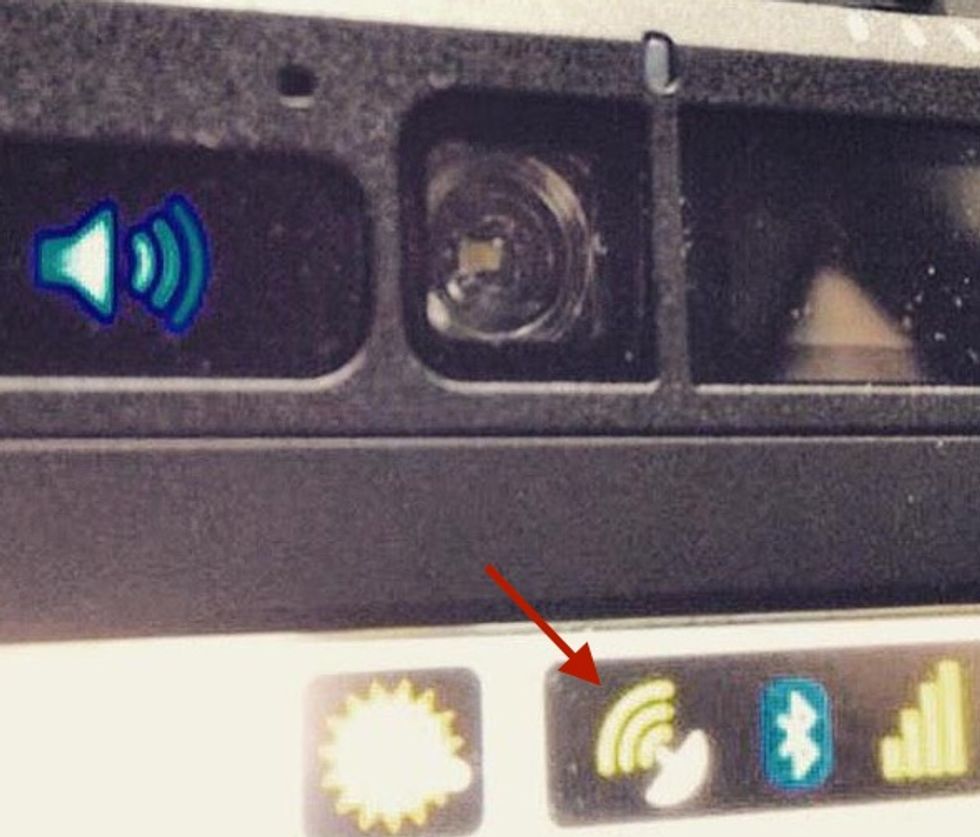 Image: Twitter.com
As news of the driver-facing cameras hit a variety of tech blogs, Hertz was forced to address the issue.
In a statement posted on Fusion.net, Hertz spokesperson, Evelin Imperatrice claimed the cameras were only in one out of every eight cars in the company's fleet and they are not yet functioning. Imperatrice's email response to Fusion's Kashmir Hill clearly states, "We do not have adequate bandwidth capabilities to the car to support streaming video at this time."
The words, "at this time" at the end of the Hertz statement has us wondering if there is a time frame for increasing bandwidth capabilities in order to support the technology.
TheBlaze has reached out to the corporate offices of Hertz for additional information about the cameras and any plans to use them.
The company's unedited response, from Richard Broome, Executive Vice President, Corporate Affairs and Communications:
The cameras in NeverLost 6 units aren't functional and cannot be turned on under any circumstances, by either renters or by the company. When we chose the new hardware device for NeverLost 6, we included a camera option in the event that a video conferencing function might be a useful, future application that renters would welcome. We have always intended that the video conferencing function -- like our rental kiosks which have video conferencing capability -- could only be activated by renters at their sole discretion if, for example they were lost, in an accident, or their vehicle broke down and they preferred to interact with a Hertz employee through live video chat. Hertz does not have the technology to support an in-car video conference service, and we have no timetable to develop or acquire this technology.

While the camera function doesn't work, we are happy to provide customers with a different vehicle if they are nevertheless uncomfortable with the NeverLost unit in their rental car
TheBlaze has submitted addition questions to Hertz. Specifically, "Why would you include video conferencing for a driver? Especially considering the problem 'distracted driving' has become."
If the company responds, we will update this post.
Curiously, in mid-February, without offering any explanation, Hertz announced it was closing down the Twitter account for the on-board navigation system.
We're closing down this account tomorrow, tune into @Hertz for update, offers, and travel information. See you there! pic.twitter.com/TEfPjHB8D6

— Hertz NeverLost (@HertzNeverLost) February 18, 2015
Would you rent a car with a driver-monitoring camera?
__
Follow Mike Opelka (@Stuntbrain) on Twitter.
Want to leave a tip?
We answer to you. Help keep our content free of advertisers and big tech censorship by leaving a tip today.
more stories
Sign up for the Blaze newsletter
By signing up, you agree to our
Privacy Policy
and
Terms of Use
, and agree to receive content that may sometimes include advertisements. You may opt out at any time.