President Vladimir Putin ordered Russia's Northern Fleet as well as paratrooper units to go on full combat alert Monday as part of an unanticipated military inspection of combat readiness in the Arctic, Russian media reported.
Putin still had not appeared in public when the decision was announced Monday morning, more than a week since his last public sighting.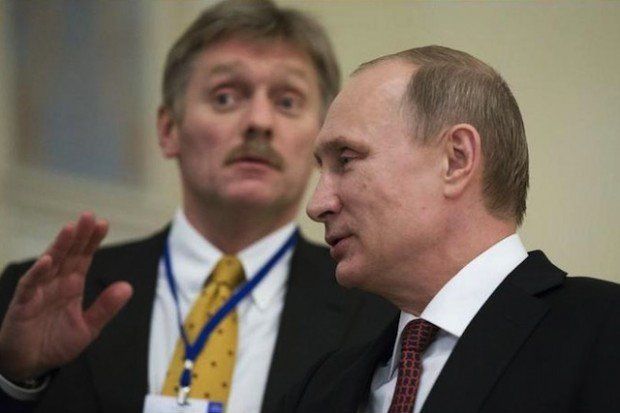 In this photo taken on Thursday, Feb. 12, 2015, Russian President Vladimir Putin, right, speaks to a journalist as his press secretory Dmitry Peskov tries to stop questions after the peace talks in Minsk, Belarus, Thursday, Feb. 12, 2015. Peskov told The Associated Press that Putin's "health is really perfect," dismissing media speculation that the president could be unwell. (AP Photo/Alexander Zemlianichenko)
The alert decision was based on "new challenges and threats to military security," Russia's defense minister said.
RT reported:
President Vladimir Putin has ordered the Northern Fleet, certain units of airborne forces and the Western Military District to be put on full combat alert from 05:00 GMT on Monday, TASS reported. Snap checks will serve to evaluate the capabilities of the Northern Fleet to ensure Russia's military security in the Arctic, according to Defense Minister Sergey Shoigu.
Quoting the defense minister, Pravda reported that the forces included, "As many as 38,000 troops, over 3,000 units of military hardware, 41 vessels, 15 submarines, 110 airplanes and helicopters."
"New challenges and threats to military security require the armed forces to further boost their military capabilities. Special attention must be paid to strategic formations in the North," state-run RIA quoted Shoigu as saying, Reuters reported.
"The prime goal of the inspection is to assess the abilities of the troops of the Northern Fleet to execute tasks to ensure defense security of the Russian Federation in the Arctic region," Shoigu said according to Pravda.
Putin's long absence from the public eye has fueled speculation as to his whereabouts. The Kremlin Friday announced he would meet Monday with the president of Kyrgyzstan in Saint Petersburg. It will be his first appearance at an event covered by the media since March 5.