Within the last decade, cellphones and later smartphones have been blasted for being a deadly distraction behind the wheel. As a result, states have taken measures to ban or curb use of these devices while driving.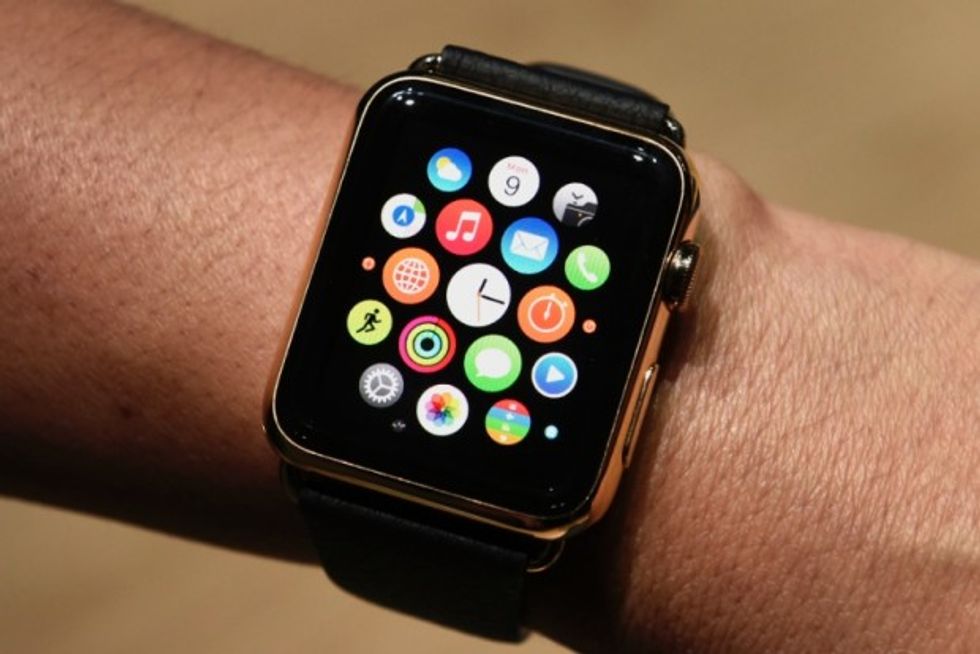 An attendee displays the Apple Watch Edition for a photograph during the Apple Inc. Spring Forward event in San Francisco, California. Apple Inc. began showing off features and applications for its first new device in five years, a smartwatch designed to put information on peoples' wrists and break open the fledgling market for wearable technology. (Bloomberg/Bloomberg via Getty Images)
But is your watch next? Maybe someday if they're of the new, high-tech variety that's beginning to roll out on the market.
A study by the U.K. Transport Research Laboratory found smartwatches are far more distracting than smartphones. According to the Huffington Post, the research found it takes 2.52 seconds for someone to react in the event of an emergency after looking at their smartwatch, compared to 1.85 seconds if they were using a handheld cellphone.
With this data and citing the fact that only more distracting apps are bound to come on the market, Paul Singh, CEO of the vehicle safety company Smart Witness, called upon the U.K.'s Department of Transportation to "place an immediate ban on the use of [smartwatches] by drivers."
"We don't want to sound like kill-joys and the health and safety police but there's no doubt that using smart watches whilst driving will cause serious accidents," Singh wrote for the Huffington Post.
Singh's post noted that the U.K. banned drivers from using handheld phones in 2003.
In the U.S., only 14 states have banned handheld cellphone use all together. However, 44 states have banned texting while driving.
There do not appear to be any proposed bans on driving and using a smartwatch in the U.S. yet, but last year, there were several bills introduced that proposed making it punishable to drive and use a Google Glass device.
According to the U.S. Department of Transportation, more than 3,000 people were killed in the U.S. in 2012 in accidents caused by distracted driving.
(H/T: SlashGear)