Filling in as a guest host on Monday's edition of "The View," Raven-Symone came to the defense of the Univision host who was fired for joking that a makeup artist who transformed himself into Michelle Obama "looks like she's part of the cast of 'Planet of the Apes,' the film."
The host, Rodner Figueroa, lost his job and apologized to the first lady, saying his joke was aimed at the makeup artist behind the look, not her. He has since been accused of racism.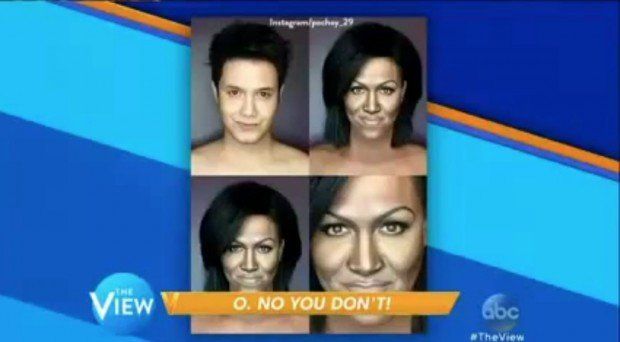 (ABC's "The View")
But Raven-Symone gave him the benefit of the doubt on Monday, surprising her fellow hosts on the show.
"Was he saying it racist-like? Because he said he voted for her later, and I don't think he was saying it racist," she said.
That set off Rosie Perez, who said the assertion that the comment wasn't racist is like saying, "I'm not racist, but I have black friends."
"I'm sorry, that is racist!" Perez added. However, Raven-Symone stuck to her guns and reiterated that she doesn't believe Figueroa's comments were meant to be racist.
"Michelle, don't fire me from this right now, but some people look like animals. Is that rude? I look like a bird! So can I be mad if somebody calls me Toucan Sam?" the actress said.
Watch below via ABC (relevant discussion starts at around 8:30):
Raven-Symone offered some additional context to her comments on Twitter Tuesday:
Some comments are rude, some are disrespectful, and some are racist. Try to not exchange one for the other.

— Raven-Symonè (@MissRavenSymone) March 18, 2015
My opinion/comments arn't based off race, that doesn't mean i'm trying to be a different race all together. I love OUR history, family....

— Raven-Symonè (@MissRavenSymone) March 18, 2015
We have Irish Culture, African Culture, Asian Culture, Indian Culture Many more running through the veins of AMERICA! Come on yung peeps

— Raven-Symonè (@MissRavenSymone) March 18, 2015
(H/T: Mediaite)