Starbucks' plan to start a national conversation on race appears to have backfired.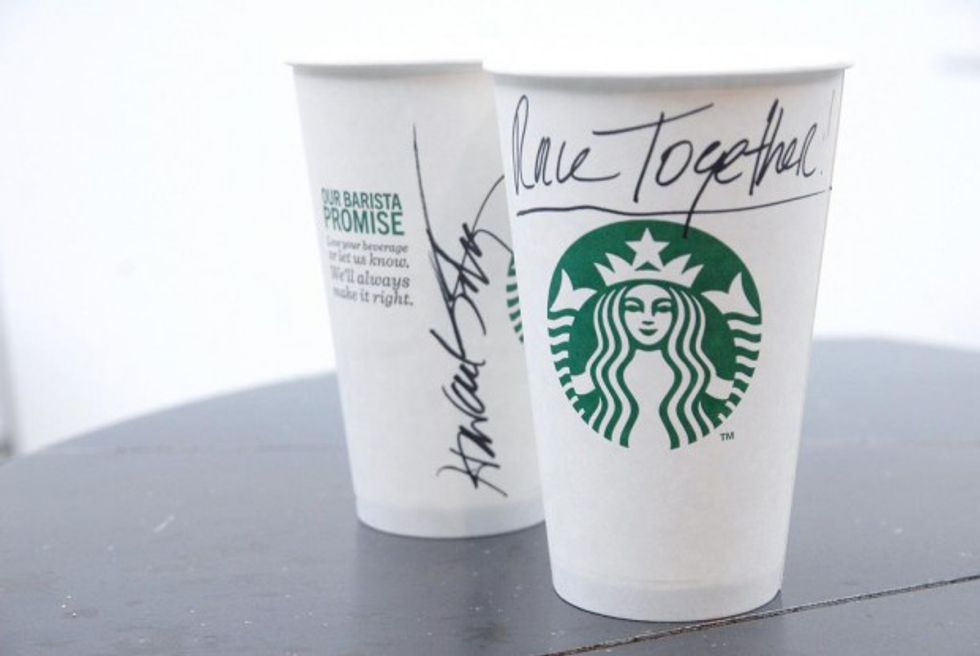 Image: Twitter
Within minutes of the news of Starbucks' promotion hitting the web, #RaceTogether was trending near the top of the social media charts. Reaction to the idea of encouraging a conversation on race between customers and baristas was met with opposition from people of all backgrounds.
While there were some tweets supporting Starbucks, the majority seem to be mocking the coffee shop's plan to deliver a shot of race into the beverage orders of customers at the 12,000 stores around the country.
Presented without comment, a random selection of tweets responding negatively to the promotion:
Welcome to #Starbucks! Please don't ask for your coffee "black." #RaceTogether pic.twitter.com/GuY4TqlWpW

— Peter S. Dee (@PeeteySDee) March 17, 2015
y'all realize there are no coloured hands in the press photos right @Starbucks #RaceTogether pic.twitter.com/Epd9knTYfz

— black power alt bro (@vidalwuu) March 17, 2015
Being a barista is hard enough. Having to talk #RaceTogether with a woman in Lululemon pants while pouring pumpkin spice is just cruel.

— Ijeoma Oluo (@IjeomaOluo) March 17, 2015
"Welcome to Starbucks. We'd like to discuss race with you." "Gotta be honest, I don't know what it's going to be like without Jeff Gordon."

— Matthew (@Matthops82) March 17, 2015
The funny thing is that Starbucks brought folks of all races and political views together in opposition to #RaceTogether

— Ben Walters (@TheBenWalters) March 17, 2015
Starbucks is where I go to get what I need so I can have the patience for race convos at work. Please cut the #RaceTogether stuff please

— W.E.B.B.I.E DuBois (@fivefifths) March 17, 2015
"It's a Venti Mocha Frappachino but they spelled Kaitlyn as Race Together on the cup." - Teenage girl at Starbucks #RaceTogether

— Blaise Miller (@BlaiseInKC) March 17, 2015
I, for one, would love to see Starbucks' clientele discuss how Elizabeth Warren posed as Native American for her own advantage #RaceTogether

— Will Antonin (@Will_Antonin) March 17, 2015
If you wanna #RaceTogether, let's talk about how many POC you employ in corporate, @Starbucks? Who does your PR? Your legal work?

— Cirque du SoBae (@brownandbella) March 17, 2015
Not sure what @Starbucks was thinking. I don't have time to explain 400 years of oppression to you & still make my train. #RaceTogether

— April (@ReignOfApril) March 17, 2015
If I get #RaceTogether'd at Starbucks, I'm just going to teach them how to pronounce my name and let them high five me in victory.

— Imani ABL (@AngryBlackLady) March 17, 2015
Barista: "I'm not racist but..." Man, I just wanted a green tea. #starbucks #RaceTogether pic.twitter.com/1Sj8XR6pZB

— Mohammed (@think_B1G) March 17, 2015
As a former Barista, I think #RaceTogether is a *terrible* idea. My thoughts are with the baristas being pressured into bad situations.

— Michael R. Underwood (@MikeRUnderwood) March 17, 2015
I see the malevolent Bright Idea Fairy has visited Starbucks with this #Racetogether hashtag. Good luck with that.

— Vincent (@VinShu_ESQ) March 17, 2015
__
Follow Mike Opelka (@Stuntbrain) on Twitter.