© 2023 Blaze Media LLC. All rights reserved.
If These Two Words Appear on Your Cup, It Means Your Starbucks Barista Wants to Talk About an Explosive Topic
"You can't see it, but you feel it."
If you're headed to Starbucks this week, there are two words you might want to keep your eyes open for besides the usual misspelled name on your cup: "Race Together."
If a barista writes those words, it means he or she wants to talk race relations with you — and it's part of an official Starbucks initiative.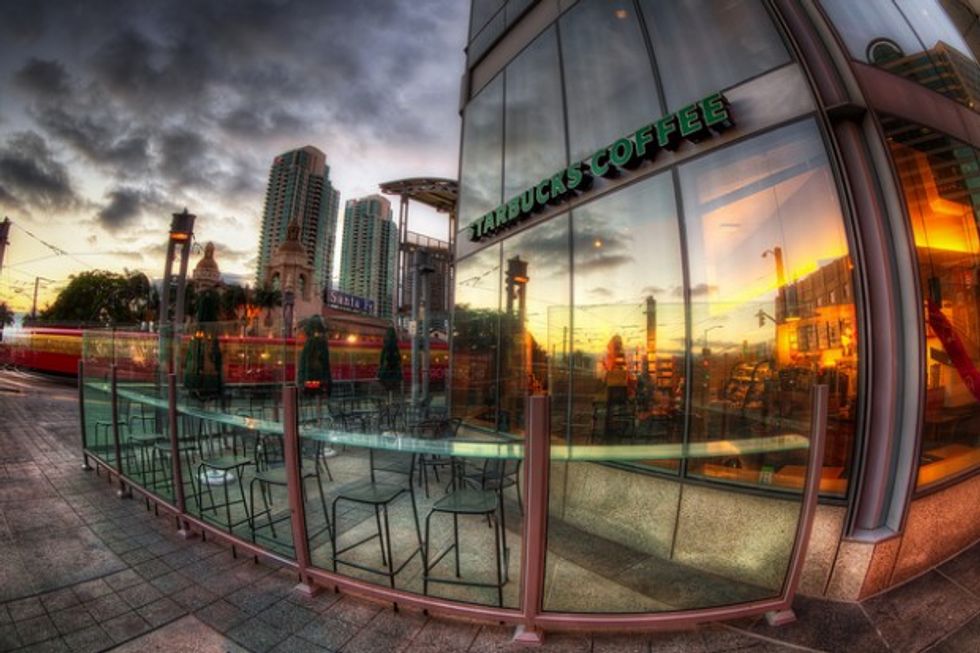 Image via Justin Brown/flickr
The Starbucks "Race Together" initiative, expounded on the company's website, kicked off with full-page ads in the New York Times and USA Today on Sunday and Monday, respectively.
@ProfessorF Starbucks full page ads in The New York Times and USA Today for #RaceTogether. pic.twitter.com/szDFwYhur4

— YTheAlien (@vidgamejournal) March 17, 2015
"We at Starbucks should be willing to talk about these issues in America," Starbucks CEO Howard Schultz said on the company's website. Citing an unnamed Starbucks employee who compared American racism to "humidity," he added, "You can't see it, but you feel it."
Schultz rejected the idea that race was too touchy a topic for Starbucks, Fortune reported.
"I reject that. I reject that completely," he said in a video message to the company's 200,000 employees, 40 percent of whom are minorities. "It's an emotional issue. But it is so vitally important to the country."
He said the U.S. is "so much better" than current race relations troubles make it out to be.
Fortune noted that the "Race Together" push comes after Schultz met with thousands of Starbucks employees in the wake of the high-profile killings of 18-year-old Michael Brown in Ferguson and 43-year-old Eric Garner in New York City — two black men killed by white police officers in incidents that sparked massive protest movements.
On its website, Starbucks was adamant that the initiative is a voluntary program born of baristas desire to do something "tangible" about U.S. race relations.
On Twitter, reactions to Starbucks' initiative ran the gamut from skeptical...
The most likely result of Starbucks's 'Race Together' campaign is me asking my regular barristas how they feel about Starbucks talking race.

— Kevin Fox (@kfury) March 17, 2015
...to snarky.
Because everything written on a Starbucks cup has to be misspelled, I'm just assuming this campaign is actually about wraiths

— Tim Murphy (@timothypmurphy) March 17, 2015
While some offered kudos to the company for its push, others derided the move as "feel-good liberalism" that would accomplish little.
The only folks happy about Starbucks baristas discussing race with customers are the suits who run it. Feel-good liberalism at its worst.

— Jamil Smith (@JamilSmith) March 17, 2015
Schultz is set to discuss the initiative at Starbucks' annual shareholder meeting Wednesday.
—
Follow Zach Noble (@thezachnoble) on Twitter
Want to leave a tip?
We answer to you. Help keep our content free of advertisers and big tech censorship by leaving a tip today.
more stories
Sign up for the Blaze newsletter
By signing up, you agree to our
Privacy Policy
and
Terms of Use
, and agree to receive content that may sometimes include advertisements. You may opt out at any time.