© 2023 Blaze Media LLC. All rights reserved.
State Dept. says Congress's main role in the Iran nuke talks is to lift sanctions on Iran
A top State Department official said Thursday that Congress doesn't have much of a role to play while officials negotiate a nuclear agreement with Iran, and that Congress would only have a role late in the process when it's time to lift U.S. sanctions against that country.
Deputy Secretary of State Antony Blinken also repeated the administration's line that Congress needs to stop interfering with the process as it continues, a reference to possible threats of new U.S. sanctions, and last week's critical letter from dozens of Senate Republicans.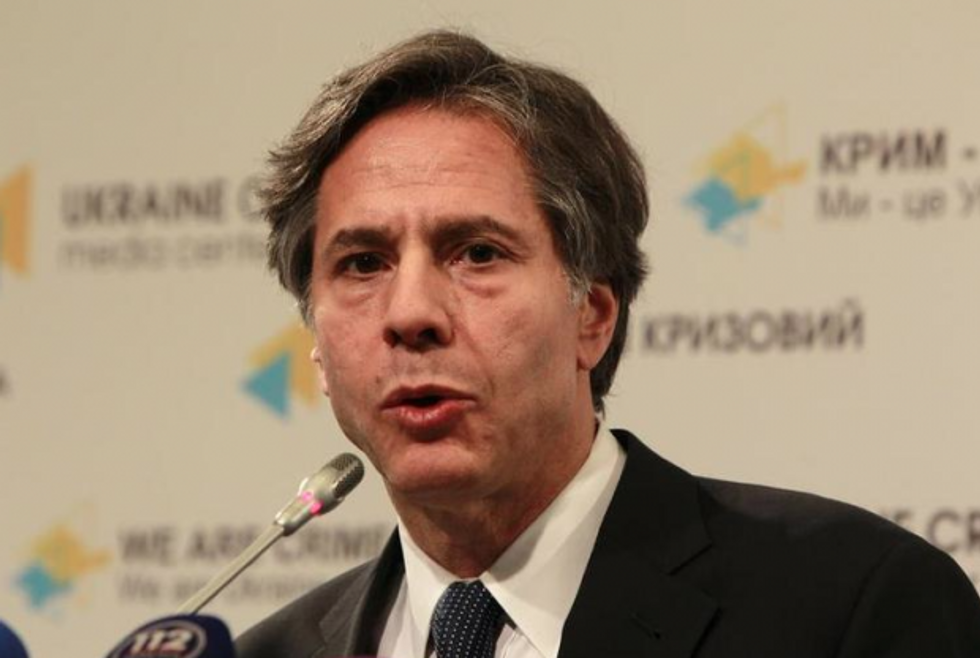 Deputy Secretary of State Antony Blinken said Congress's role in the Iran nuclear talks will be to lift sanctions on Iran, but not much else. Image: AP Photo/Sergei Chuzavkov
"We do not believe that the country's interests are served by congressional attempts to weigh in prematurely on this sensitive and consequential ongoing international negotiation aimed at achieving a goal that we all share: using diplomacy to prevent Iran from developing a nuclear weapon," Blinken told the House Foreign Affairs Committee.
"While the negotiations are taking place, it is vital that we prevent any actions that would lead the world to believe the United States was responsible for their failure," he added. "Such actions include enacting new sanctions or other measures that will be incredibly damaging to ongoing negotiations."
Blinken said the time for Congress to get involved would be after the deal has been agreed, since U.S. sanctions against Iran will likely have to be lifted as part of the deal.
"[I]f a deal is finalized, Congress will certainly have a robust role to play in potentially taking action on future statutory sanctions relief once Iran has demonstrated a track record of living up to its commitments," he said.
Additionally, he said the administration's preference is to send the deal to the United Nations, which could then put in place a plan for dropping U.N. sanctions against Iran.
"It would be normal for the Security Council to take note of any agreement, and then to create a basis for lifting the U.N.-related sanctions," he said. "Just as Congress will eventually have to decide whether to lift U.N. sanctions."
As expected, Blinken's testimony didn't sit well with Republicans or Democrats on the committee. Chairman Ed Royce (R-Calif.) said the Obama administration has failed to live up to Secretary of State John Kerry's promise to work more closely with Congress.
"As Secretary Kerry testified not long ago, any agreement will have to pass muster with Congress," Royce said.
"Yet that commitment has been muddied by the administration's insistence in recent weeks that Congress not play a role," he added. "That's not right. Congress built the sanctions structure that brought Iran to the table. And if the president moves to dismantle it, we will have a say."
The top Democrat on the committee, Rep. Eliot Engel (D-N.Y.), agreed with Royce, and said Congress won't accept being pushed to the side.
"I will not stand by and allow Congress to be marginalized," Engel said. "Any permanent repeal of sanctions is by law Congress's discretion, and before we do that, we must be completely convinced that this deal blocks all of Iran's pathways to a nuclear bomb."
Royce added that the administration should send the deal to the Senate for it to be ratified before that takes place. He said it the deal is big enough to go to the U.N., "then it would certainly be consequential enough to be submitted to the Senate for advice and consent."
But Blinken didn't answer that directly, which prompted Royce to indicate he disagrees with the apparent plan to come to Congress last, years after the deal has been struck, to ask it to lift U.S. sanctions against Iran.
"Suggesting that Congress has a role to play by voting on sanctions relief years from now, once a deal has run its course, that to me is disingenuous," he said.
The talks between the U.S., Iran and other countries are entering their final phase, and negotiators are hoping to reach a framework agreement by the end of March. But many critics of the emerging deal say it would let Iran keep too much of its nuclear infrastructure intact, and could let them move toward a nuclear bomb again in just ten years.
Blinken argued that this is not the case, and that the administration is looking for an agreement that would put some permanent limits on Iran's nuclear program. But he said repeatedly that no deal is in place yet, making it impossible for him to cite details.
Want to leave a tip?
We answer to you. Help keep our content free of advertisers and big tech censorship by leaving a tip today.
more stories
Sign up for the Blaze newsletter
By signing up, you agree to our
Privacy Policy
and
Terms of Use
, and agree to receive content that may sometimes include advertisements. You may opt out at any time.