Ex-Secret Service agent Dan Bongino is defending his former colleagues after two agents were widely reported to have been involved in a car crash outside the White House.
Bongino said he has a personal connection to at least one of the people in the car during the March 4 incident, which was viewed as the latest black eye for the agency. Secret Service Director Joseph Clancy told a congressional panel Thursday that "there was no crash," though was withholding judgment about whether the agents were intoxicated until after an investigation.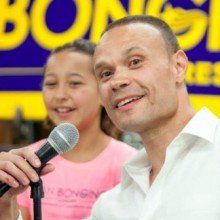 Image: Dan Bongino
Speaking on his podcast, Bongino did not give the entire Secret Service a free pass: "When the fence-jumper incident happened, I went out there on the news and said, 'major catastrophic failure' for a number of reasons."
But he argued in support of one agent, a personal friend he said relayed the details of the event to him. "I'm telling you, one of the guys involved in this incident, recently, did absolutely nothing wrong," said the former Secret Service agent.
Bongino explained that his friend was "getting a ride back to the White House … to get his car to go home."
Taking exception with the way the incident has been reported by the media, Bongino shared more of what he believes happened that night, "There's no ramming into a barricade. There's a video. The video's clear as day. There's a barrel in the street that you have to kind of negotiate around. They bumped the barrel."
Bongino continued: "Let me ask you this, if they crashed into a barricade, how come there's no damage to the car?" Adding, "Frankly, how come there's no damage to the barrel either?"
Taking a mocking tone, Bongino said, "It's like, if the media reports it, it's fact."
"I'm telling you that's not what happened," he said.
Bongino spoke glowingly about one of the agents involved in the incident, whom he referred to as Mark, recounting a trip they took with the president to Afghanistan.
"This agent's record is impeccable, probably one of the best agents, if not the best agent I ever worked with … he was the best of the best."
Listen to Bongino's comments about the incident, beginning at 33:48 of the podcast.
__
Follow Mike Opelka (@Stuntbrain) on Twitter.