She brazen, unafraid and she posed for Playboy — but she still surprised people with her public message to conservative commentators.
On Saturday, rapper/singer Azealia Banks tweeted a sexually explicit photo — a close-up of her genitals — and the message, "If you guys look closely enough you can see the future," to popular blogger Matt Walsh and radio host Wayne DuPree.
See the tweet (partially redacted by TheBlaze) below.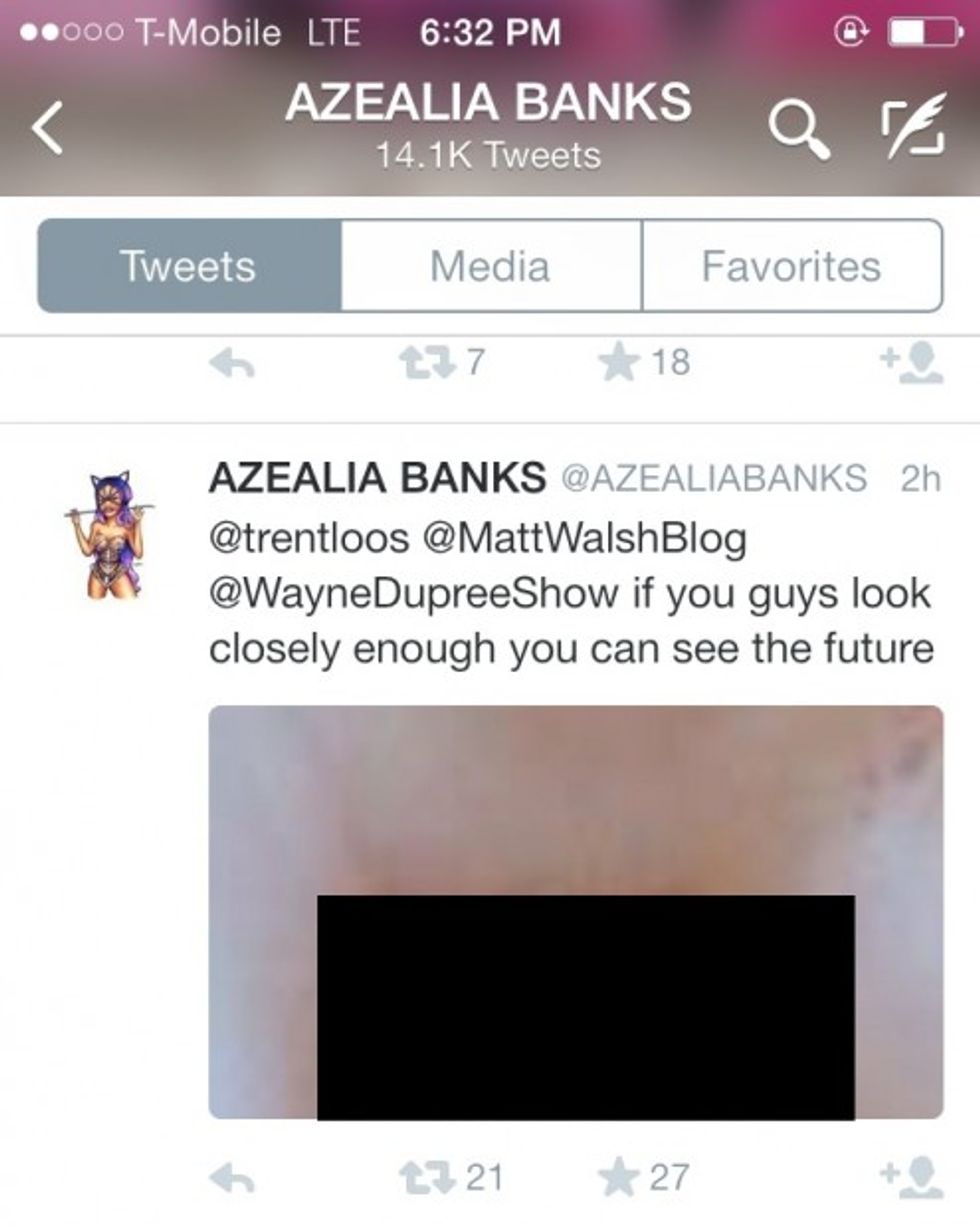 Image via Matt Walsh
Walsh, who writes exclusively for TheBlaze, had penned a scathing blog post inviting Banks to make good on her threats and leave the U.S.
Dupree had gone back and forth with Banks on Twitter days prior over her Playboy interview in which she said, "I hate everything about this country."
Walsh told TheBlaze he was surprised and saddened by the tweet, writing:
This all started because she expressed open hatred and resentment for white men, white farmers, white teenage girls and America as a whole. The media ignores her comments, which they certainly wouldn't have done if she happened to be a white pop star talking about her hatred for black Americans. So I write something calling her out, because someone had to do it, and she responds by sending me an unsolicited close up shot of her genitals. Can you imagine if a white male pop star did this? He'd be boycotted, shunned, and sued for sexual harassment, without a doubt.

In the end, I think she's just a desperate and confused girl who feels an intense resentment for white people and men, and this was her way of showing that. I also think she's obsessed with attention and, having no moral foundation, this is how she's learned to try and get that attention. I hope she eventually learns how to use her words like a grown up, because this is really embarrassing.  And I hope that the media catches on to the fact that even if someone is a black female, it's still not ok for them to be vulgar, sexually desperate bigots.
For her part, Banks did not respond to multiple requests for comment from TheBlaze, and while she has deleted her sexually explicit tweet to Walsh and Dupree, her Twitter activity does not lack for belligerent quotes and graphic images.
Conservative White Americans are SUCH sociopaths it's not even funny.....

— AZEALIA BANKS (@AZEALIABANKS) March 19, 2015
This story has been updated.
—
Follow Zach Noble (@thezachnoble) on Twitter