Republicans in the House and Senate reacted harshly to Wednesday's news that Army Sgt. Bowe Bergdahl would be charged with desertion and misbehavior, and said it compounds President Barack Obama's error when he decided last year to swap Bergdahl for five Taliban prisoners who were detained at Guantanamo Bay.
Soon after the swap, many Republicans warned that Obama was telling the world that the U.S. would negotiate with terrorists. It quickly became evident that Bergdahl may have been an Army deserter, and today's charges showed the deal was even worse than many believed at the time.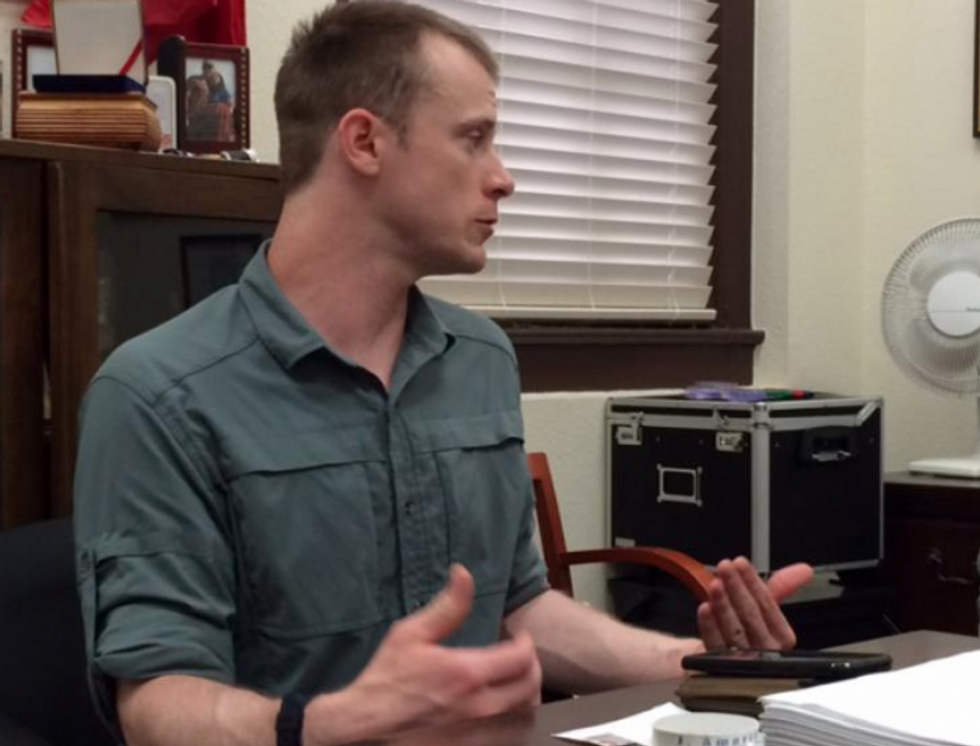 Army Sgt. Bowe Bergdahl was charged with desertion and misbehavior on Wednesday, which for many Republicans made the prisoner swap deal for Bergdahl even worse.
"The Army's decision to charge Bowe Bergdahl with desertion and misbehavior in the face of the enemy underscores how misguided and dangerous it was for President Obama to trade five hardened Taliban commanders for Bergdahl in the first place," said Sen. Tom Cotton (R-Ark.).
"Regardless of his conduct, the United States should not negotiate with terrorists or trade terrorist detainees for American hostages," he said. "President Obama's break with this longstanding bipartisan policy has placed a price on the head of every American abroad, whether in Afghanistan, Iraq, or anywhere else. And it's created the risk that these five detainees will return to the fight."
House Speaker John Boehner (R-Ohio) echoed that sentiment, and said the charges against Bergdahl only bring up the bad decision Obama made in securing his return.
"My chief concern remains President Obama's decision to release five hardened terrorists, with no guarantees that they won't return to the battlefield," he said. "I believe it made Americans less safe."
"Knowing that the United States does not negotiate with terrorists is one of our greatest protections, and now it is compromised," he said.
When the swap was made, the Obama administration stressed that it was part of its policy of making sure all members of the Armed Forces can return home, and some officials stressed that Bergdahl "served with honor." But today's charges made it clear that line was not true, which also angered some Republicans.
"Today the Army confirmed what we have suspected all along: the administration's claims that Sergeant Bowe Bergdahl served with honor and distinction could not be further from the truth," said Rep. Ted Poe (R-Texas). "He served with distinction — that of being a deserter — but certainly not with honor."
"Instead, the White House brought a deserter home, paraded his parents out in front of the media and put on a show in the Rose Garden," Poe said.
Last September, the House passed a resolution opposing the prisoner swap, and 22 Democrats joined Republicans to pass it.
"When news of this trade broke, the Afghan Government objected, and many in Congress agreed," said Rep. Matt Salmon (R-Ariz.). "Now that the U.S. government has announced plans to charge Sgt. Bergdahl with desertion, we can at least be assured that justice will be served for the servicemen who lost their lives while reportedly searching for him after his capture."
Sen. Cotton also gave a nod to the U.S. troops who searched for Bergdahl, even though he had deserted his own side of the battlefield.
"I want to commend the many soldiers in Bergdahl's unit who risked their lives on missions to rescue him, despite suspecting he had deserted from the outset," Cotton said. "Some have observed that President Obama was justified in his decision to swap terrorists for Bergdahl based on the principle that we leave no man behind."
"Let's be clear about this: the soldiers who tried to rescue Bergdahl didn't leave him behind and we should be grateful for that," he said.