Update: Joint Base Charleston responded to TheBlaze on Thursday morning, claiming that a "no contact" order was not issued to Chaplain Modder. The brief response read, "A 'no contact' order was never issued to the chaplain by CAPT Fahs or Joint Base Charleston leadership."
--
The ongoing battle between a celebrated Navy chaplain and his commanding officer continued this week, with the embattled faith leader reportedly being issued a "no contact" order that precludes him from ministering to members of his unit.
Chaplain Wes Modder was already reassigned following complaints from sailors who charged that he offended them by making faith-based proclamations about homosexuality and premarital sex during closed-door discussions
Now, the Liberty Institute, the conservative legal firm that is representing Modder, is claiming that his commanding officer, Captain Jon R. Fahs, has issued a "no contact" order, which the organization described as "the military version of a restraining order."
The order, which the firm is dismissing as an effort to "humiliate" Modder, effectively bans him from ministering to any sailors  in his unit. It reportedly came after a member of the unit unexpectedly died, forbidding the chaplain from offering spiritual care to those who worked with the deceased individual, and from having a presence on the base on the day of the memorial service.
"This Navy official is using the 'no contact' order as a weapon to punish and humiliate a decorated military chaplain," Michael Berry, senior counsel for the Liberty Institute, said in a statement. "I am stunned that he would deny Chaplain Modder the ability to minister to a grieving family and other sailors."
These claims come just days after the Liberty Institute accused the Navy of violating federal law by refusing to grant Modder's request for religious accommodation, as he faces the potential threat of termination. The legal firm has charged that Modder is being threatened with "career-ending punishment because he expressed faith-based beliefs in private counseling sessions with sailors."
As TheBlaze previously reported, Modder's problems began after a handful of sailors complained about him late last year.
He had been serving at the Navy Nuclear Power Training Command in Goose Creek, South Carolina, since April 2014, before recently being reassigned while the Navy investigates the claims waged against him.
Modder is accused of speaking out against homosexuality, of telling a woman who had premarital sex that she was "shaming herself in the eyes of God," and of purportedly berating a pregnant student who was not married, among other claims.
On March 16, the Navy rejected Modder's claim that he was being targeted due to his faith and that his statements behind closed doors were religiously protected free speech, according to conservative commentator Todd Starnes.
"In your case, I find that your ability to express your religious beliefs during pastoral counseling has not been restricted or substantially burdened," Fahs recently wrote to Modder. "Your inability to comfort and counsel in a manner that was respectful of the counselee while maintaining dignity and professionalism … led to you being relieved of your duties."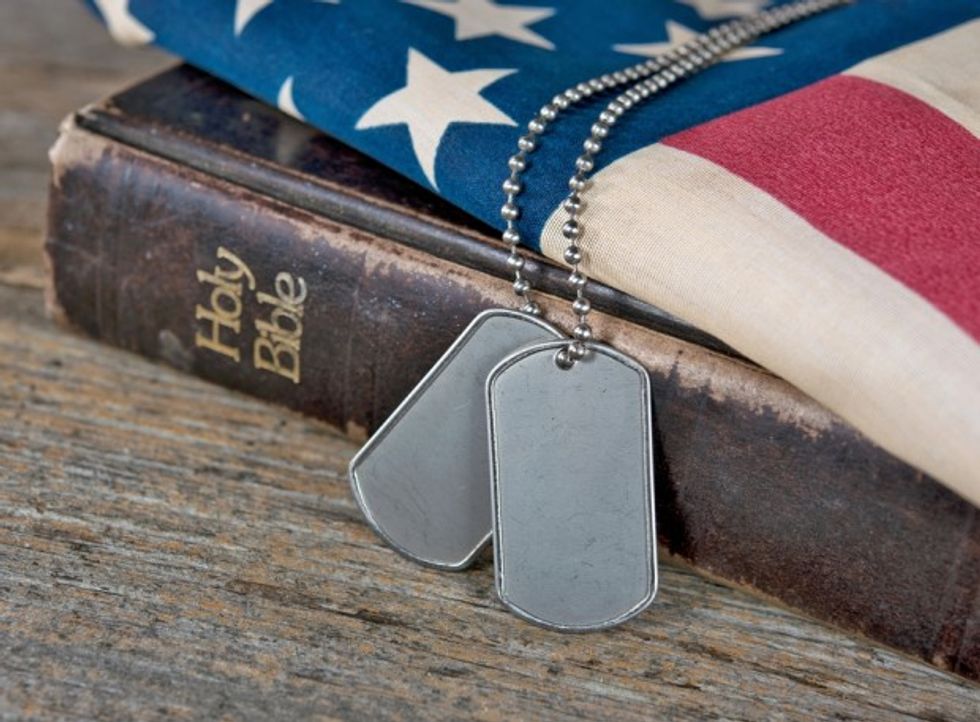 Photo credit: Shutterstock
The Liberty Institute plans to appeal the decision in support of Modder, who is endorsed by the Assemblies of God denomination. The legal firm claims that by forcing Modder to compromise his beliefs and standards the "Navy is violating the Constitution, federal law, and Department of Defense regulations."
Berry recently told TheBlaze that he found it curious that Modder, who has been working for nearly two decades in the chaplaincy, was praised in a professional review signed on Oct. 31, 2014, as the "best of the best" and a "consummate professional leader" who greatly exceeded standards in the vast majority of categories — but just weeks later, he found himself in the cross-hairs.
Starnes also recently reported that Modder's problems began after a married gay officer was assigned to assist him. After about a month of working with the chaplain, the young officer reportedly began asking questions about homosexuality, subsequently filing a five-page complaint against Modder over disagreements with his stances on the issue.
"The Navy appears to be rebelling against the new DOD regulations and thumbing its nose at Congress and the Secretary of Defense," Berry said in a recent statement. "That is totally unacceptable."
An email to the Navy Nuclear Power Training Command public affairs office seeking comment has not been returned to TheBlaze.
Read more about the controversy here.
--
Front page image via Shutterstock.com.