If you didn't think that texting while driving or putting on lipstick was so much of a distraction that it truly affected road skills, just watch the video from AAA's Foundation for Traffic Safety.
The foundation's video shows a compilation of footage from both inside the car and from the driver's perspective of the road in situations where the driver was distracted and got in an accident.
AAA calls the analysis it yielded "unprecedented":
Looking at the six seconds of video leading up to a crash in nearly 1,700 videos, AAA found that six out of 10 moderate-to-severe accidents involving teen drivers had distraction as a factor.
"Access to crash videos has allowed us to better understand the moments leading up to a vehicle impact in a way that was previously impossible," Peter Kissinger, president and CEO of the AAA Foundation for Traffic Safety, said in a statement. "The in-depth analysis provides indisputable evidence that teen drivers are distracted in a much greater percentage of crashes than we previously realized."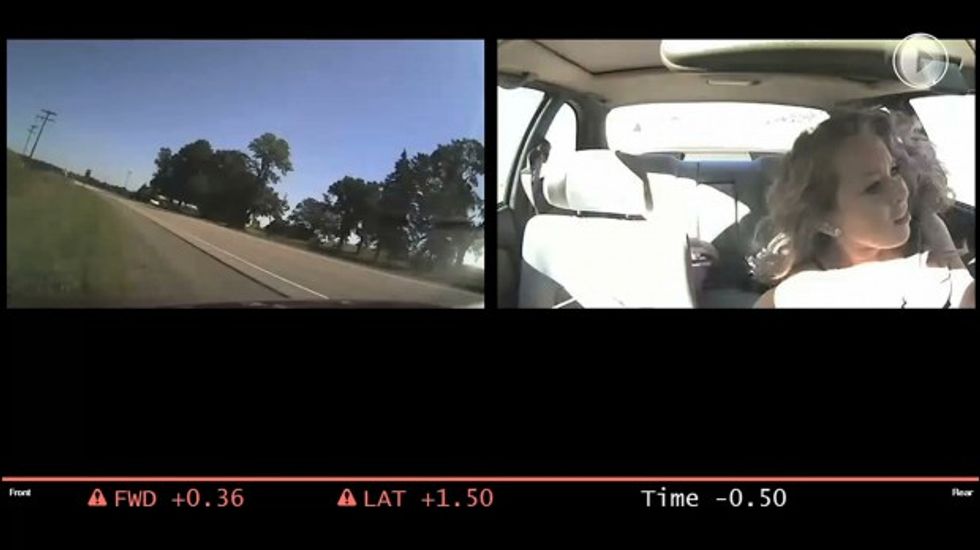 In this frame grab from a video provided by The AAA Foundation for Traffic Safety, a teen driver loses control of her vehicle after she was driving distracted. Distractions, especially talking with passengers and using cellphones, play a far greater role in car crashes involving teen drivers than has been previously understood, according to compelling new evidence cited by safety researchers who analyzed nearly 1,700 videos that capture the actions of teen drivers in the moments before a crash. (AP/The AAA Foundation for Traffic Safety)
The most common distraction in crashes was interactions with other passengers, followed by cellphones.
"It is troubling that passengers and cell phones were the most common forms of distraction given that these factors can increase crash risks for teen drivers," AAA CEO Bob Darbelnet said. "The situation is made worse by the fact that young drivers have spent less time behind the wheel and cannot draw upon their previous experience to manage unsafe conditions."
AAA recommended that parents understand the role they can play in helping educate teens about the risk such distractions can have on their driving. Some auto manufacturers, like Chevy, are starting to integrate this concept into some of their vehicles by offering features that have certain safety and tracking measures.