The first thing most people do after hopping out of bed is brush their teeth. At some point after that, breakfast might be in order, and if orange juice is on the menu, that person is about to get a mouthful of bitterness.
That's because an ingredient found in most toothpastes manages to dull your taste buds responsible for picking up sweet flavors, and also opens up taste receptors for bitterness that were previously inhibited.
It's this conundrum that got two Harvard business school grads — one with a background in chemical engineering, the other in branding strategy — talking.
"We put a man on the moon. Can't we figure out somehow to solve this problem that everyone faces?" Calley Means told TheBlaze.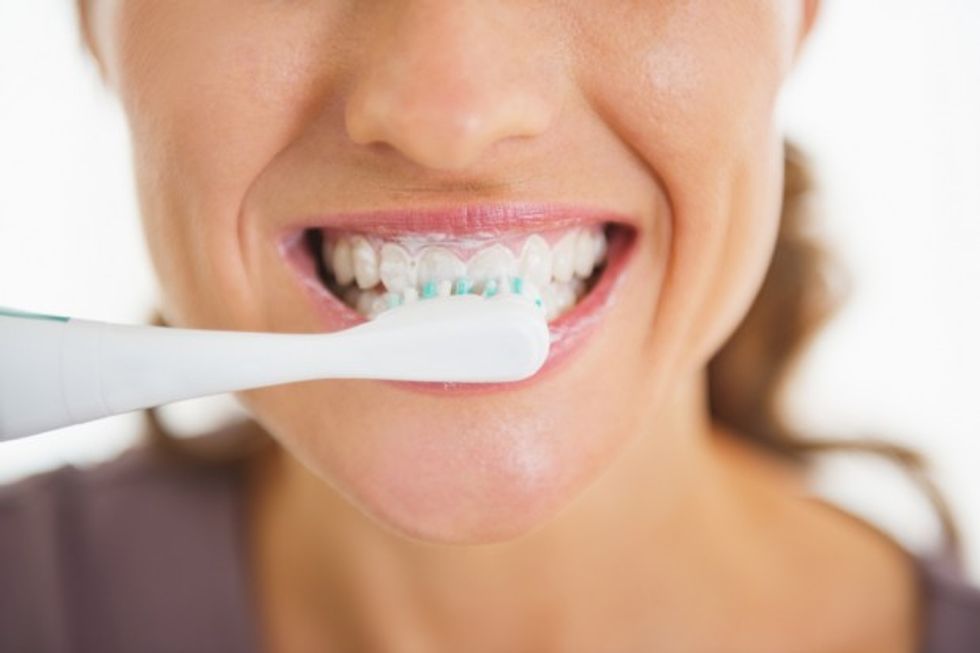 A group of Harvard business students teamed up to take out ingredients they say are not necessary in toothpaste and add others they think should have been in there in the first place for dental health. (Photo credit: Shutterstock)
Once Means and Rachel Peterson started looking at a way to solve this problem, they found so many other shortcomings in both mainstream toothpastes and the all-natural varieties.
"From that point on, we just looked at every other ingredient [in toothpastes] and said, 'What can we take out?'" Peterson said.
"There's an unbelievable opportunity to not only make OJ taste better [after brushing,] but to take out ingredients that the big guys have that aren't particularly needed," Means said.
Some of these other ingredients include triclosan, which has been implicated as a possible cancer-causing agent, and microbeads, which have been blasted by environmental types for their persistence in the environment and impact on aquatic life.
As for the OJ-disrupting culprit, that's sodium lauryl sulfate, a detergent that creates the nice bubbling that lets you get a good foam going as you brush. Watch this video from the American Chemical Society to learn more about how toothpaste affects your taste buds:
The compound is also a possible cause of canker sores.
Means and Peterson eventually developed a toothpaste that doesn't have any of the above ingredients, and also eliminated propylene glycol and artificial sweeteners and colors. In addition, they added other natural ingredients that have been shown to aid in dental health.
The end result was Matter, a toothpaste that the group started a Kickstarter campaign for in the hopes that they will get through the federal approval process and into mainstream stores.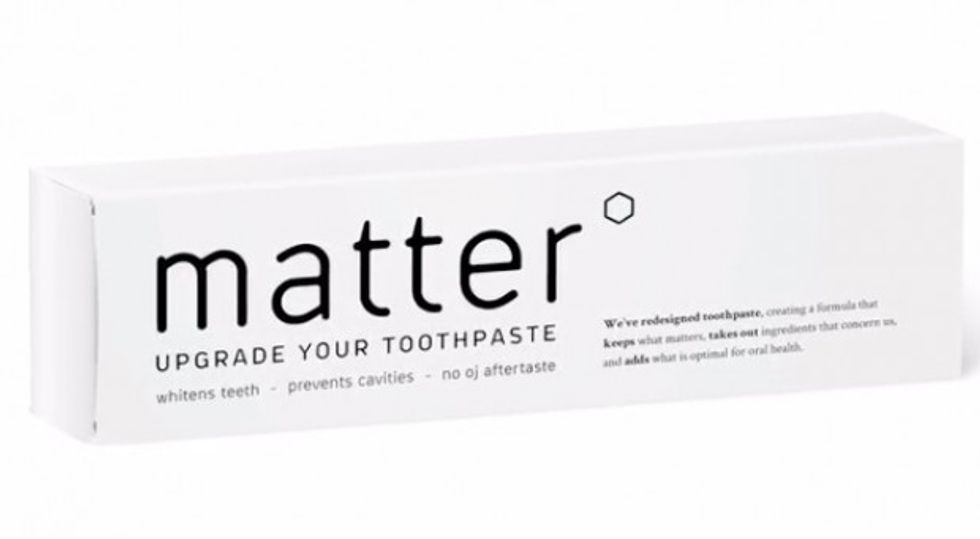 Image source: Kickstarter
Means called Matter a toothpaste that is "up the middle."
"You don't have to be a hippie to use more natural, better ingredients," he said, but he added that you also don't have to sacrifice experience or the health benefits either.
Means says Matter provides the feel most people are used to with mainstream toothpastes with the same dental benefits but without the unnatural ingredients that concern some.
Right now, the group has a lofty Kickstarter goal of $275,000. Launching the crowd-funding project on Thursday, they had more than 80 backers for more than $6,000 in funds at the time of this posting with 43 more days to go.
Why such a big fundraising goal for a tube of toothpaste they're marketing at $5 for early adopters, $6 for everyone else? Means said they need to raise a lot of money, in part, to bring them through the testing phase that is necessary to gain approval by the Food and Drug Administration. It's a barrier, he said, that he thinks has deterred others from trying to break into the market with a similar product so far.
They also hope that having a large minimum order when it comes to manufacturing will keep the cost of a tube of toothpaste affordable to the average consumer.
"We thought people would have thought of everything in the toothpaste world, and we were amazed at the opportunity," Calley said. "Every industry you think is impenetrable is changing. We think we can change toothpaste, that we really believe."
According to the group's timeline, they hope to start stability and fluoride testing with the FDA in May. By January 2016, they would go into production with the first deliveries coming out around this time next year.
Learn more about the project on Matter's Kickstarter page.
—
Front page image via Shutterstock. This story has been updated to correct the spelling of Rachel Peterson's name.