At the pinnacle of the Ebola outbreak in West Africa, there was talk of how the virus could mutate in a way that might make it more virulent and possibly change its mode of infection. A new report though says that it's mutation rate is not as concerning as previously thought.
The findings published in the journal Science stated that it was suggested in early reports that the virus was mutating "twice as fast as previously observed, which indicates the potential for changes in transmissibility and virulence and could render current molecular diagnostics and countermeasures ineffective."
Recent analysis though found the strain "is not undergoing rapid evolution in humans during the current outbreak."
"The Ebola virus in the ongoing West African outbreak appears to be stable — that is, it does not appear to be mutating more rapidly than viruses in previous Ebola outbreaks, and that is reassuring," said Dr. Anthony Fauci, director of the National Institute of Allergy and Infectious Diseases within the National Institutes of Health. "We look forward to additional information to validate this finding, because understanding and tracking Ebola virus evolution are critical to ensuring that our scientific and public health response keeps pace."
The NIH also announced Thursday that the second phase of clinical trials for Ebola vaccines were successful. The two experimental vaccines tested on more than 600 people in Liberia were deemed safe and allowed to advance to phase three of testing.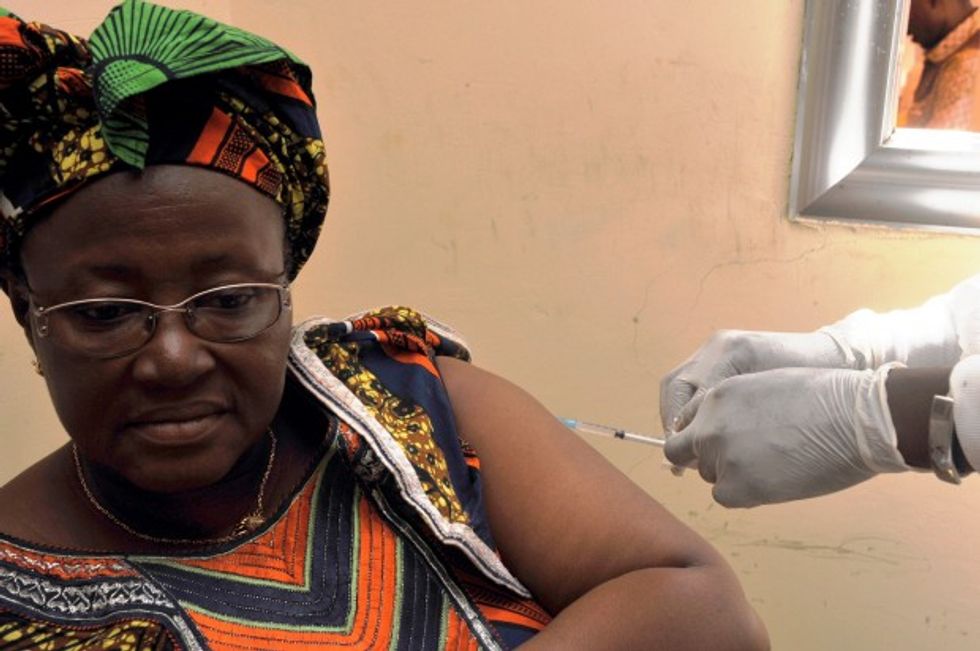 A woman gets vaccinated on March 10, 2015 at a health center in Conakry during the first clinical trials of the VSV-EBOV vaccine against the Ebola virus. The World Health Organization (WHO) said on March 5 that clinical trials launched on March 7 in Guinea marked the last step before the vaccine is available on the market. (CELLOU BINANI/AFP/Getty Images)
"We are grateful to the Liberian people who volunteered for this important clinical trial and encouraged by the study results seen with the two investigational Ebola vaccine candidates," Fauci said in a statement. "Now we must move forward to adapt and expand the study so that ultimately we can determine whether these experimental vaccines can protect against Ebola virus disease and therefore be used in future Ebola outbreaks."
In other Ebola news:
A U.S. citizen being treated at the NIH Clinical Center for Ebola was upgraded from critical to serious condition this week. "

Our colleague is doing much better," Dr. Paul Farmer, co-founder and chief strategist of Partners In Health, said in a

statement. "In fact, he has, in the opinion of some of the best doctors and nurses in the world, turned the corner. He is likely a long way from discharge, but is improving on all fronts." This patient, for whom no other details have been released, is one of 17 brought back to the U.S. earlier this month from West Africa. Sixteen others are being monitored for symptoms

 during the disease's incubation period. 
Six million people in Sierra Leone were told to stay home for three days, except for religious services, beginning Friday as the West African nation attempted a final push to rid itself of Ebola. As with a similar operation last year, thousands of teams will fan out around the country, knocking on doors to remind people how Ebola is spread and how to prevent it. In regions around the capital and in the north where flare-ups persist, health workers will also search for Ebola cases.
World Health Organization's Ebola Response Team published a new report that found babies were hardest hit by the virus, followed by children 1 to 4 years old. 

About 90 percent of children under age 1 who caught the virus in West Africa died from it, the first large study of the epidemic's impact on children suggested. 

Ebola proved fatal for nearly 80 percent of patients between 1 and 4 years of age.
After being declared Ebola-free for two weeks, Liberia saw another case. A Liberian official said a woman who tested positive for Ebola last week is dating a survivor of the disease, offering a possible explanation for how she became infected. Survivors of Ebola are not generally considered contagious, but the virus lingers in semen. Scientists urge survivors not to have sex for three months after treatment. Sexual transmission of Ebola has not yet been documented, but it may be possible.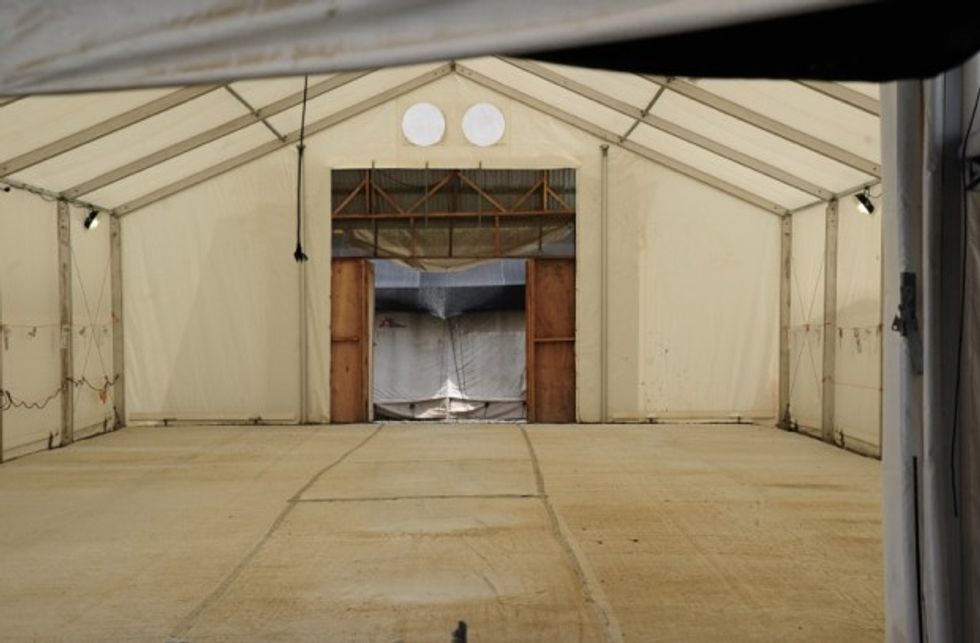 A photo shows a dismantled shelter in an Ebola treatment center closed by the charity Medecins Sans Frontiers (MSF - Doctors without Borders) in the Paynes Ville neighbourhood in Monrovia on March 25, 2015. A Liberian woman who last week became the country's first Ebola patient in more than one month has not passed on the infection to anyone else, a senior official said on March 25. (ZOOM DOSSO/AFP/Getty Images)
Ebola has sickened more than 23,000 and killed more than 10,000 since the epidemic began more than a year ago. Guinea, Sierra Leone and Liberia have been hardest hit.
—
The Associated Press contributed to this report.
—
Front page image via Shutterstock.