Comedian Bill Maher went on a fiery diatribe against "deeply stupid" politically correct wing of liberalism on his show Friday, at one point telling far-left Media Matters to "shut the f*** up" with its fake outrage. Maher is very liberal himself and his comedic attacks are mostly aimed at Republicans and conservatives, but every now and then he goes after the left .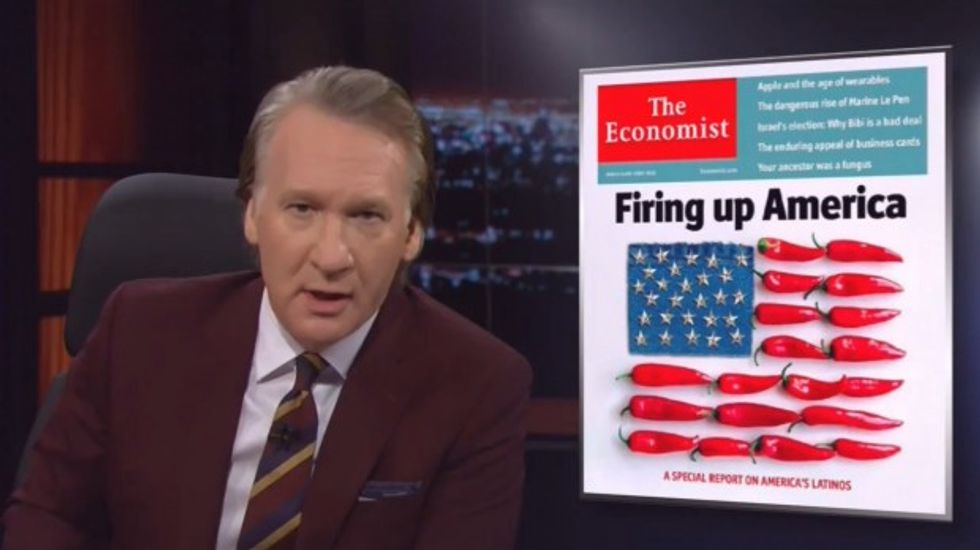 (HBO)
Maher began his "new rule" segment by dissecting the recent outrage over comments made by Dolce and Gabbana designers Domenico Dolce and Stefano Gabbana about "synthetic" babies and their support of "traditional" families. Even though the two are openly gay, some on the far-left decided to boycott the brand over the remarks.
"Naturally, a backlash ensued and now people are refusing to wear this shirt," Maher said as a picture of a Dolce and Gabbana shirt flashed on the screen. Then he joked, "So am I. Not because I'm protesting something, because I'm not Persian."
"Yes, we joke about everybody here. And that's something a lot of liberals have forgotten how to do," he added. "For folks who take such pride in their love of diversity, liberals increasingly seem to tolerate none in their own ranks. I don't necessarily agree with Dolce and Gabbana, but what is the point of attacking people who are 95 percent on your side?"
He went on to mock celebrities like Courtney Love and Elton John who boycotted the brand over the comments.
But far-left Media Matters, a progressive media "watchdog," got the brunt of Maher's wrath for feigning outrage at an Economist cover that featured an American flag made of red peppers. Maher said the site claimed the cover "the sort of stereotype that ignores Latinos as a multifaceted community and relegates them to chili pepper consuming constiutents."
"Media Matters, can I say one thing to you? Shut the f*** up," Maher said.
"How deeply stupid has the far-left become when gay designers can't get along with gay musicians?" Maher asked. "When vegans attack vegetarians for not being pure enough?"
Watch the entire "new rule" segment below via HBO (WARNING: Strong language):
(H/T: Mediaite)
---