When Dwayne "The Rock" Johnson appears on "Saturday Night Live," it's only a matter of time before "The Rock Obama" shows up.
Johnson played the alter ego of "Barack Obama," incensed over congressional Republicans' actions, in this week's "SNL" cold open.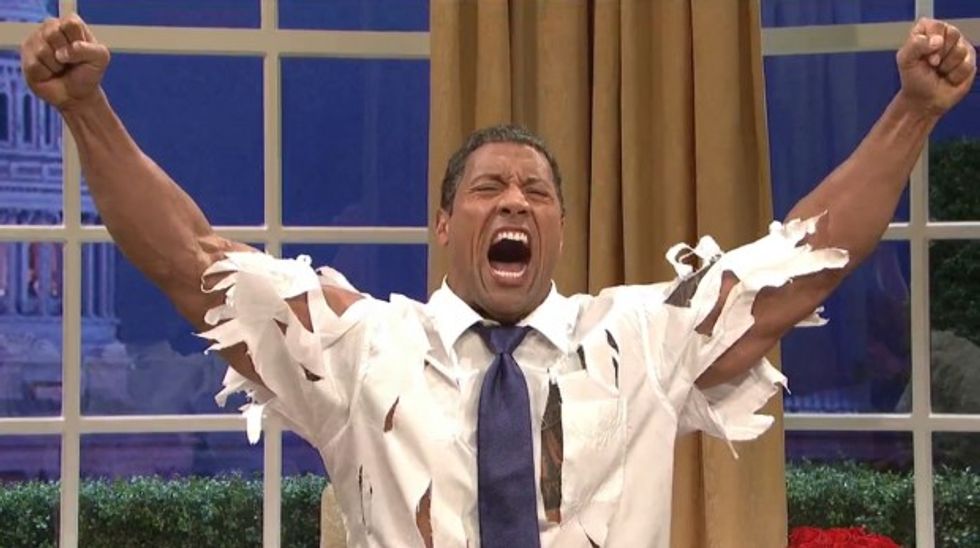 Image via NBC
The things "The Rock Obama" was angry about: the role Sen. Ted Cruz (R-Texas) played in shutting down the federal government briefly in 2013, Congress' open letter to Iran led by Sen. Tom Cotton (R-Ark.) and House Speaker John Boehner's (R-Ohio) invitation to have Israeli Prime Minister Benjamin Netanyahu speak in front of Congress as the White House was shunning him.
Watch the political violence unfold below:
Reactions to the sketch were mixed, with some tweeting that they loved the performance...
The Rock Obama is the hardest I've laughed during an SNL cold open in years.

— Britt Hayes, Esq. (@MissBrittHayes) March 29, 2015
...while others panned the segment — and noted the the real-life Obama's workout is nothing like Johnson's weightlifting.
The Rock Obama STRAINING to lift 5lb weights. pic.twitter.com/SS2XU4BtYo#betamale

— Islam Delenda Est ن (@velvethammer) March 29, 2015
—
Follow Zach Noble (@thezachnoble) on Twitter