When the Obama administration introduced new nutrition guidelines last year for food served at school, many grumbled that it meant the end of fun snacks, soda and sugary treats that most kids love to gobble up.
For the most part, that's exactly what happened. That's led to endless complaints that the federal government is too intrusive, and in some cases isn't letting kids eat enough, especially if they're bigger than average or are involved in sports that burn a lot of calories.
PepsiCo promises it can deliver many "USDA compliant" snacks to your school. Image: PepsiCo
At the same time, some snacks are evolving into smaller, leaner and healthier versions of themselves in order to be allowed back into school.
Over the weekend, for example, NPR reported that reduced fat, whole grain rich flamin' hot Cheetos made the cut, and are therefore allowed to be sold as a food that meets the government's nutrition standard. While some say that's just what should have happened, others are grumbling that it's perhaps too easy for unhealthy snacks to reduce fat and sodium and be considered as something close to "healthy."
"If you set up nutrition standards, the food industry can do anything to meet those standards, and this is a perfect example of that," New York University professor Marion Nestle told NPR. "So this is a 'better-for-you' junk food and, of course, the question is, is that a good choice? And no, of course, it's not."
Still, it takes a lot for a bright, shiny bag of crunchy, salty, fat-filled goodies to slim down and get back into the school cafeteria.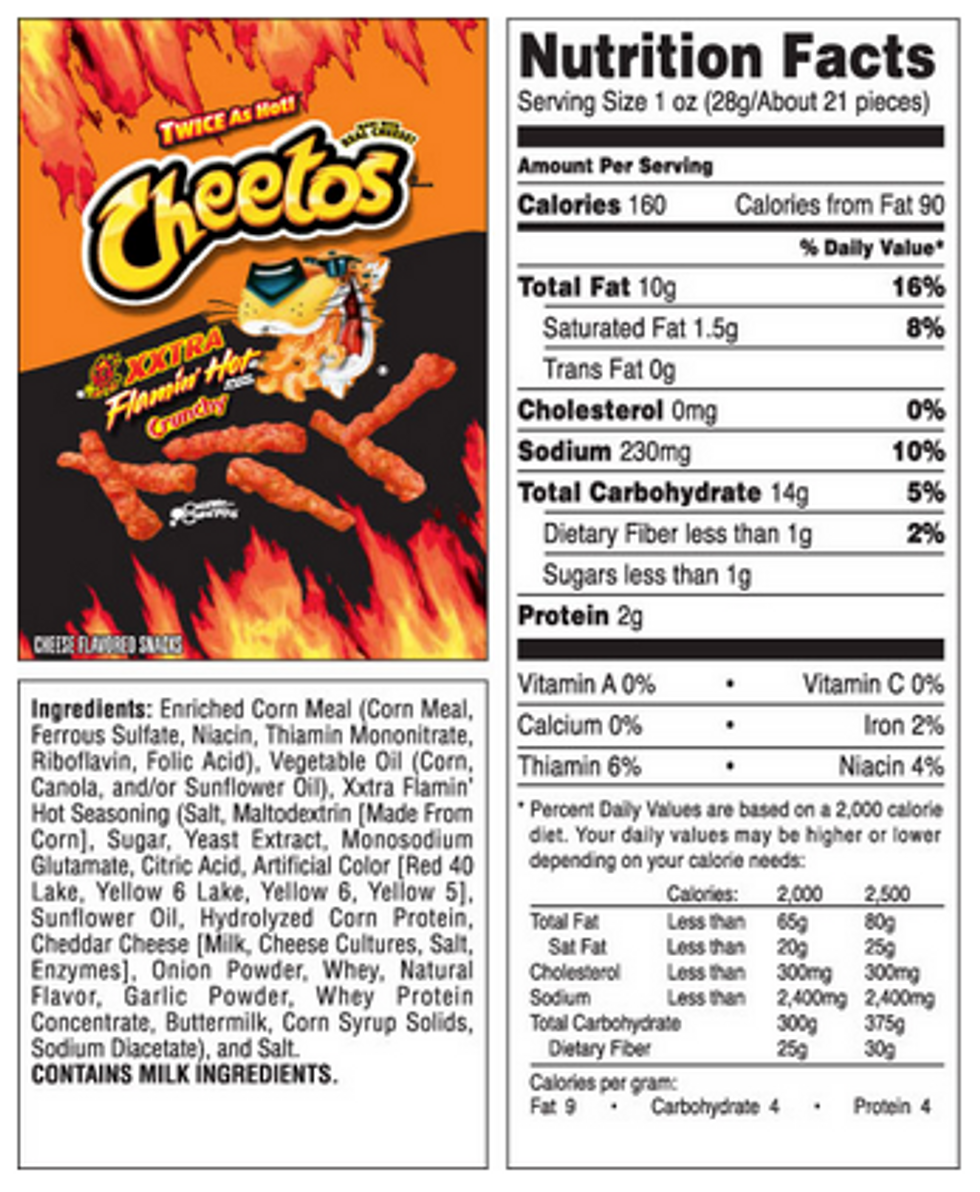 Image: Frito Lay
According to USDA's Smart Snacks calculator, regular Cheetos aren't even close to being accepted. Anyone who eats those cheese-coated corn puffs are getting about 56 percent of their calories from fat, well over the 35 percent limit.
Baked Cheetos are closer, but they still miss, as 37.5 percent of those calories come from fat.
Frito Lay had to engineer a special kind of Cheetos that's essentially a slimmed-down, or some might say famished, version of the original in order to make the cut. These USDA-approved Cheetos have just 90 calories per ounce, compared to the 160 in the normal one ounce serving, and just 30 fat calories, instead of 90. They also have almost half the salt.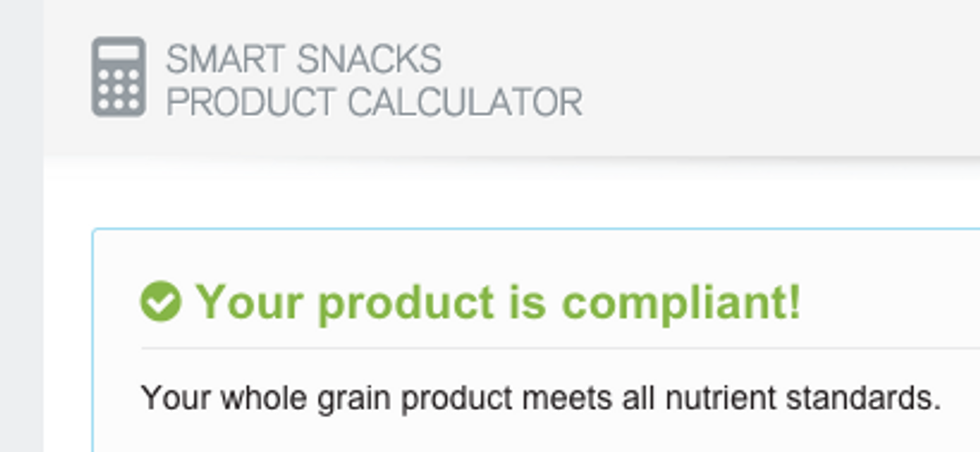 Image: USDA's Smart Snacks calculator
The kids say it's still worth it.
"They're good, like, they just taste delicious," junior Cashari Norwood told NPR. "And like, I'm a vegetarian and so sometimes, I just want to eat something that's good, and I can't even really get that here."
The slimmed-down snacks are popular enough that companies have made other "legal" varieties, such as Doritos, Tostitos, Smartfood and even low-calorie Gatorade. PepsiCo boasts online that it stands ready to deliver these "USDA compliant products for K-12 schools."