During a tense interview on Tuesday morning, CNN's Chris Cuomo pressed a conservative guest on Indiana's "religious liberty" bill that has sparked a nationwide controversy. At one point, Cuomo even presented a bizarre hypothetical question based on his guest's Christian faith.
Cuomo quickly went after Ryan McCann, policy director of the Indiana Family Institute, claiming that the organizations supporting the Indiana bill  are mostly "Christian-based with an animus towards the LGBT community."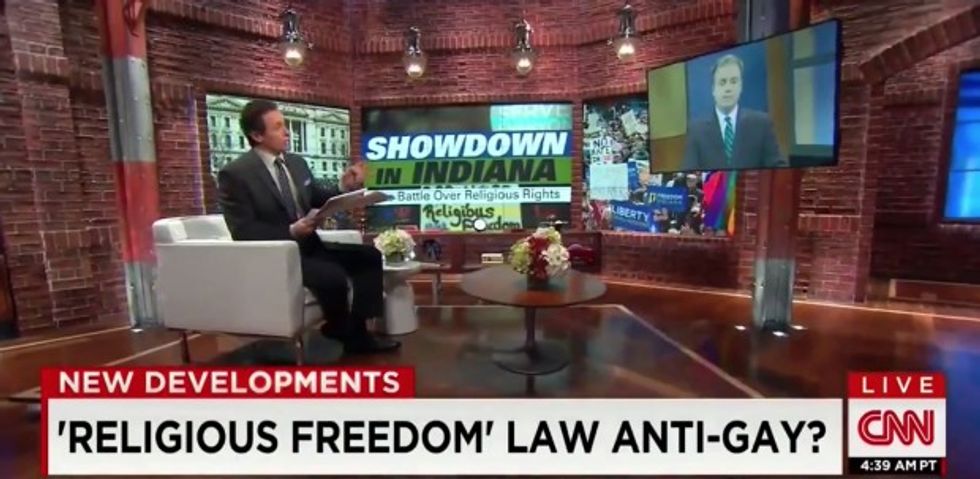 (CNN)
"Own who and what you are! There's nothing wrong with that, you're allowed to believe it," Cuomo told McCann.
"We're for the First Amendment for everyone. We're for the First Amendment and religious freedom for all," McCann replied.
Cuomo repeatedly tried to get a "yes or no" answer from McCann on whether or not he would support a provision that would make the LGBT community a "protected class" under Indiana state law. McCann didn't answer because he said it was a "false premise."
Later in the segment, Cuomo got personal on the issue of his guest's Christian views and posed a strange hypothetical question.
"You are a Christian, right?" Cuomo asked.
"Yes," McCann responded.
"And do you believe that doing business with gays would be offensive to you if you were a businessman?" the CNN host pressed.
"No," McCann replied immediately. "There's talk that if you are at a hotel or a restaurant, that this bill would allow you to discriminate against gay and lesbian people — that is just not true. … That's not what this is about."
(H/T: Mediaite)
---